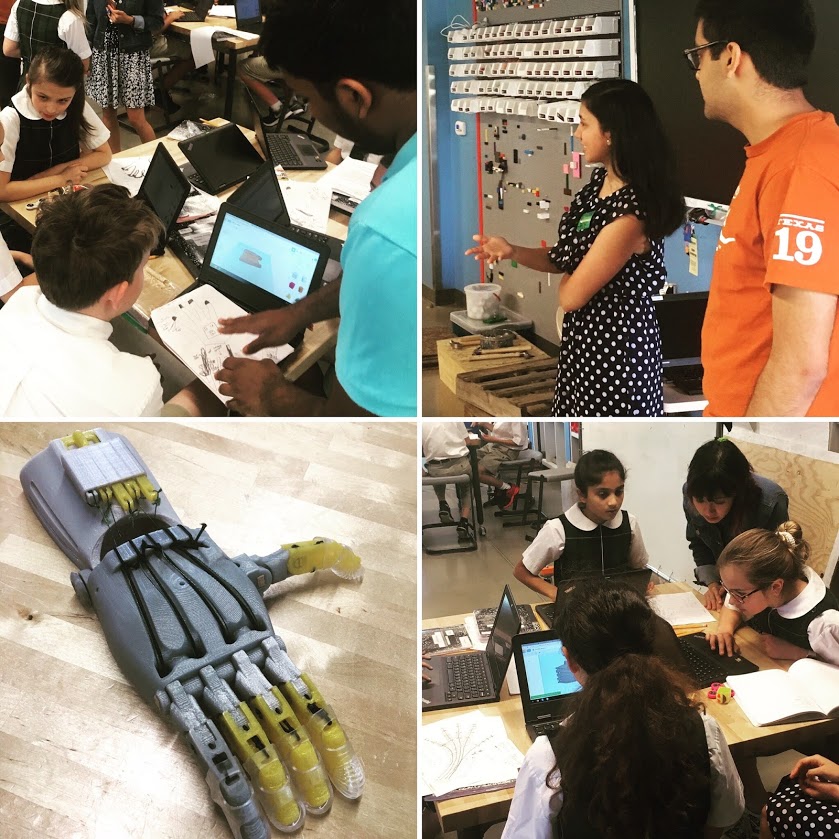 e-NABLE In Education – St. Gabriel Catholic School
By Katie Mlodzienski – e-NABLE guest blogger
While the amazing people working with e-NABLE have changed the lives of many children overseas, there are some who are using e-NABLE to impact the lives of children right in their home town.
Stefanie Nguyen and Patrick Benfield have incorporated 3D-printing prosthetic hands into the curriculum of St. Gabriel Catholic School in Austin, TX. They are giving 4th graders the chance to learn about design, get their hands a little dirty with some engineering, and, most importantly, have the opportunity to help those in need.
Stefanie, a 4th grade science and social studies teacher at St. Gabe's, first found her inspiration for this project when she read The Wild Robot
, by Peter Brown. "It's a survival story about a robot, Roz, who is abandoned on an island." She explains, "Roz gets one of her limbs broken and all the forest animals work together to make her a new one using the resources on the island. This inspired us to learn anatomy of a hand, prototype, design 'dream' hands, and 3-D design them to donate to those in need."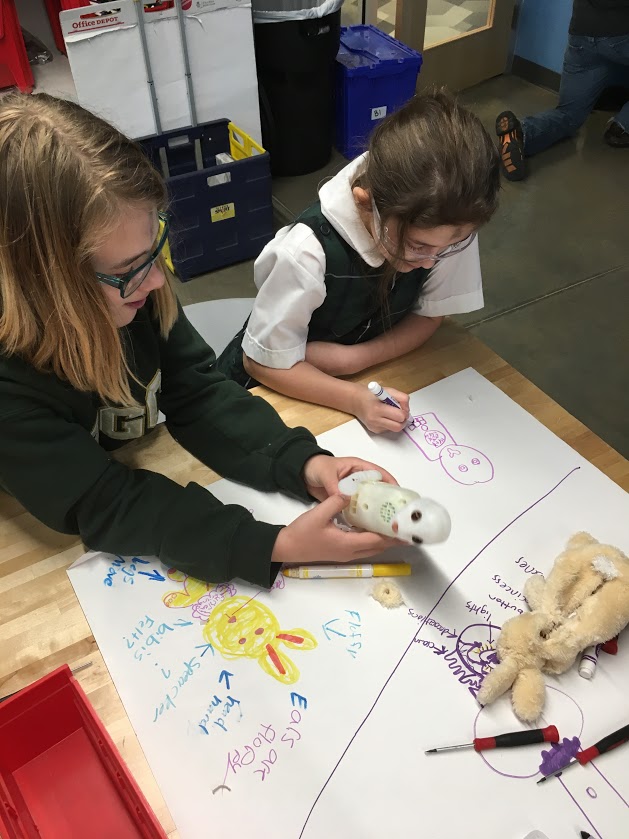 She and Patrick Benfield, the STEAM and Makerspace Director for St. Gabe's, began collaborating to incorporate a stronger STEM-based curriculum.
"At the beginning of the year, we focused on developing a "maker mindset" with her students," Patrick says, "which included skill building, working with a variety of tools and materials, and creating experiences that helped to instill the capacity to invent, design, and make."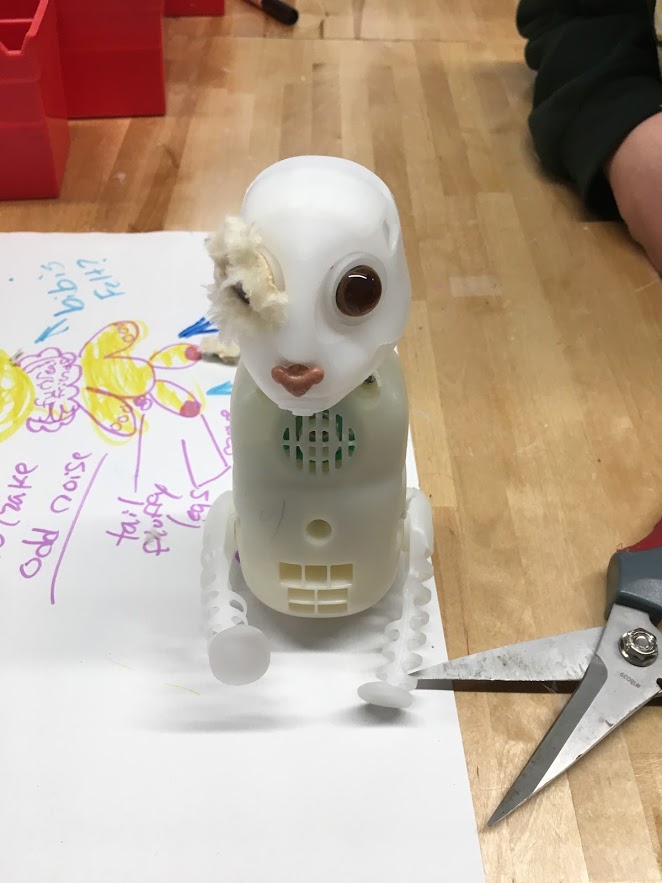 They started off by teaching the students about scientific drawings and circuitry in the school's makerspace. Then, they moved on to dissecting toys to understand how they work, and then reassembling different parts together to create 'Frankentoys' (which sounds creepy, but I assure you it's actually pretty adorable). And soon enough, they began creating prosthetic hands.
At first, the students were intimidated by the project. But as they learned how they were going to be helping others, their attitudes shifted and soon enough they became eager to dive right in. Each student shined during different parts of the project. While some loved designing the hands, others enjoyed prototyping, or assembling,or creating business pitches. There was something for each student!
While working on their designs, students created their own versions of prosthetic hands to help people with different interests, such as baking or swimming. They learned how to create their own 3D CAD models of their prosthetic hands through an app called Tinkercad. From there, they gave business pitches to try and 'sell' their product.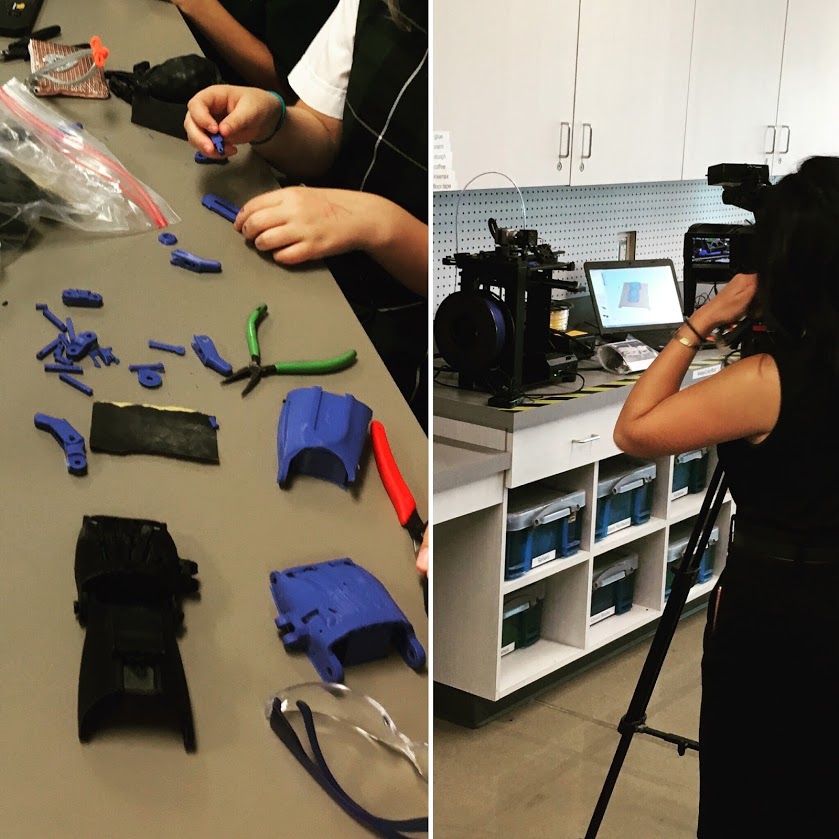 Stefanie had first heard about e-NABLE when she attended the ACC Fall Forum in November, 2016. There, she was introduced to Justin Boger, an e-NABLE volunteer. After her students had created their CAD models, she consulted Justin and several prosthetists for their feedback before creating their final designs. Then, it was time to assemble them!
Building these hands allowed students to learn how hands function, how they can be modified, and how they are assembled. As they created the hands, the students were taught to use problem solving skills, work together to figure things out, and unleash their creativity.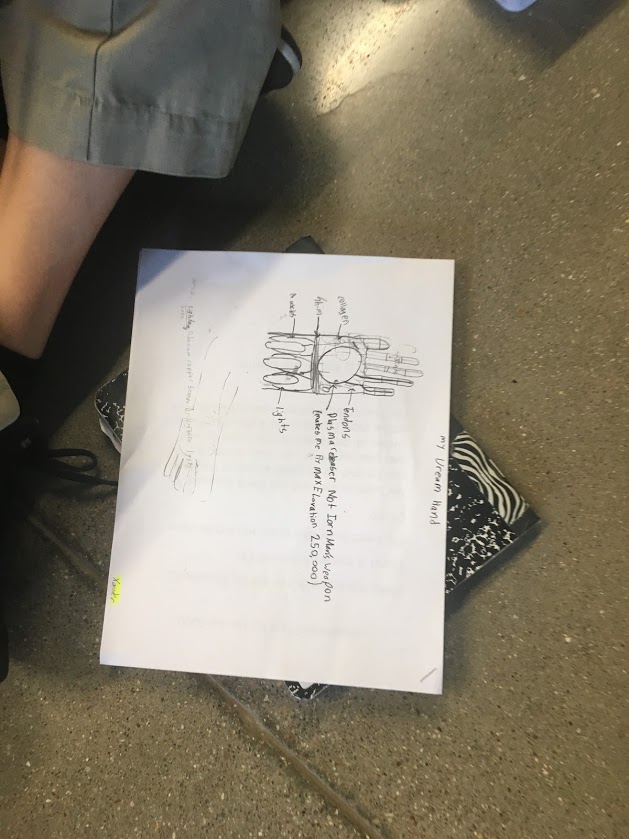 The students had an overwhelmingly positive reaction to this project, and the teachers found that e-NABLE was a fantastic vehicle for connecting several different disciplines. As Patrick stated, "From biomechanics, 3D design and printing, engineering, literacy, service learning, and design thinking, this the perfect example of the power and potential of Maker Education."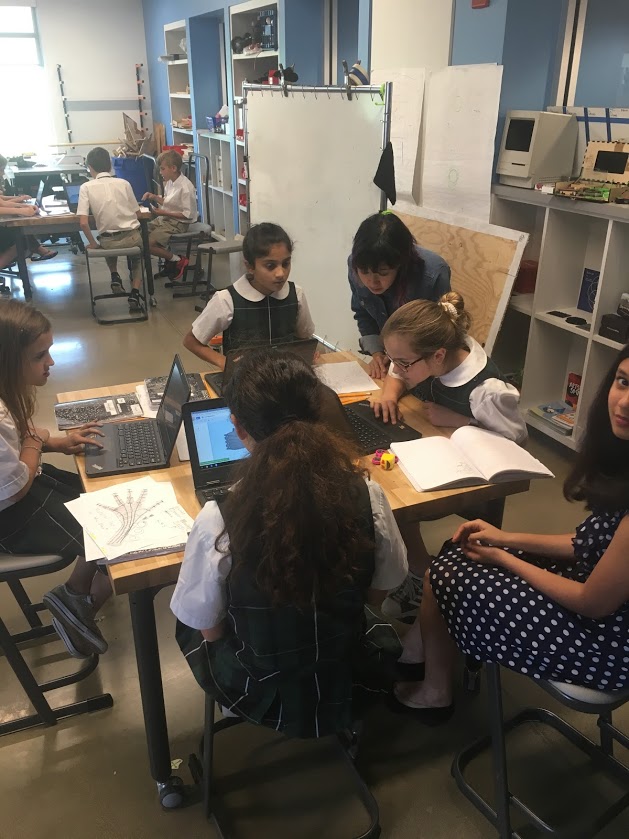 If you are a teacher and considering incorporating e-NABLE into their curriculum, then take some advice from Patrick and Stefanie. As Patrick puts it, "Starting with creating mindsets and breaking the project into manageable stages was a huge help. Often times, students have to learn the idea, tools, and techniques then incorporate them all into a project at the same time, which is never a recipe for success. Proving the time and space for students to gain experience with these individually before even starting the project allowed for more creativity and perseverance when challenges arose." He also advises to watch the "10 Commandments of Making" by Adam Savage, where he offers great advice for Makers!
When it comes to the learning process, Stefanie advises that you model making mistakes and thinking aloud to resolve problems, "Students need to see this from the beginning of the year so that they learn the value of working backwards, using resources such as research, peers, tutorials, facilitators and looking at problems from different angles. Focus on the process, not just the product."
If you are looking to incorporate e-NABLE into your classroom and looking for more advice, then feel free to contact Stefanie and Patrick by emailing them at snguyen@sgs-austin.org and Patrick.Benfield@magellanschool.org, or reach out to them through twitter @stef_nguyen and @McLemoreAve.
Has anyone else used e-NABLE in an educational setting? If so, let us know! We'd love to hear how e-NABLE is changing lives in more than one way and share your story!