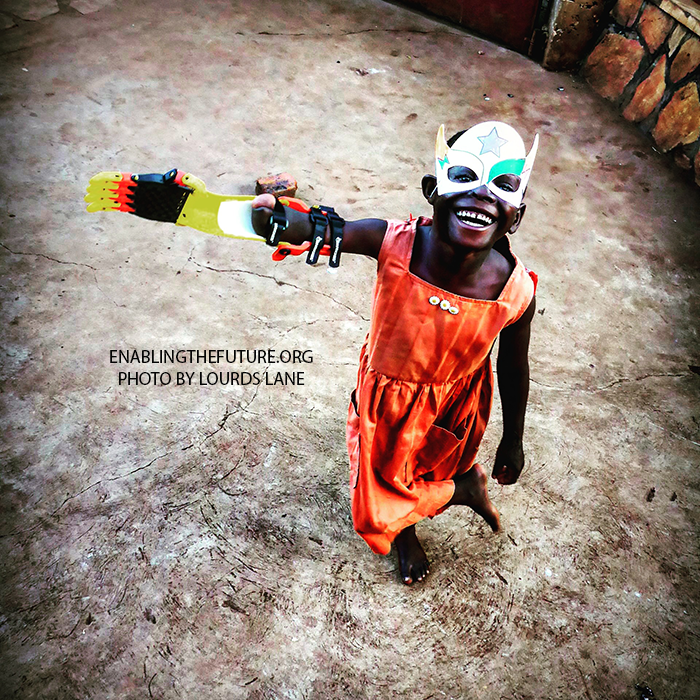 Meet Veronica.
Her superhero name is "Super Healer."
She is amazing.
No. Really. She is SUPER Amazing.
But so are the real life superheroes in this story, that came together, to make her feel like the most beautiful superhero of all time.
"Veronica is from a village called Kagoma Gate, Uganda's poorest village located on the outskirts of a sugar cane plantation, the villagers are cane cutters one of the worst jobs on earth and these are the poorest of the poor," shares Mark Bertrand, Founder and executive director of The Giving Circle.  "The Ugandan Government asked us to enter the village 5 years ago… it was mind numbing. Today we have built the village's first school, play ground, improved water system, sanitation through the first 2 pit latrines, a clinic, a kitchen building that is feeding the children 2 xs a day, improving animal raising and more."
Mark goes on to share, "Veronica at 6 months old, while on her sleeping mat on the ground, had a spark from the oil lamp catch the mat on fire and the result was burns over much of her body and loss of one arm. She is now 7 years old."
With her family unable to care for her, the Giving Circle team took Veronica into their home a few years ago. "Veronica is now one of our "daughters" at our Koi Koi House ( an Orphanage)," says Mark.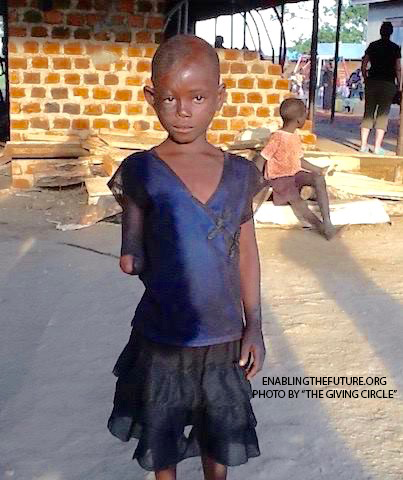 Alyx Gleason, e-NABLE Volunteer and fabricator with our e-NABLE Siena chapter writes, "Dr. Manny Cirenza, who graduated from Siena, emailed me after seeing the Siena alumni magazine with the story on Jack Carder (who we gave an Iron Man themed hand to in 2015 in Ohio). He said that he was involved with The Giving Circle and had worked with Veronica and wanted to know if we would be able to help her. Miranda Marnes (Vice President of e-NABLE Siena) and I met with him and the founder of the Giving Circle, Mark Bertrand, in Saratoga this past summer to learn more about the work they do in Uganda and Veronica's story. We told them how to take measurements because they were doing a big mission trip to Uganda later that summer. We sent them a video that Enabling the Future made available on YouTube to show them how to take measurements, as well as asked them to take photos." 
"Not only did we have Mark and Manny take pictures of Veronica," said Alyx, "but we also had them take the measurements themselves (circumference of her tricep and the length from her elbow to the end of her arm). We also made 3 different sized prosthetic arms for Mark and Manny to take with them because we knew that she will grow and since they only travel there 2-3 times a year, we wanted to make sure she would have a prosthetic that was a perfect fit."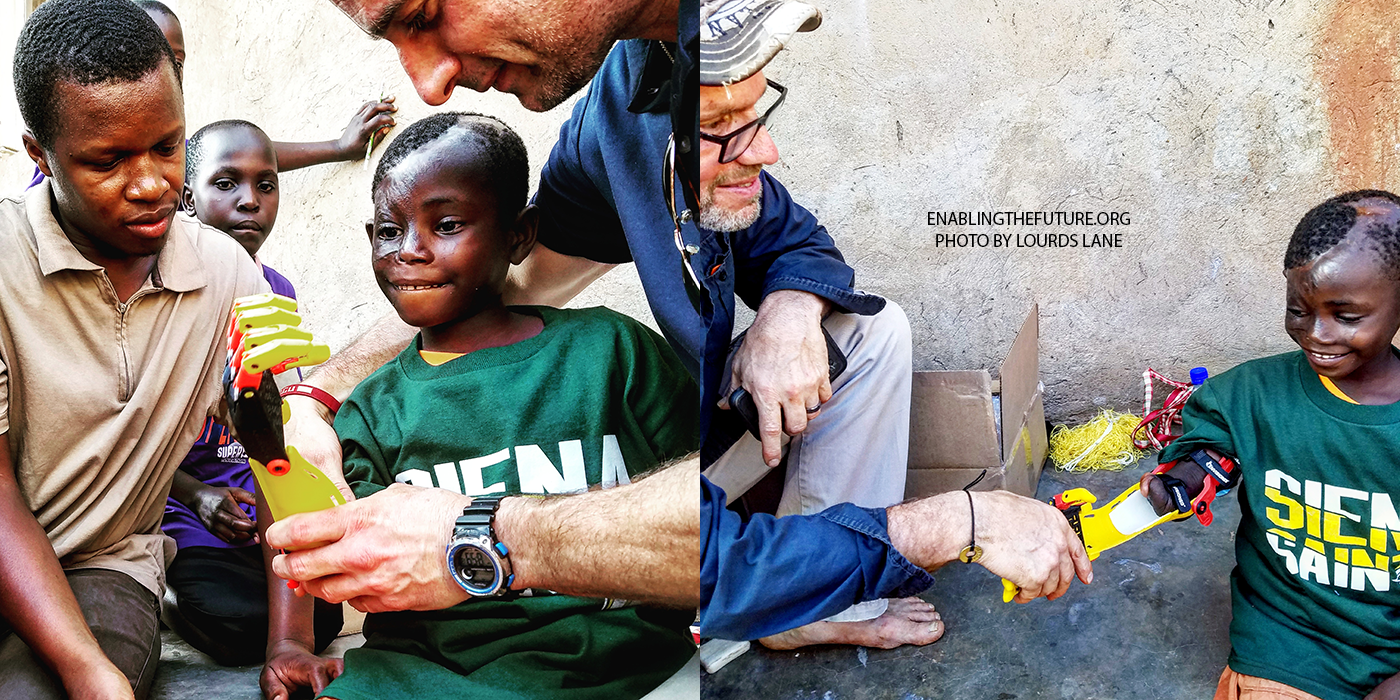 Alyx goes on to share, "I would say that with every arm, we have the nervousness that it will not fit. However, we try to take as many precautions that we can to ensure it helps the recipient and gives them more confidence. For Veronica, I think it was very beneficial that we made 3 different sized devices to allow room for her to grow. It was the best feeling watching the Facebook live video to see that she was actually able to bend the fingers of one of the arms that we sent. Veronica is such a sweet and happy little girl! We are all so inspired by the amazing work The Giving Circle has done and continues to do in Uganda that five of our e-NABLE members are interested in going with The Giving Circle team this summer to help them in Uganda, and meet Veronica."

Lourds Lane, Founder of The SuperYou FUNdation was also a participant in this wonderful gift for Veronica and she writes, "Meet our little superhero, Veronica.  When I met her, she was a bit shy, at least with me.  This was my first trip to Uganda and I was new to these children.  But when I sat with her and the other orphans at the Koi Koi House, as part of the work of my non-profit, The SuperYou FUNdation, all the children, especially Veronica, began to show their true colors.  Using art and music, I began to teach the children how to find their inner superhero selves."
"The day we visited the Koi Koi House," shares Lourds, "the beautiful souls at The Giving Circle, with the support and kindness of Dr. Manny Cirenza and the E-Nable/Sienna College team, were planning to give Veronica a 3D printed prosthetic arm.  As Veronica was beginning to design her most empowered self, she was completely engaged and smiling the widest, most adorable smile. How fitting (pun intended) that Veronica chose to name her inner superhero "Super Healer!"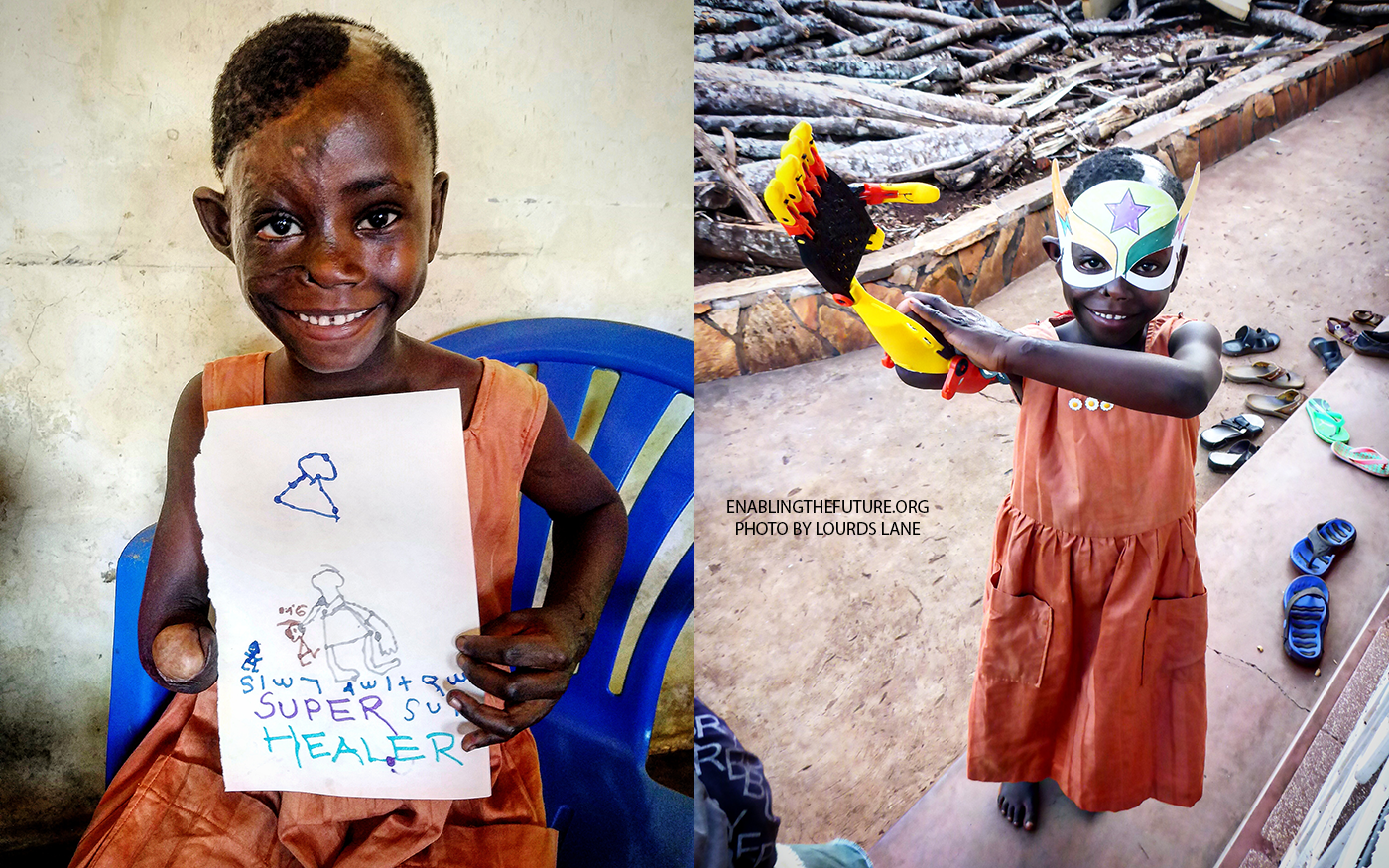 "As soon as she finished her Super Healer drawing, she was led by my new brother and The Giving Circle Founder, Mark Bertrand, to Dr. Manny who attached the coolest looking flame-colored rock star superhero hand to her partial arm!  As she excitedly bent her arm, trying to figure out how to clasp things, her eyes lit up with the look of possibility," shared Lourds.  "Not too long after that, Super Healer was showing off how she can play a toy keyboard with her new hand! Then, unprovoked, she began to gleefully sing and dance to my song, "I am a Superhero" as she effortlessly carried a baby.  A true superhero was born!"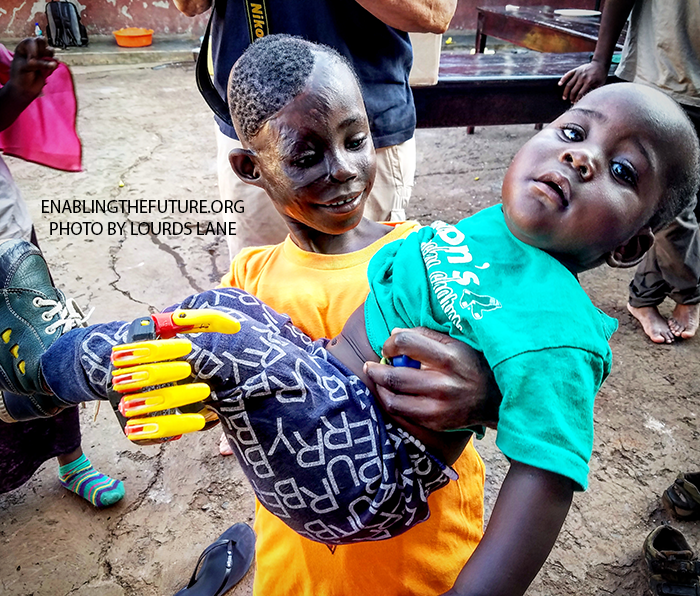 Lourds goes on to explain, "A few days later, we saw Veronica at her school wearing a dark blue cardigan, which casually covered both her arms. She danced with me with so much joy and reckless abandon, as if her new arm has always been a part of her body!
Indeed, Veronica is superhero.  Look how she is able to miraculously heal herself, as only a Super Healer can. But, the love that went into the creation of her superpower hand and the joy that beams out of her eyes as she proudly flaunts her new appendage are what really makes her a Super Healer.
That is the stuff that heals us all."
The members that have worked on the 3 arms for Veronica other than Alyx are the following Students at Siena College (in Loudonville, NY):
Miranda Marnes '17, Kristin Ludwicki '19, Alex Warn '17, Kenny Norman '19, Kristen Connors '17, Michelle Lieu '17, Gabby Albano '19, Julia Dunbar '18, Cham Warnakulasuriya '18, Karla Perez '20, Jamie Bedard '18, Rachael Mahar '19, Brian Valtin '19 and Zachary Morton '20
These students either worked on 3d printing parts, assembling the parts, or customizing the files using Tinkercad (practice parts as well as the actual parts that were assembled as Veronica's arms).
For information on how to support this chapter, please visit their website HERE.
The team that delivered Vernoica's arm to her in Uganda are from the wonderful organization "The Giving Circle."
For information on how to get involved or donate, please visit their website HERE.
The "Superhero" trainer, Lourds Lane is the founder of an amazing organization called SuperYOU FUNdation.
For information on how you can donate to their mission to fill the world with superheroes like Veronica, please visit their crowdfunding page HERE.
For more information on how you can get involved in e-NABLE – please visit our "Get Involved" page HERE.