Around this time, 4 years ago, as President Obama was about to be elected into his second term as the President of the United States – two strangers from opposite sides of the world, an American prop maker and a South African carpenter, were making plans to meet in person after collaborating for an entire year through video chat and email, on a design for a single mechanical prosthetic finger for the carpenter who had lost his in a woodworking accident.
Little did they know that their countless sleepless nights and their determination to create a low cost, open-source and functional replacement finger for the carpenter, would be the catalyst for a global grassroots movement called e-NABLE. A movement which is comprised of thousands of people from more than 50 countries, who have used their 3D printers and design skills to create over 2000 free 3D printed hands and arms for those in need of an upper limb assistive device.
The e-NABLE Community is an incredible worldwide example of how people from all walks of life can put aside their religious, personal, cultural, educational, racial, age, gender and educational differences…to work together to make a positive impact…simply by using 3D printing technology and sharing their ideas and resources to change lives, not just here in America, but globally.
Below, you can see an example of what can happen when artists, thinkers, inventors, tinkerers, teachers, students, makers, problem solvers and others are encouraged to use their free time to create, to share their ideas openly with other like minded individuals and who are not afraid to challenge the broken healthcare system in numerous countries around the world.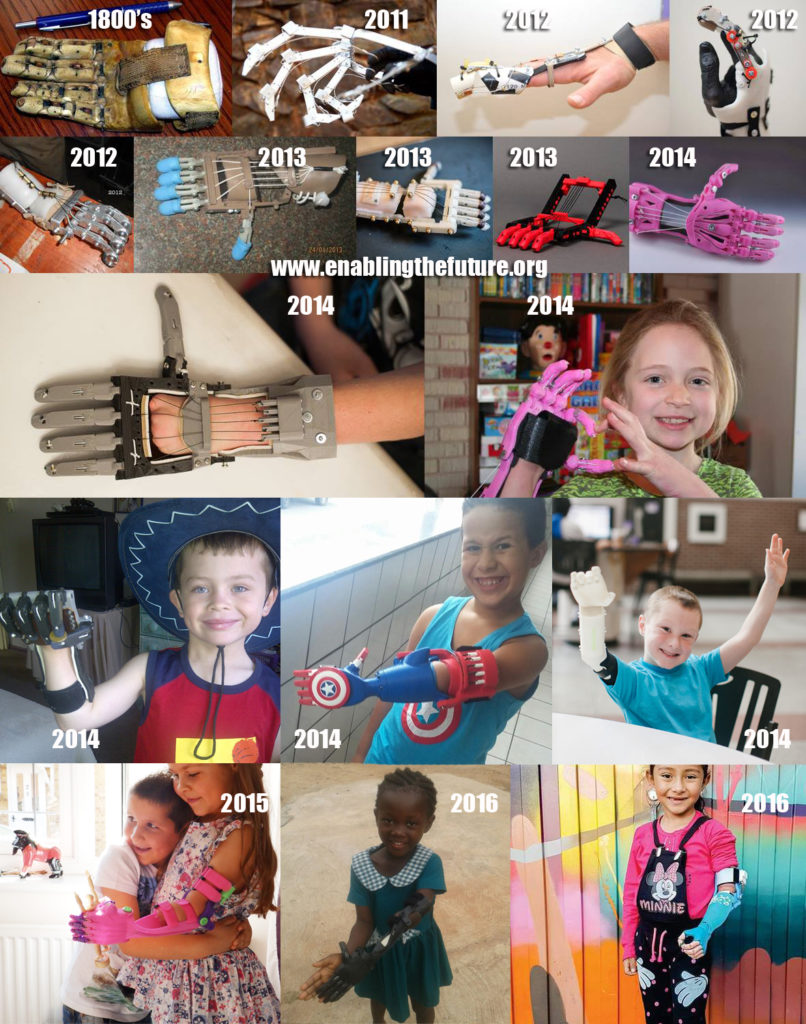 What started as a goofy prop hand for a costume, turned into a  single finger for one…which grew into a functional upper limb device that is helping thousands around the world…all made possible by people who take risks, stand up for what is right, make necessary noise where noise is needed and refuse to take no for an answer when they can see the answer is right at their fingertips.
On October 3rd, 2016, President Obama held the first ever "South By South Lawn" (#SXSL) event – "A festival of ideas, art, and action where changemakers, activists, and artists came together on the White House South Lawn to share how they're changing their communities."  I was lucky enough to be invited to attend as a representative of the entire e-NABLE Community and to be honored for the work I have done to help grow this global movement.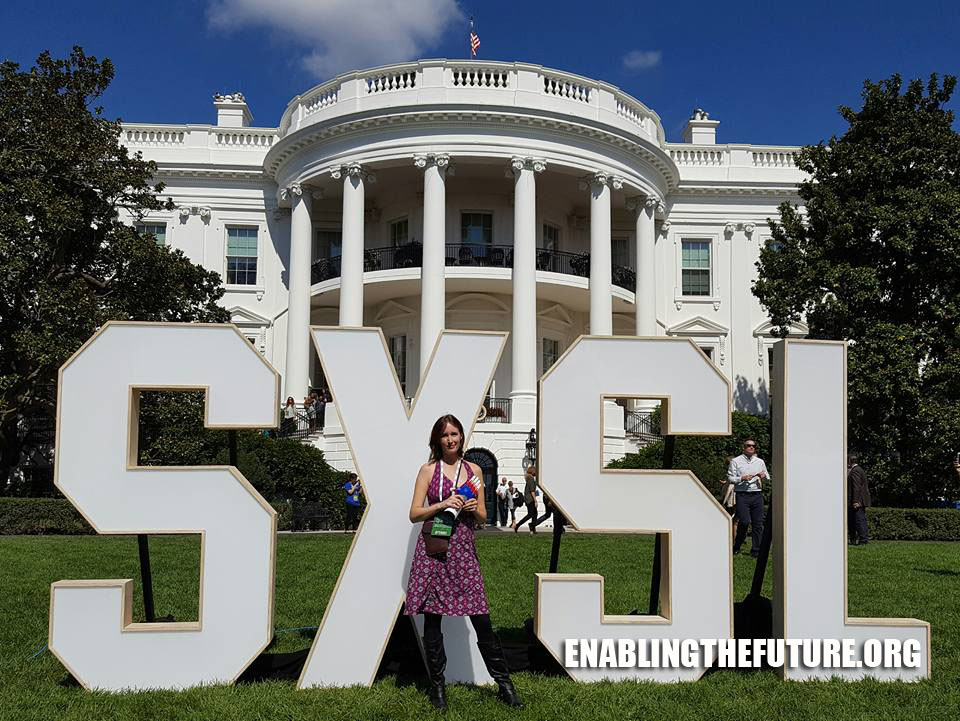 It was honestly, intensely overwhelming, to find myself standing in the back yard of the President of the United States…surrounded by so many other amazing individuals and "changemakers" who have also followed their hearts and have devoted their time and talents to working together – sometimes against incredible obstacles, to solve problems that can potentially greatly improve the lives of their fellow human beings.
People who have tired of waiting for their voices to be heard.
People who have decided to take things into their own hands and help each other.
People who are not afraid to stand up and be the change they want to see in the world.


Throughout the day, I was treated to amazing food, talented musicians and interactive booths. I was also able to attend some amazing panel discussions about using technology to solve the worlds problems and encouraging social activism…which is so much of everything that e-NABLE has come to stand for.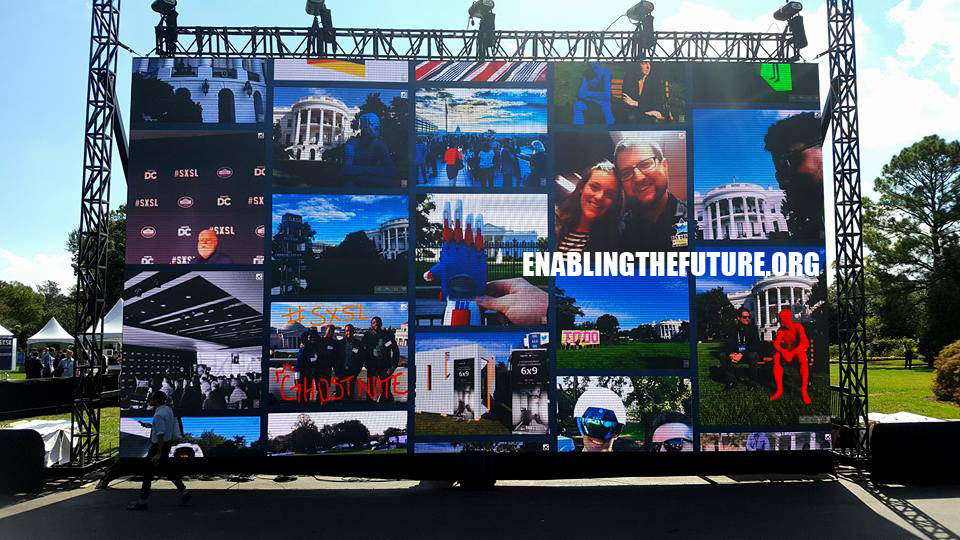 It was such a relief to sit and listen to others who feel the same way that I do. People who believe that the time is now, to really start harnessing the power of sharing ideas, collaborating on solutions and working together…instead of against each other, to better the lives of everyone. We as a global community have so much we need to do…so much that needs to be done and the only way we are ever going to even scratch the surface of finding solutions to the most pressing needs of our fellow human beings, is to start finding the individuals who have the ideas and the passion to bring those solutions to life.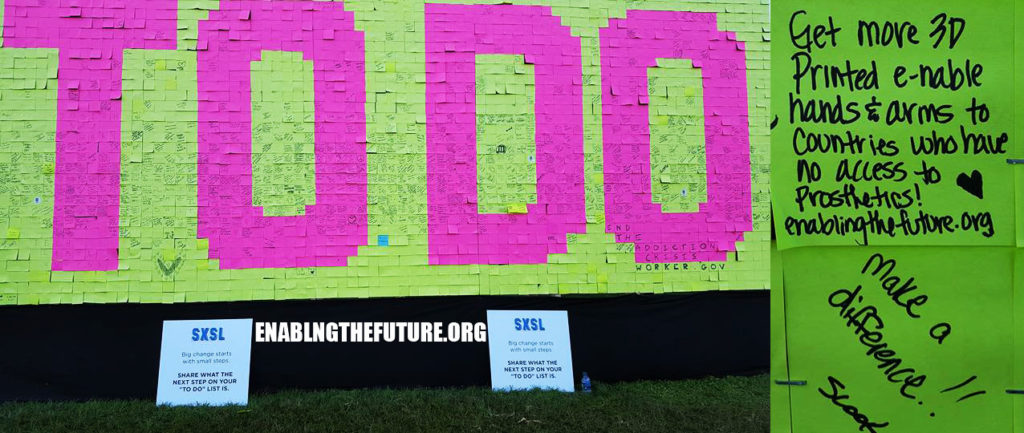 Before President Obama took the stage at the end of the evening, I took a walk out near the flower garden at the back of the White House, where I found a single bench to sit on, away from the crowd and the watchful eye of the secret service, to just sit and let the tears fall.
I realized how far this e-NABLE Community has come and what we have accomplished in just 4 short years. Every single member of our community who devotes their free time to improving and making these devices for those in need are filled with so much joy when we see another image of a shiny plastic 3D printed arm producing a smile on the face of child.
I thought about all of the brilliant minds who are never discovered, who are tinkering away in their garages or struggling in schools with no funding. Minds who have the potential to solve some of the worlds most pressing issues…if only they had access to the technology available to them and the training they need to see their solutions come to life and potentially change the lives of millions of people, not just here and now, but for years to come.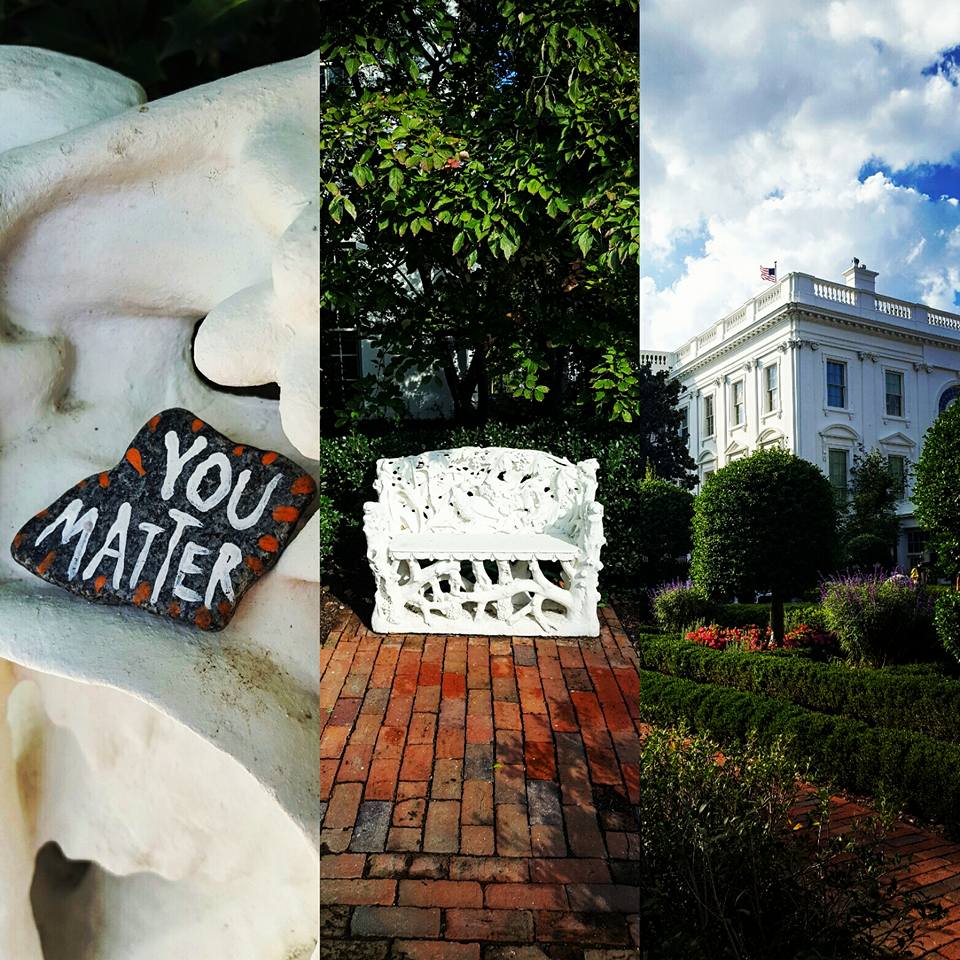 I watched hundreds of people walking by – the ones who were lucky enough to get this amazing opportunity to spend the day celebrating innovation at SXSL with me and wondered how many more out there were not able to attend and share their stories, about those who do not even know the potential of the ideas they are sketching into notepads, scribbling onto napkins or drawing into the dirt under the hot sun.
While I sat on the White House lawn as the evening came to a close and listened to the President speaking to the crowd, I couldn't help but realize that the e-NABLE project has so much more potential than simply making hands and arms out of 3D printed plastic. We have somehow, managed to create a global movement that has no borders, no skin colors, no religions and no limits to how many lives we can impact if we simply start looking for the "hidden change makers" among us and seeking to use our collective talents and skills to find solutions to other problems the world is facing.
As President Obama prepares to embark on a new direction in his life, I have to think that it is time that the e-NABLE Community start thinking of other ways in which we can use the momentum we have gained over the past 4 years, to see just what else we can do…to find other ways we might be able to "give the world a helping hand"…whether that is collaborating to create new innovations or simply spending our time inspiring young makers to see their imaginations come to life.
Either way, we are helping to "Enable The Future" together and I am so very thankful that I am a part of such an incredibly beautiful community of "digital humanitarians" who are making a difference in the world, one hand at a time.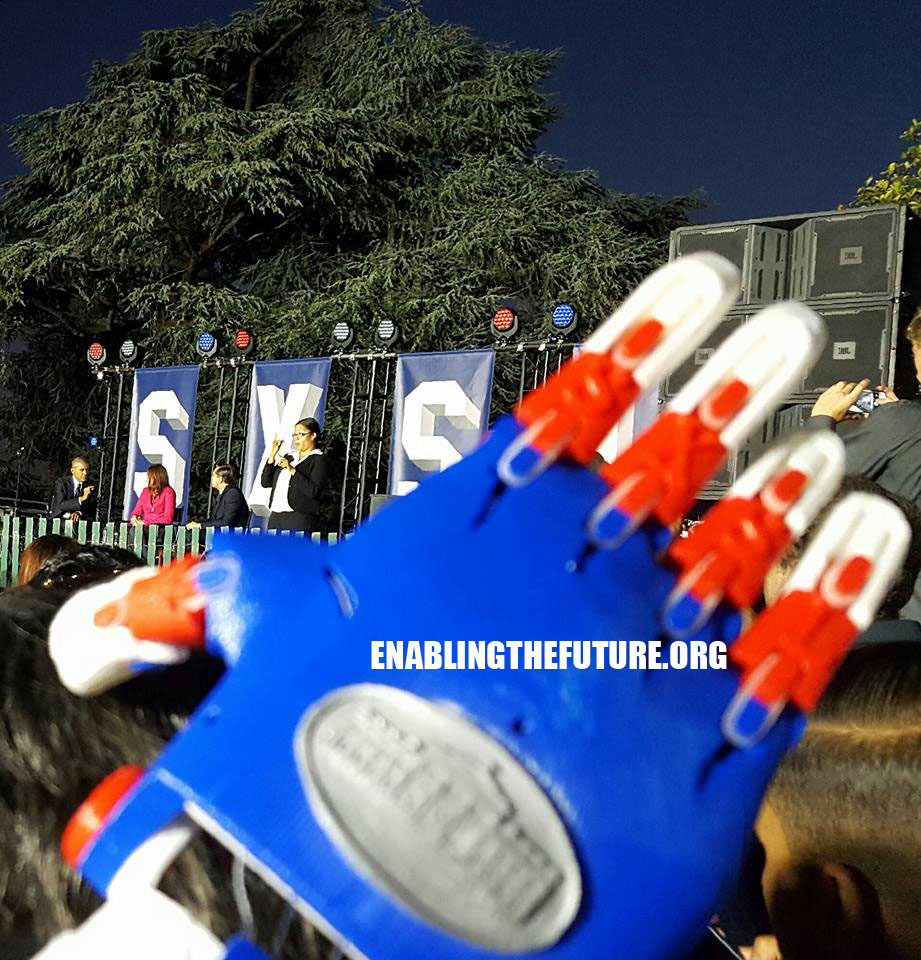 "If two people on opposite sides of the planet,
from their garages,
can use this technology as a vehicle
to create and share an idea
which then blossoms into a small community
who is working to find ways to create a large positive impact…
Imagine the possibilities
as more and more people become involved
and begin exploring what this technology can do.
It can serve as a new tool
with which we can reach out and help our neighbor.
And our neighbor can now be someone
who lives thousands of miles away."