Welcome to our e-NABLE Explorers educational game page!
The e-NABLE Community of volunteers has delivered over 2500 free 3D printed arms and hands to people all over the world! We have e-NABLE Chapters in over 80 countries and they are all helping people in their local communities to get a "helping hand."
I created this educational game and quest for badges, in the hopes that it will encourage kids of all ages to spend a little bit of time visiting some of the Chapter's pages and learning a little bit about what they are doing, who they are helping and see how different cultures around the world, are using 3D printing to change the lives of their local people!
To locate e-NABLE Chapters to "visit" on your quest to become an "e-NABLE Explorer" – Please visit our map below!
THERE ARE 2 OPTIONS FOR THIS QUEST:
Option 1: Make a $10 donation and get a downloadable zipfile of printable e-NABLE Explorer Quest pack materials for those who like to cut and paste and have tangible items to play around with!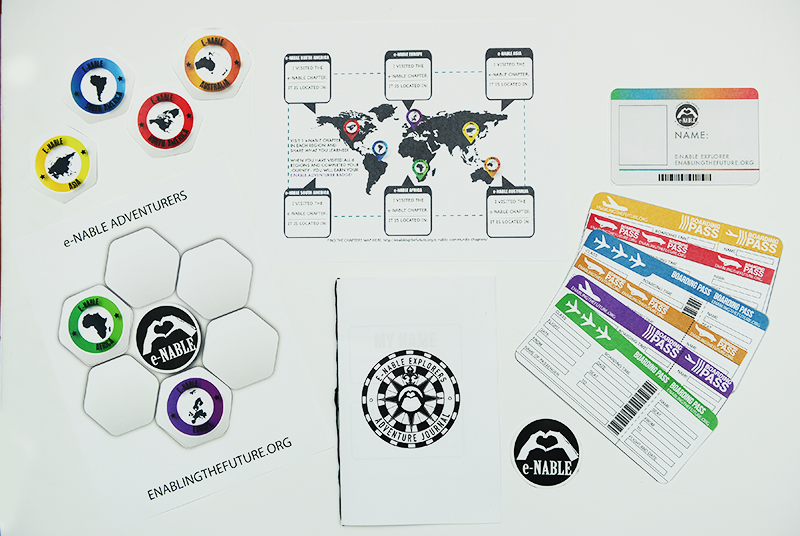 THIS VERSION INCLUDES FILES TO PRINT ON YOUR HOME PRINTER
• An "e-NABLE ID card" – You can draw your picture or glue one to your card!
• A "Travel map" – You can see where you are "traveling to" and where our chapter regions are!
• 6 Boarding passes – You can fill in your name and your destinations as you travel around through the chapter regions on your quest for knowledge!
• An "e-NABLE Explorer Adventure Journal" – You will fill this out and answer the questions in order to earn your region badge to add to your "e-NABLE Explorer Badge" sheet.
• An "e-NABLE Explorer Chapter Regions Badge Sheet" – You will cut your badges out as you earn them and then glue or tape them to your final  "e-NABLE Explorer Badge."
• An "e-NABLE Explorer Badge Sheet." – You will paste or glue your cut out and earned regional badges to this to create your completed "e-NABLE Explorer Badge!"
• A 3D printable "e-NABLE Explorer Badge" – STL File

OPTION 2: FREE to play along and earn Digital Badges that you can display on your social media pages and share with your friends! You must earn each of the 6 Regional badges to qualify for your final Quest badge!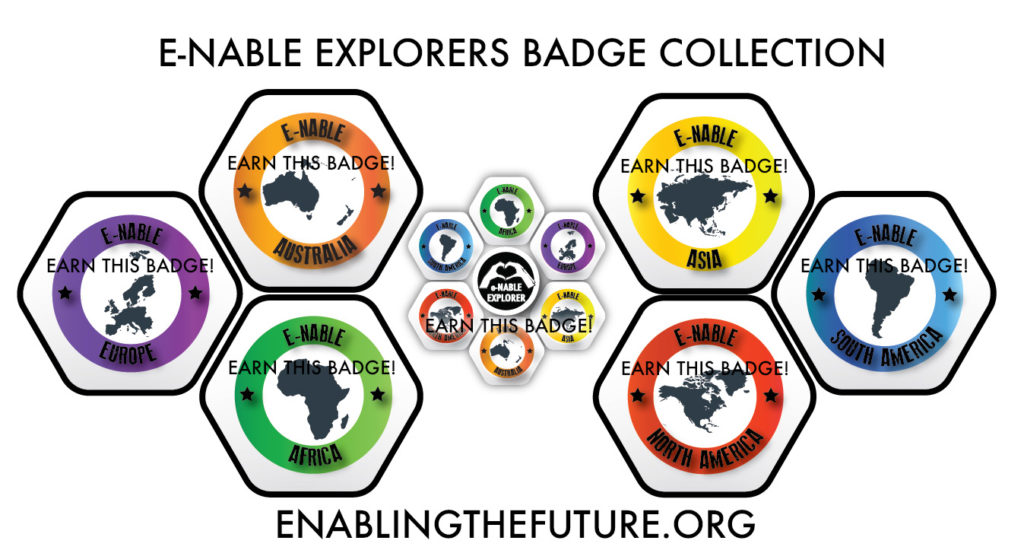 THIS VERSION INCLUDES DIGITAL BADGES TO COLLECT THROUGH CREDLY!
• You will earn your regional badges by answering questions about Chapters that you research and learn about in that e-NABLE region. Check the map above to locate Chapters that you want to learn about!
• Once you earn all 6 digital Region badges, you can claim your "e-NABLE Explorer" badge!
CLICK ON THE BADGES BELOW TO START WORKING ON EARNING THEM!
We love to see your photos and videos!
If you would like to share what you are working on with us, please tag us on Facebook, Instagram and Twitter with the #enablethefuture and #enablingthefuture hashtags!
I hope you have fun learning about some of our amazing e-NABLE Chapter volunteers who are out there in the world make a difference! Thank you for supporting them and cheering them on!