Some of my favorite stories to share on this website and blog are the stories that come from those who were born missing their hands or who have lost them due to accident, disease or war and who have themselves turned into e-NABLE Volunteers, designers and makers… and today I get to share a wonderful story of just that…and a whole lot more!
I would like to introduce you to Aaron Westbrook of Form5, a 17 year old high school senior at New Albany High School in Ohio. Not only is he himself a member of the Limb Different Community but he is now on a mission to help make 3D printed e-NABLE hands and arms for those in need…except his goal is to find a way to create them in a way that will have much less impact on the environment.
Aaron shares, "Three years ago, going into my freshmen year of High school and having no experience with prosthetics or the prosthetic system itself and being a newly proud member of the Limb Difference community… I set out on the path to explore my options.
As a child, I would of never thought I would wear a prosthetic, let alone build one for myself, and now innovate, create, and provide prosthetics for others. It was when I received my first prosthetic from Shriners Hospital, I knew it could be better.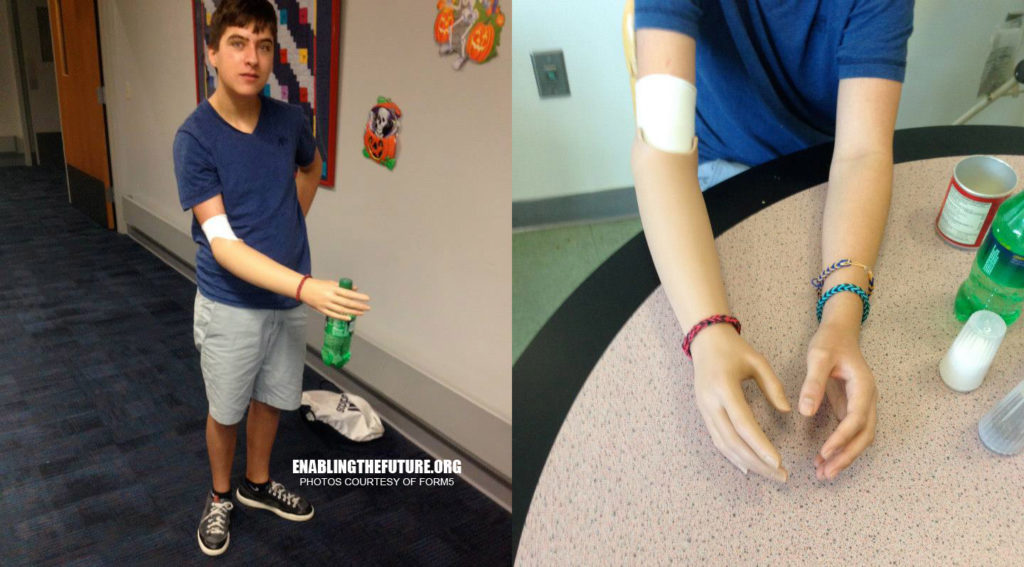 I saw the problem at hand and the struggles that many others like myself are facing too. There is a need for durable prosthetics that are functional, lightweight, and low in cost. 3D printing provided me with the outlet of researching advancements in 3d printing technology and the development of 3D printed prosthetic devices provided by open-source files from e-Nable.
I saw a large movement, a group, which happened to be e-NABLE and they have instilled in me the courage to make a difference, not only for me, but for the millions out there like myself in the limb difference community.
Learning how to 3D print your own arm at the age of 15 is not easy. Building a Kickstarter at the age of 16 is not easy. Giving a Ted talk is not easy. Starting an organization to design, produce, and send these prosthetic devices to recipients at the age of 17 is not easy. But if I see something that's grab-able, I know it's have-able; a world where prosthetics are affordable, reliable, and sustainable.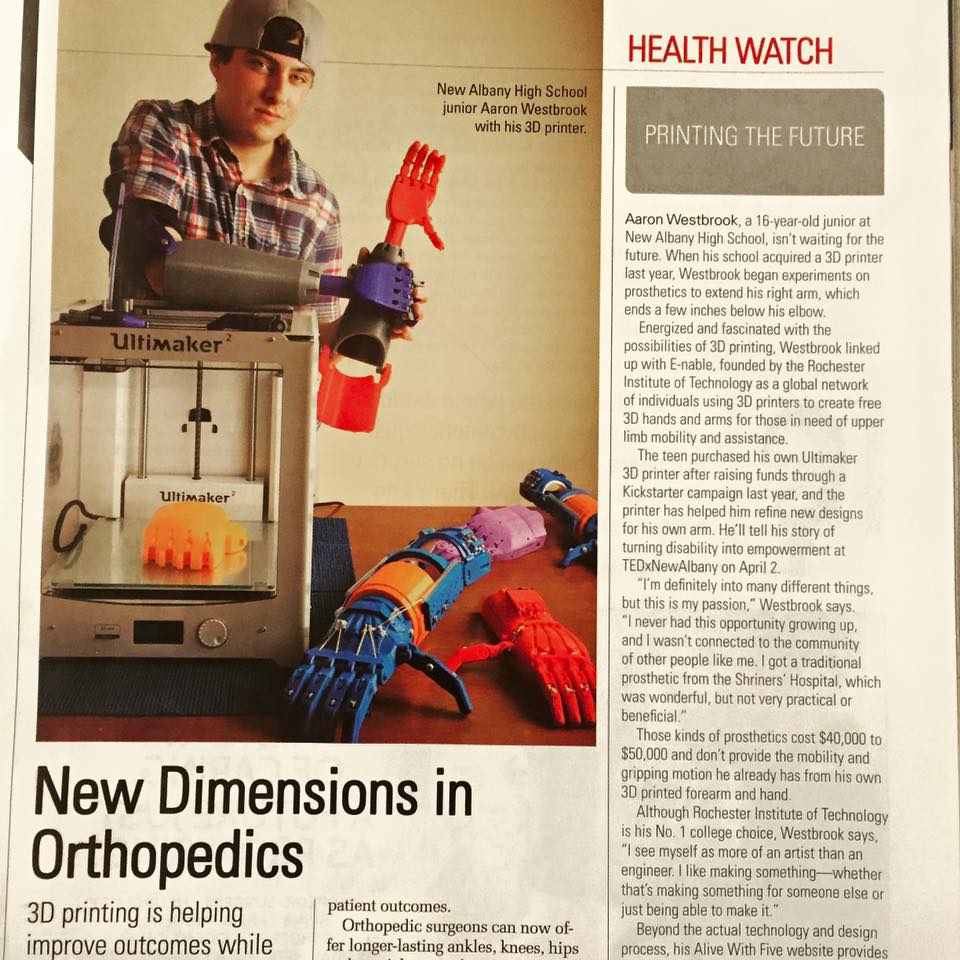 Every setback, every mistake, every failure – pushes me to the right direction and closer to the goal I envision! My journey has been long and to say I've learned a little would be a heck of an understatement! I learn in every step of my journey and I continue to make steps day after day… hand after hand!
This sounds crazy because I'm only 17, but the best part about this, is that I'm only 17.
My journey has been long, but far from over! It all started because one day I put on a prosthetic for the first time, saw the bigger picture, and sought out to make a difference! The picture just keeps getting bigger, and so are the differences I plan to make!"
What are those differences that he plans to make?
"I am focusing on the sustainability of FORM5 (the organization he founded and plans to turn into an official non-profit), where it is headed, how we are prepared for the future and how we are going to get there.
How can we make a difference and how can we make that sustainable? 3D printing uses plastic, often ABS and PLA and in the work I do, there is often a lot of trial and error during prototyping. With that, there are many failed prints and buckets of wasted plastic that can be reused, recycled and made into low-cost 3D printed devices. FORM5 is looking at the bigger picture.
Roughly 14 billion pounds of plastic is deposited into our earth's oceans every year. This is creating horrible conditions for animal and human life and that "plastic waste" could simply be utilized to create a difference and lend a helping hand by creating and printing a helping hand! The vision is eco-friendly with goals of saving the earth! "Recycle, reFORM, Reprint!" explains Aaron.

Aaron currently uses his Ultimaker 2 to create prototypes for himself and future recipients and plans to create a device for a young girl named Maddie as his Senior project next year but he has recently started a kickstarter campaign in hopes of purchasing the tools he would need to turn his failed prints into recycled plastic to create more hands for those in need.
He is hoping to raise enough through his crowd funding campaign to purchase a filament extruder, electric chipper, Ultimaker Extrusion upgrade kit and other resources so that he can begin the next stage of his e-NABLE volunteer journey! If you are interested in helping Aaron to reach his goal and get started on making a difference for others AND the environment, please visit his kickstarter page!
"Anyone can make a difference if they have enough drive and passion to do so… just view change as if it is not out of your hands. Anyone can make a difference whether you have one hand or two, 3D printed or not… the power to make a difference is in your hands." – Aaron Westbrook, age 17.