Team Unlimbited (e-NABLE Volunteers Stephen Davies and Drew Murray from the UK) are very proud and excited to release version 2.0 of their Unlimbited arm design; named the Alfie Edition, after it's first recipient!
The Alfie Edition is fully parametric and customizable using Thingiverse Customizer to produce all of the files correctly scaled, based on the recipients real world measurements!
This is the next generation device based on the popular 1.7 Isabella Edition that was released last year! You can read the story of Isabella and her arm HERE! The team has worked tirelessly for months to create updated versions of this design and it shows!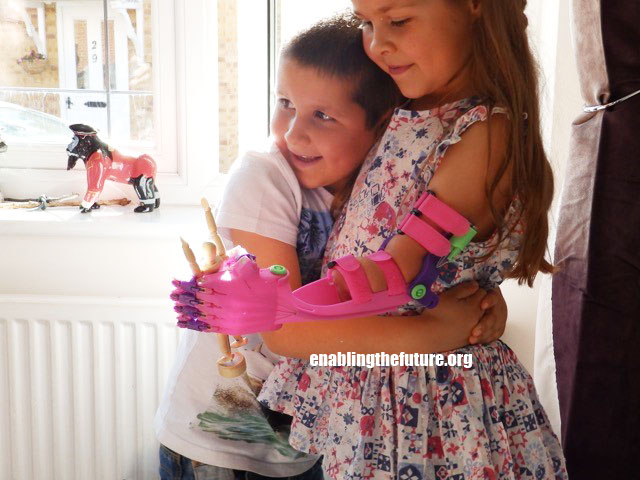 Stephen shares, "When I first became an approved maker for the e-NABLE Community, I was struck by one thing above all else … which was the number of recipients that were waiting for an arm. By the time I got involved, there were several hand models available, but for children with below elbow deficiencies the choice was stark. I felt inspired by several other designs like the Raptor wing from the students at UW Bothell who were working with Ivan Owen on an elbow driven design and I set about to do something to help.
I have been a professional Computer Aided Designer for 23 Years, added to which I too only have one hand and because of this and improvements I helped introduce with other hand models – I felt I was in a unique position to do something about it. Together with e-NABLE Volunteer Drew Murray, I set about designing the UnLimbited arm. The aim was to make an arm that was quick to print, easy to build, required minimal hardware, was lightweight, low cost and functional. After many iterations, countless prints, recipient testing and endless evolution we finally released version 1.7 and open sourced the files. This arm was a great success and has gone on to be used worldwide, helping people from our own UK to Sierra Leone, Hong Kong, Turkey, America, Uganda, Ghana…… The list goes on and on. We've taken huge personal pleasure in seeing our arm design making a real difference in peoples lives around the world."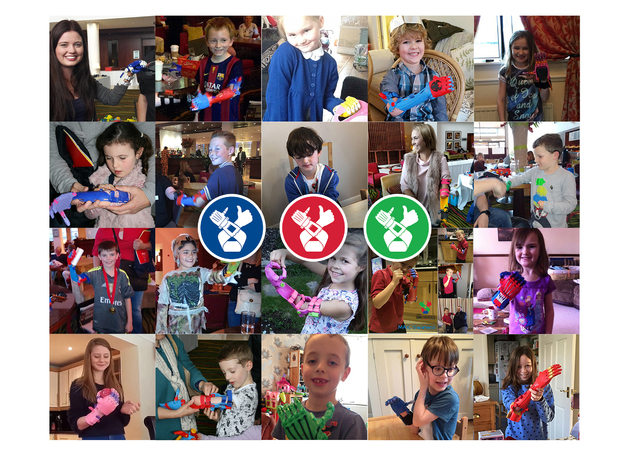 Even though the Team Unlimbited arm design has been a welcomed and long awaited blessing to those who have no arm below the elbow or who lack enough palm or wrist to use the basic e-NABLE 3D printed hand designs, Stephen shares, "I was still left with a nagging feeling..."
"We knew we would eventually have to deal with a difficult problem and It was one that had been attempted by many people and no-one had successfully been able to conquer. The problem was our arm could only be scaled up or down proportionally. This was fine for most children between the ages 4-7 but around the 7 year mark, children's proportions alter variably as they grow. As makers ourselves, the greatest frustration was the uncertainty of sizing the devices correctly, calculating the print scale for each individual, and ensuring a good fit. We did everything we could to help, providing sizing charts and instructions but it would always be a "Best Fit" scenario and as recipients forearms, hand and biceps all grow and stretch un-proportionally, this made this process almost impossible. Also, from what we had seen ourselves, and from many emails asking for teenage or adult proportioned arms we knew we would have to tackle designing a parametric arm." explained Stephen.
So after several months of coding, testing, building and development, Team Unlimbited is proud to release the first fully parametric 3d printed arm!
The UnLimbited arm v2.0.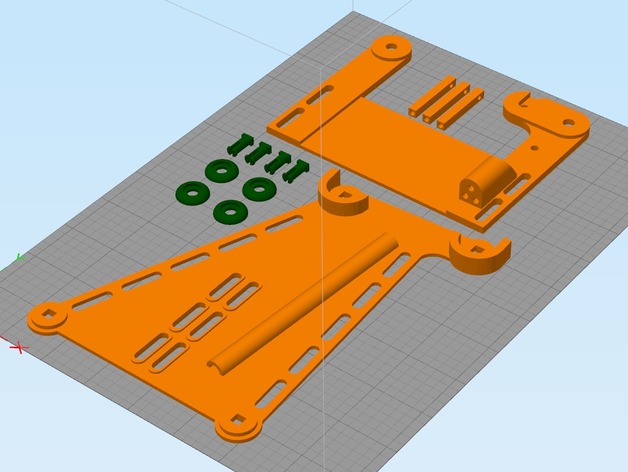 Drew and Stephen wanted to make the process as simple as possible so they are hosting the files on Thingyverse through Customizer.
The maker only has to enter three key measurements:
1.) Hand Length
2.) Forearm Length
3.) Bicep Circumference
From these three measurements all files are generated automatically, and provided as a single zip file to download and are scaled correctly to fit the recipient and all ready for printing.
For more information on this design, instructions and help – please connect directly to Stephen and Drew:
Thingiverse Page for this design: http://www.thingiverse.com/thing:1672381
Website/Blog: http://www.teamunlimbited.org/
Facebook: https://www.facebook.com/teamunlimbited/
They are very excited to release this arm into the open-source community and can't wait to see photo's coming in from around the world of recipients benefiting. If you create one of these devices for yourselves, someone in need or just for fun – please share your images and tag them with  #teamunlimbited @enablethefuture and #enable so that we can see your beautiful work and share it with our followers!
If you are interested in donating filament, 3D printers or funds to help provide materials needed to create more Unlimbited arms, please consider making a donation HERE.