Children and adults from all around the world, love to dress up and pretend to be superheroes from time to time…whether it is a fun weekend at ComicCon, leaping up the steps to the next house for some Halloween treats or balancing on the toilet seat in front of the bathroom mirror, puffing up your chest while wearing a towel around your neck, throwing a fist in the air and shouting "I WILL SAVE THE DAY!"
We like to feel invincible.
We like to pretend that we can keep all of our loved ones from harm.
We like to think that the Superheroes we see in the movies can be real.
We like to feel like we are saving the world.
We forget sometimes, that there are real life superheroes that walk among us. They do not (always) wear capes or masks. They spend their time behind closed doors, quietly fighting injustices instead of battling their foes on rooftops set against a city skyline for all to see. They are simply everyday people who are finding ways to use their talents and passion to make a difference in the lives of others.
One of the e-NABLE Community's most active real life superheroes is Christian Silva, a mechatronics engineer out of Bogota, Colombia. He has been creating hands and arms for children and adults for the past 2 and a half years with little to no resources.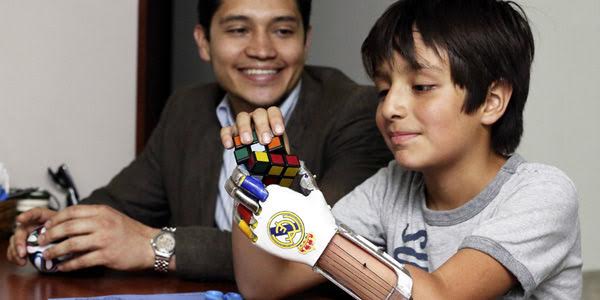 To date, he estimates that he has personally built and fit e-NABLE Hand devices to over 20 individuals locally and has helped to improve numerous designs that he has shared back into the e-NABLE Community.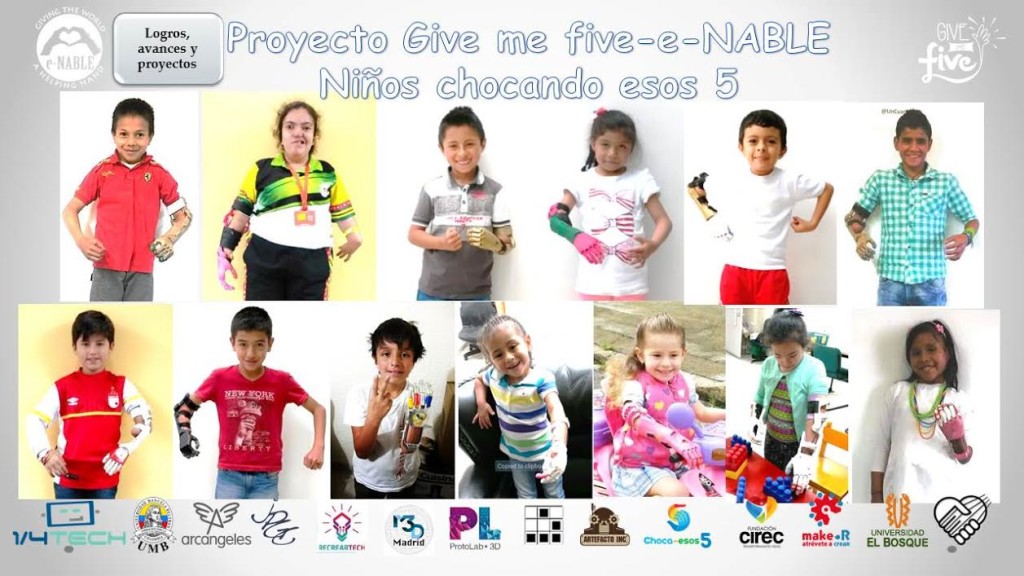 This week, Christian and his team released the files for the "Superhero e-NABLE" arm that they created for a young boy based on the Flexy arm by Christian, the Flexy hand 2 by Steve Wood (Gyrobot), the RIT arm and the e-NABLE Community design contributions. He collaborated with Wilmer Garcia, Tarragona, Recreartech, M3D Foundation and the e-NABLE Colombia team to develop this arm.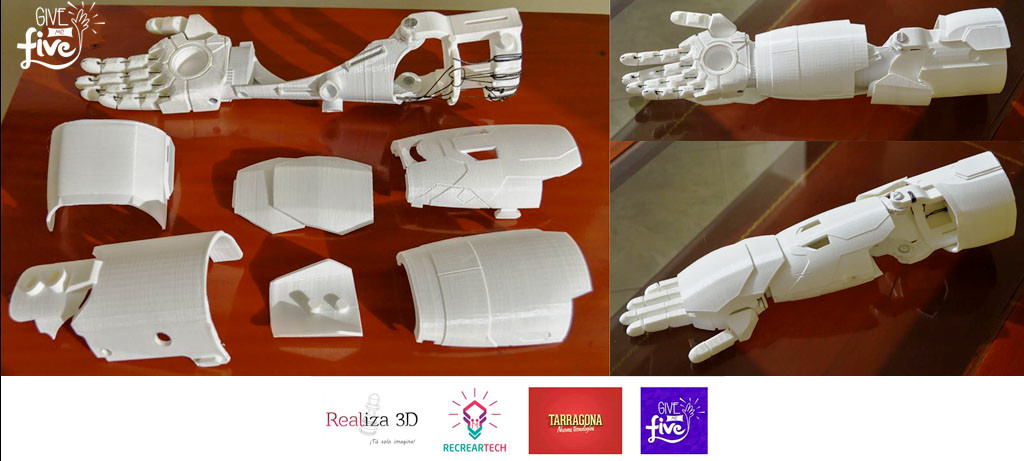 Accompanied by his father, José, a child born missing his right hand, visited Christian over a year ago to ask for his very own "Iron Man" themed 3D printed arm. Unfortunately, at just 2 years old, he was too young to fit him with any of the e-NABLE devices due to small parts that can detach and pose choking hazards.
The team began working with José using servos and myo-electric prosthetics and were inspired to finish their design after seeing news stories about Open Bionics and Limbitless Solutions, who had created their own superhero arms for children.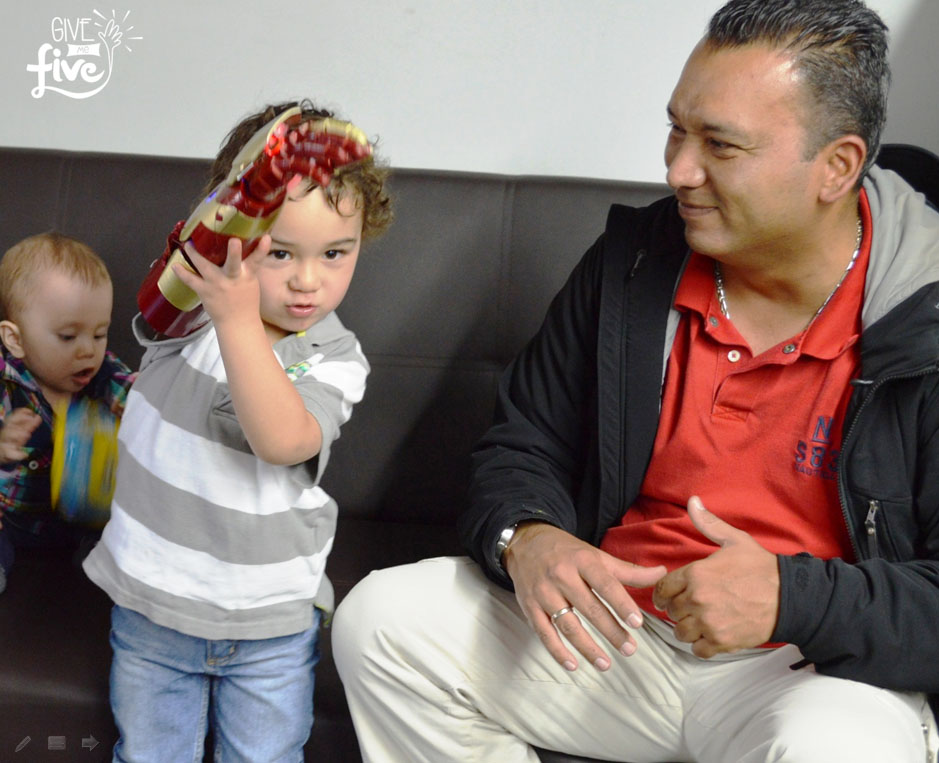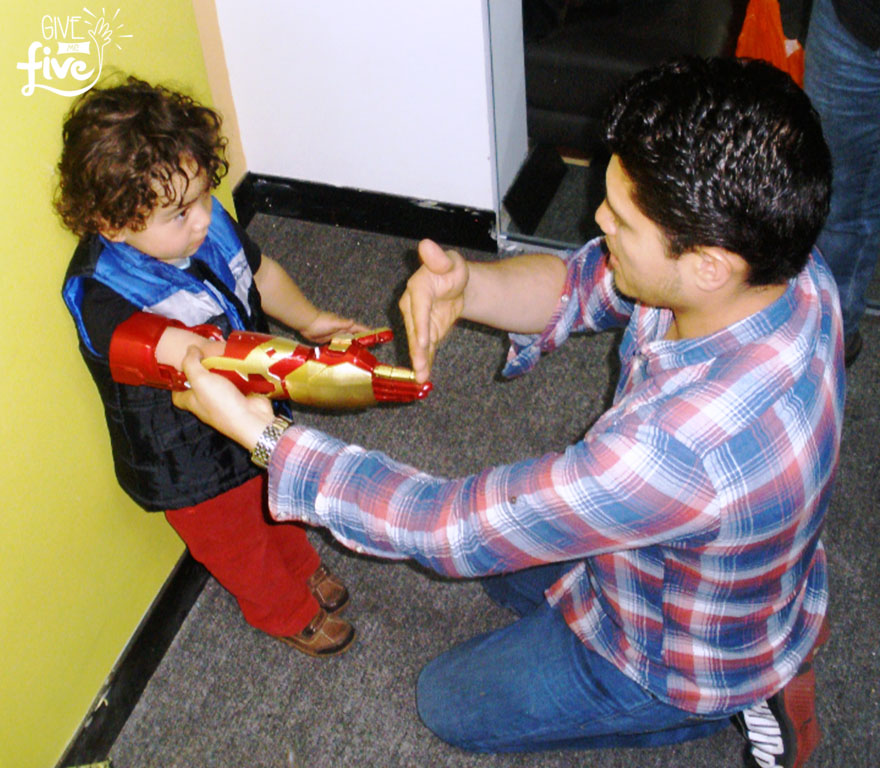 The arm for José took the volunteers over a year to complete due lack of funding and the need to spend their time providing devices to other children in the area, who were patiently and eagerly waiting for their own 3D printed hands.
His father,José, signed up to become a volunteer to help Christian with the painting of the final arm.
Christian shares, "Now, José is very happy with his new "Iron Man" themed hand. He is 3 years old and has not rejected it and considers it like his favorite toy as well as his hand!"
As you can imagine, the need for assistive devices in Colombia and Latin America is incredible and Christian and his team continue to work as quickly as they can to help as many people as possible with what little resources they have available.
If you would like to donate directly to Christian and the e-NABLE Colombia team – please see information below:
Cuenta Bancolombia Ahorros
No. 38329652031
a Nombre de La Fundación Materialización 3D
Madrid, Nit 900760144-7
For more information:
WEBSITE: http://casilvaca.wix.com/coprinte3d

FACEBOOK:https://www.facebook.com/Chocaesoscinco3D/?ref=hl
YOUTUBE: https://www.youtube.com/user/MrChristhofher13/videos
"Good is not a thing you are…it's a thing you DO." – Ms. Marvel