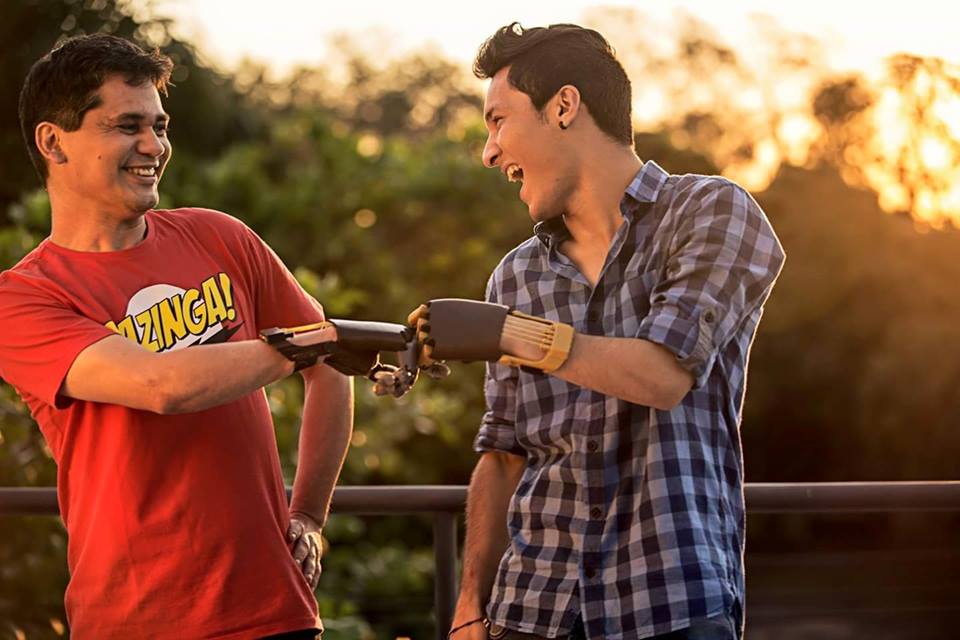 In early 2014, medical student Eric Dijkhuis and electronic engineer Fernando Vallese, both from Paraguay, found themselves stumbling onto the enablingthefuture.org website and explored the ever growing e-NABLE Community Google+ group where approximately 200 volunteers (now over 6500!) had started gathering and planning ways in which they were going to "change the world" with 3D printed hands. The pair immediately volunteered to be translators and volunteers for the community with the aim to extend e-NABLE's work into their home country and eventually their non-profit, Po Paraguay, was born.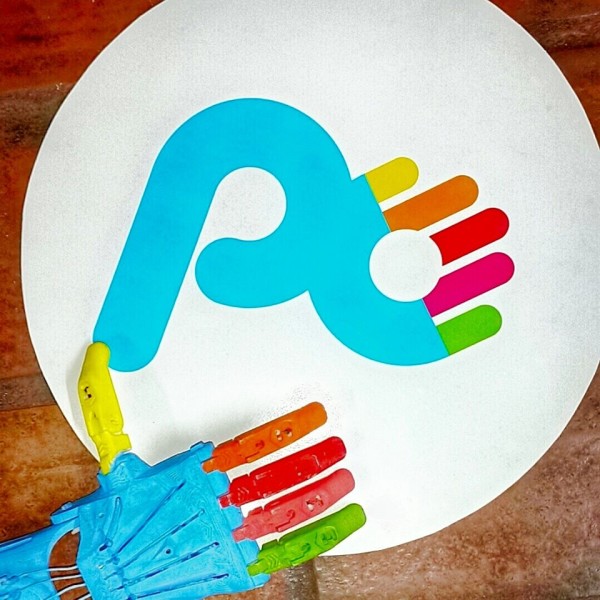 Eric writes, "Po Paraguay ignited with e-NABLE. We were already working with 3D printing but as a hobby more than with a purpose. It is such an amazing technology and it wasn't getting used to it's full potential.

We found a barrier with e-NABLE's method of giving hands away for free in Paraguay…donated hands for recipients by individual people with 3D printers was more a dream than a reality. With approximately 30 printers in my country, (counting very expensive prototyping type 3DS machines) it was unthinkable to address the big problem of lack of prosthetics in our country.

Less than 1% of the people who have contacted us have been able to try a prosthetic hand or arm. The government doesn't have a set program to help these people and 3D printing is mostly unheard of as a technology here in Paraguay."

To date, Po Paraguay has created 34 3D printed hands for people seeking assistive devices in their country, one of which is Elias (Elijah) who Eric describes as "Amazing and inspiring."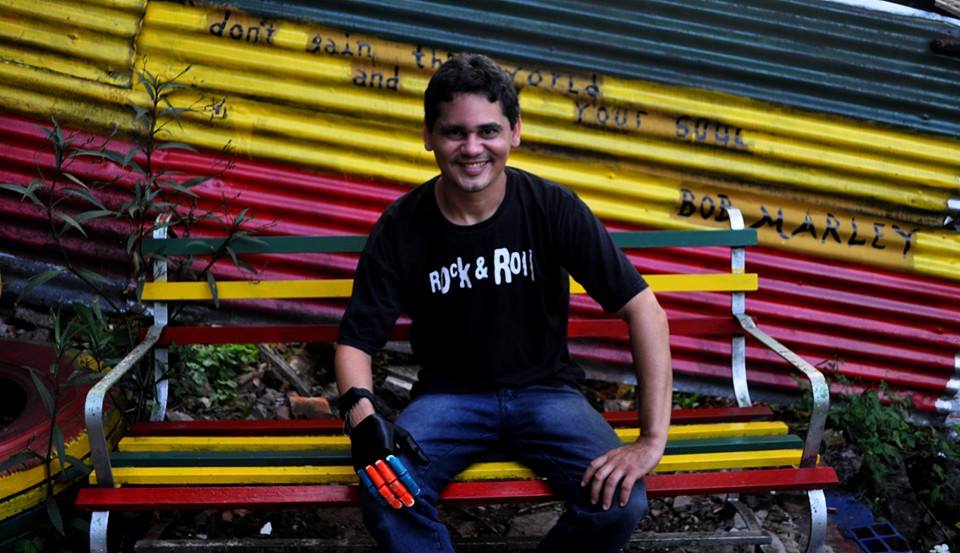 From the time Elias was about 13 years old, he had worked as a carpenter and after 20 years of work, he had a horrible accident with a saw that resulted in the loss of his right hand. He felt devastated and Paraguay's national health care doesn't give their people support with getting prosthetics. He was offered a myo-electric version in Foz De Iguacu Brazil and traveled to try it out but with the price being over $20,000 USD he returned "empty handed" back to Paraguay.

Eight months after his accident, he found Po Paraguay and his first 3D printed hand. Eric writes, "He got his hand and the transformation he went through was amazing. He lost weight, he cut his hair and got a job but most importantly…he started helping Po. With his help, we developed a utensils holder to cut food and a pick for playing the guitar. He's currently working with us as a Volunteer."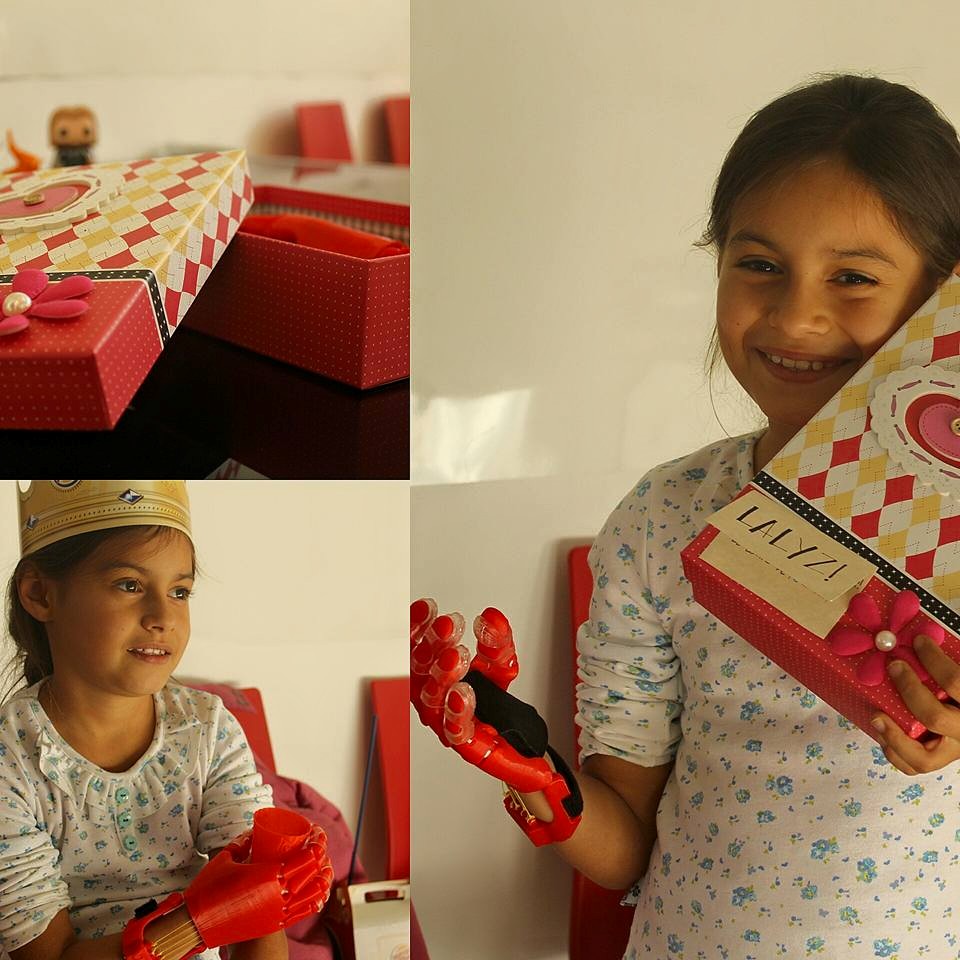 A young 8 year old girl named Lalyz also found her way to Po Paraguay. Eric shares her story: "Lalyz was born without a hand but the moment she saw Po's 3D printed hands, she decided she wanted one! A red one. She wanted it to match her favorite new boots. The moment she started using the hand, it was as if she was born with it. She played with balls, poured water from one cup to another and even hi-fived people!"
Like many of our recipients, Po Paraguay has found that one of the biggest reasons for asking for a new hand is self confidence boosting. Eric shares a story about Jorge, a 20 year old young man that lost his hand when he was 8 in a fireworks accident.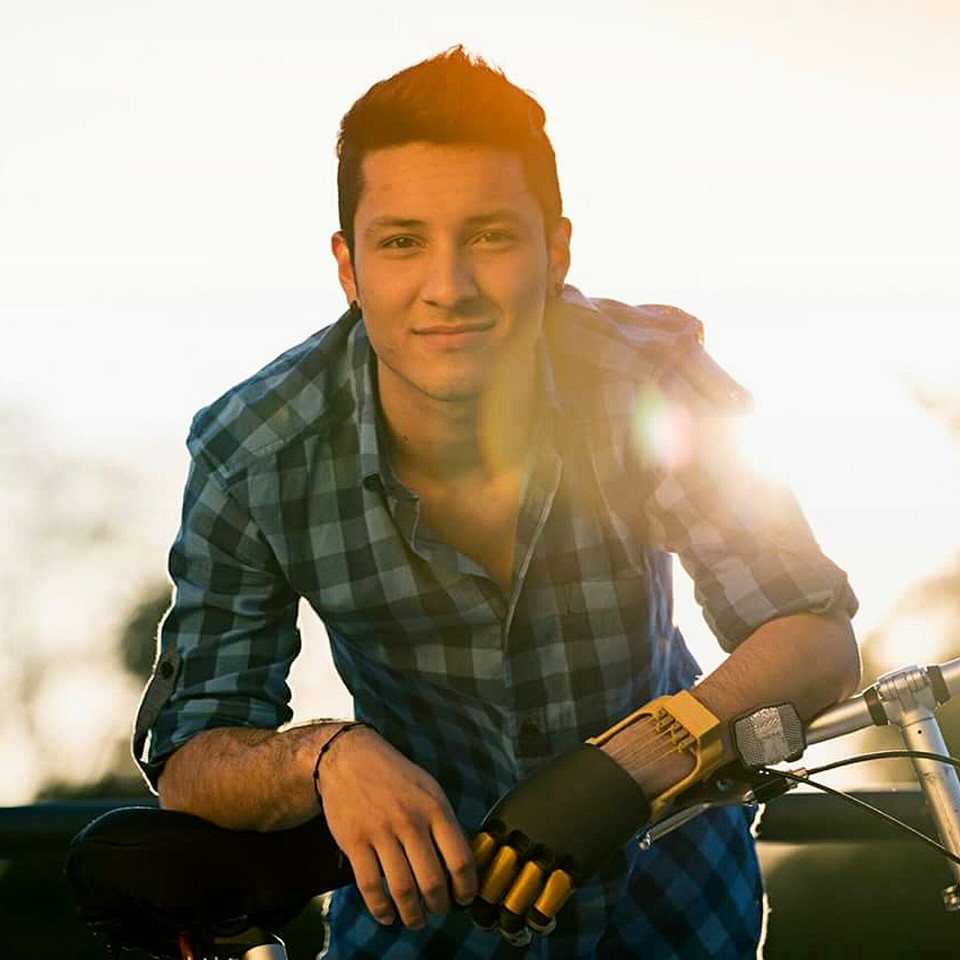 "Jorge never wanted a (prosthetic) hand because they were dull and looked like something out of a "Chucky Movie" or didn't match his "Cool Groove." When he saw Elias's hand, he told his mum he wanted one but ONLY if it could be a black one with a "Golden touch." We made him his "facha" hand – which means "cool hand" here. The one thing that really stood out to us and made us notice the full potential of all of this was the fact that this kid that had felt his whole life as the "odd one out" in a negative way because of his "disability"…changed his social media profile picture to one where his new 3D printed Po hand was a flag of his proudness for being different! He also invited us to attend the first birthday party he had wanted to have after 12 years!

Again, we saw an entire transformation of a person. Not only in the physical aspect (being able to grab things is incredible), but most importantly in the psychological part of it all."

Po Paraguay is currently setting goals to help 80 people in what is left of 2015 and are attempting to get some funding from their local government to triple the amount of users for 2016. They are doing academic research with the Universidad Nacional De Asuncion and the Universidad Catolica de Asuncion with the hands and are working hard to promote 3D printing as a tool for change in many ways.

Eric shares, "We can give hands…but hopefully others can create even greater things!"

"We have a dream of making these hands as common as having braces and that every single kid that needs one will be able to get one, modify it and improve it! Having a 3D printed hand at your reach whenever you want and with a design that you love, being able to mix and match it with your new clothes or your favorite team…is something we want not only in Paraguay but in the whole world!"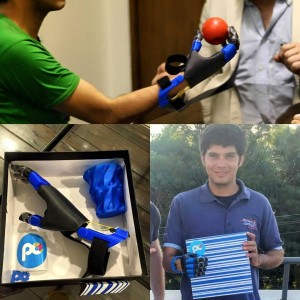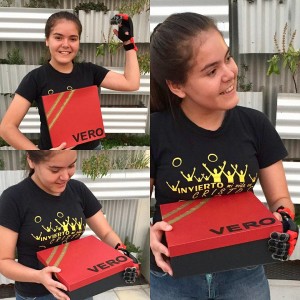 How does Po Paraguay work?

Eric explains, "We needed to guarantee the quality of the final product (printed hand) in order to get people to believe from the first moment that 3D printed assistive devices are not only a "band-aid" to a problem, but an actual solution. As you know, QC (quality control) is an issue when your model relies on having people around the country (many amateurs), producing 3D printed assistive devices and that is why our current strategy relies on centralizing the production of the devices, at least in the first stage of the project."

Po Paraguay works as a non-profit which provides the full process of getting a hand before, during and after the recipient is given a device.

Eric goes on to share more: "We strongly believe in user empowerment and that's why the users that can pay for their hand, we ask them to pay a subsidized price so they stop feeling as people with a disability are receiving a charity gift for their condition… but making them feel like true owners of the hand with all the rights and privileges they get by having "bought" one. The people who can pay, end up paying about 80-150 USD for a hand and the one's that can not pay receive a full donation either by Po Paraguay or an independent donor (either a person or a company.)"

Po Paraguay has already created 34 devices and most of their recipients paid under $120 USD and many others received them for free thanks to donors. They are based out of Asuncion, Paraguay and have 8 full time employees (still all volunteers but hoping to start paying wages by December) and 8 other working part time volunteers in social media, graphic design, PT and other areas.

"I'll keep saying that e-NABLE has changed history and every single one of the volunteers has shaped the future in a good way! A big hug from Po Paraguay and all the users that are infinitely thankful to all of you!"
For more information please visit their facebook page!