Dr. Javid Abdelmoneim and Al Jazeera visited one of our wonderful e-NABLE volunteers, Felipe Wiltgen, in Brazil a few months ago and followed him on his journey to finally get to meet one of the children he had created an arm for earlier this year as well as his first personal delivery of an arm to another child.
He shares, "Recent developments in bionic prosthetics offer many without limbs, a life changing opportunity..and yet for most, especially those in the developing world, these advanced prosthetics are financially out of reach…leaving them with little options or nothing at all. I'm in Brazil to see how new open source designs and advances in 3D printing are bringing affordable prosthetics to children all around the world."
During the day, Felipe teaches engineering to students at a University and in his free time, he volunteers with e-NABLE, creating free 3D printed hands and arms for children in Brazil who are in need of an assistive device. Each hand that Felipe creates for someone, costs him roughly $100 USD in materials and energy costs, which he pays for himself and the recipient pays nothing.
He shares, "It's a hobby that is helping people…I save up for it."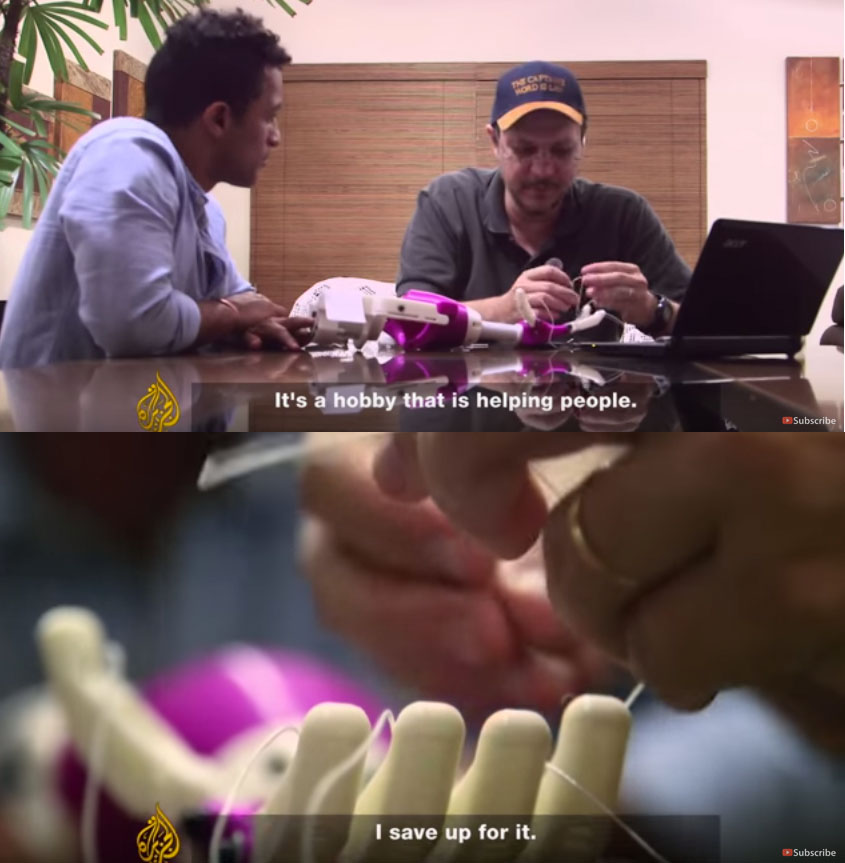 "The open source nature of e-NABLE designs means that engineers and designers across the world are able to modify and adapt them so that the prosthetics are always improving." says Dr. Javid Abdelmoneim.
Felipe adds, "The modifications I make are usually small and these changes are then shared with the e-NABLE community. Everyone has access to these modifications and can start using these models."
The e-NABLE community thrives on sharing their designs with each other, reworking someone else's idea and helping each other improve upon them all. The incredible progress that the e-NABLE community has seen over the past 2 years, is due to this collective collaboration and non-competitive nature of the group. They simply share their ideas and hope that others see potential in the design and start downloading the files, printing them out and playing with them so that they can repair the weaknesses and build on their strengths.
The e-NABLE Community, working together as a group… putting religious, cultural, political and personal differences aside to work together from thousands of homes, schools, makerspaces, garages and libraries around the world, is how e-NABLE thrives and grows. A collaboration of a multitude of imaginations and volunteers willing to share… THIS is how these children that Felipe has 3D printed arms for, are able to use devices that they never dreamed was a possibility for them.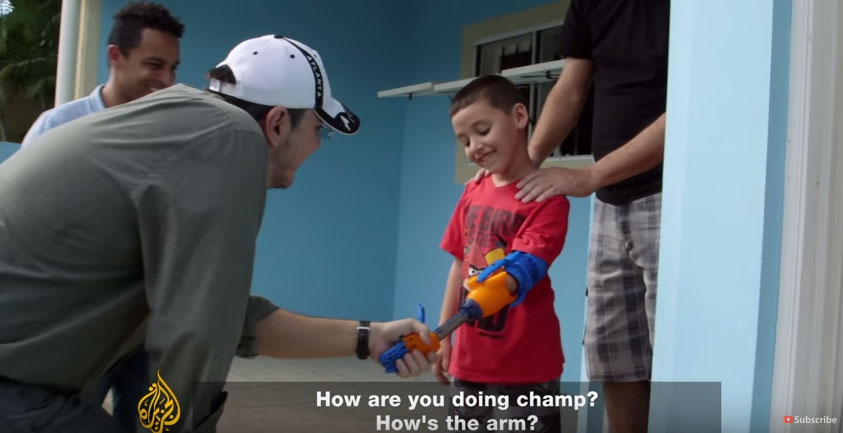 The first stop for Felipe after sharing about e-NABLE and showing Dr. Javid Abdelmoneim how the 3D printed hands are assembled, was to check in on Rafael who has been using his e-NABLE device for the past 6 months and see how he has been doing with his new hand. Felipe had never met Rafael or his family before as he had created the device for the young boy and paid to ship it to him.
During the short visit, Felipe noted the wear and tear from Rafael's frequent use.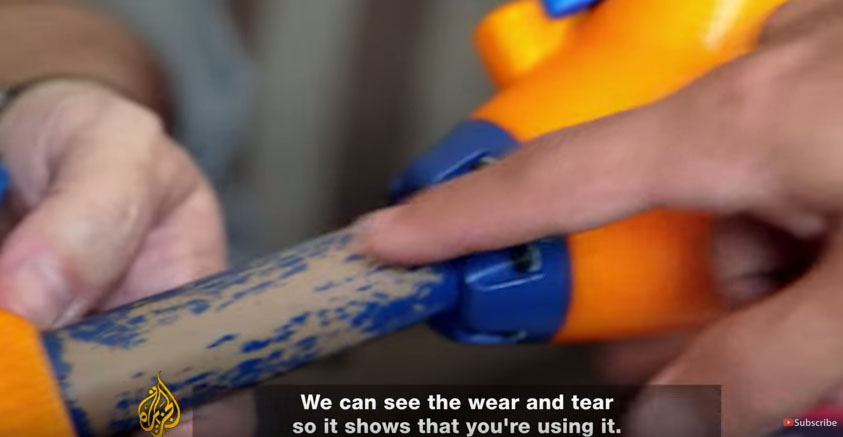 Rafael's Mother shares, "When we put up our profile (with e-NABLE) we thought we'd never be selected. The relationship with e-NABLE, especially Felipe was amazing. Each message, each email..you could feel the care and attention that he had toward us."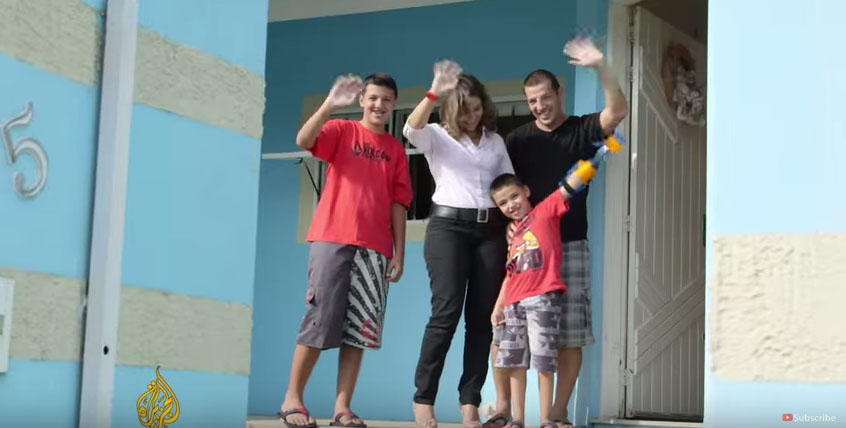 You can see the joy that Felipe's gift has brought to Rafael and his entire family as they gather on their porch to bid him farewell as he heads to his next destination: personally delivering another device to a young girl who is waiting to try it out for the first time.
After another bit of travel, Felipe arrived at the home of Ana Luisa and found that she and her family were eager to meet him and she was more than ready to try on her new e-NABLE device. Family gathered all around as she opened her gift from Felipe and his own family – to her.
She put the arm on bent her elbow. The fingers closed and the tears started falling.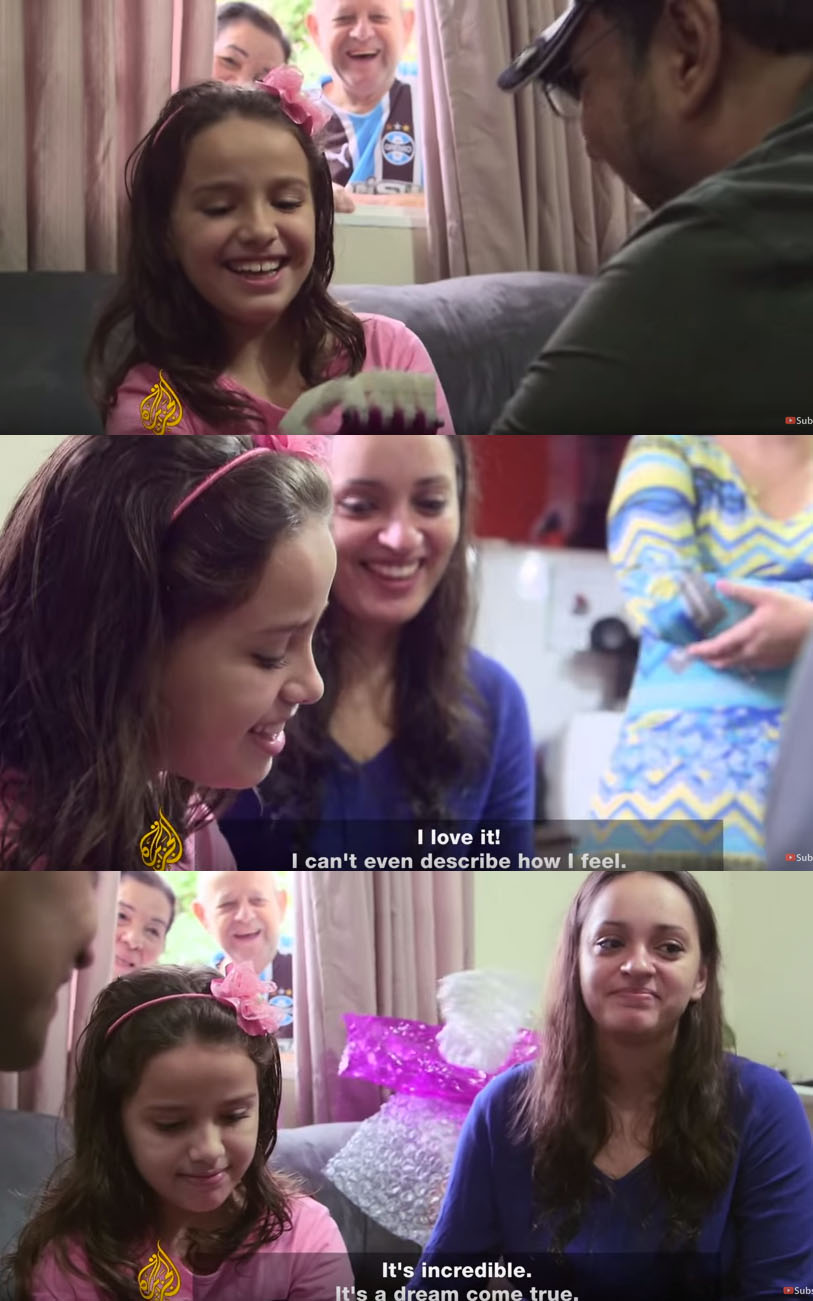 "I love it. I can't even describe how I feel." she tells Felipe and her mother adds "It's incredible. It's a dream come true."
When asked how Felipe felt having had his first experience watching a recipient use her arm for the first time, he responded: "It is incredible that we can do something so small and make somebody so happy."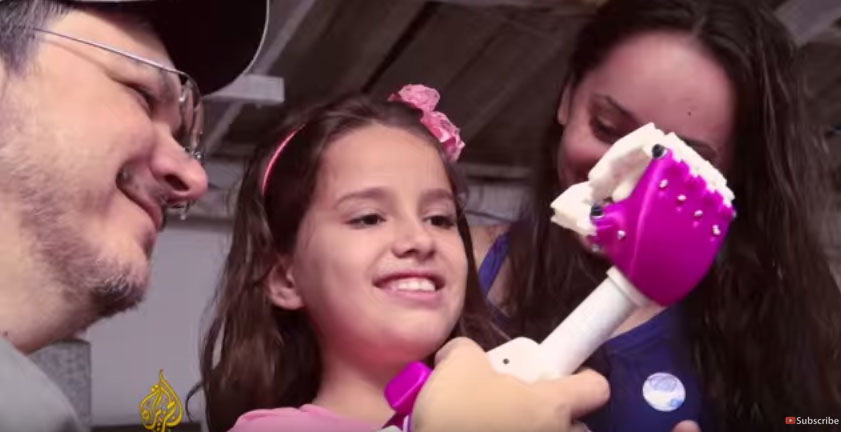 And that is really what the e-NABLE community is all about – using tools we already have available to us: our 3D printers, our imaginations, our ideas, our time and extra resources… the "little things" that seem so small to some…but make such a huge difference to someone else.
Do you have a 3D printer? Do you like to design in your free time? Do you want to help print hand kits for those in need?
We would love to have you join us in our Google+ group and welcome you to our global family of makers, thinkers, tinkerers, artists, engineers, students, teachers, parents, recipients, philanthropists and so many others who just want to spread a little bit of joy and "Give the world a helping hand."