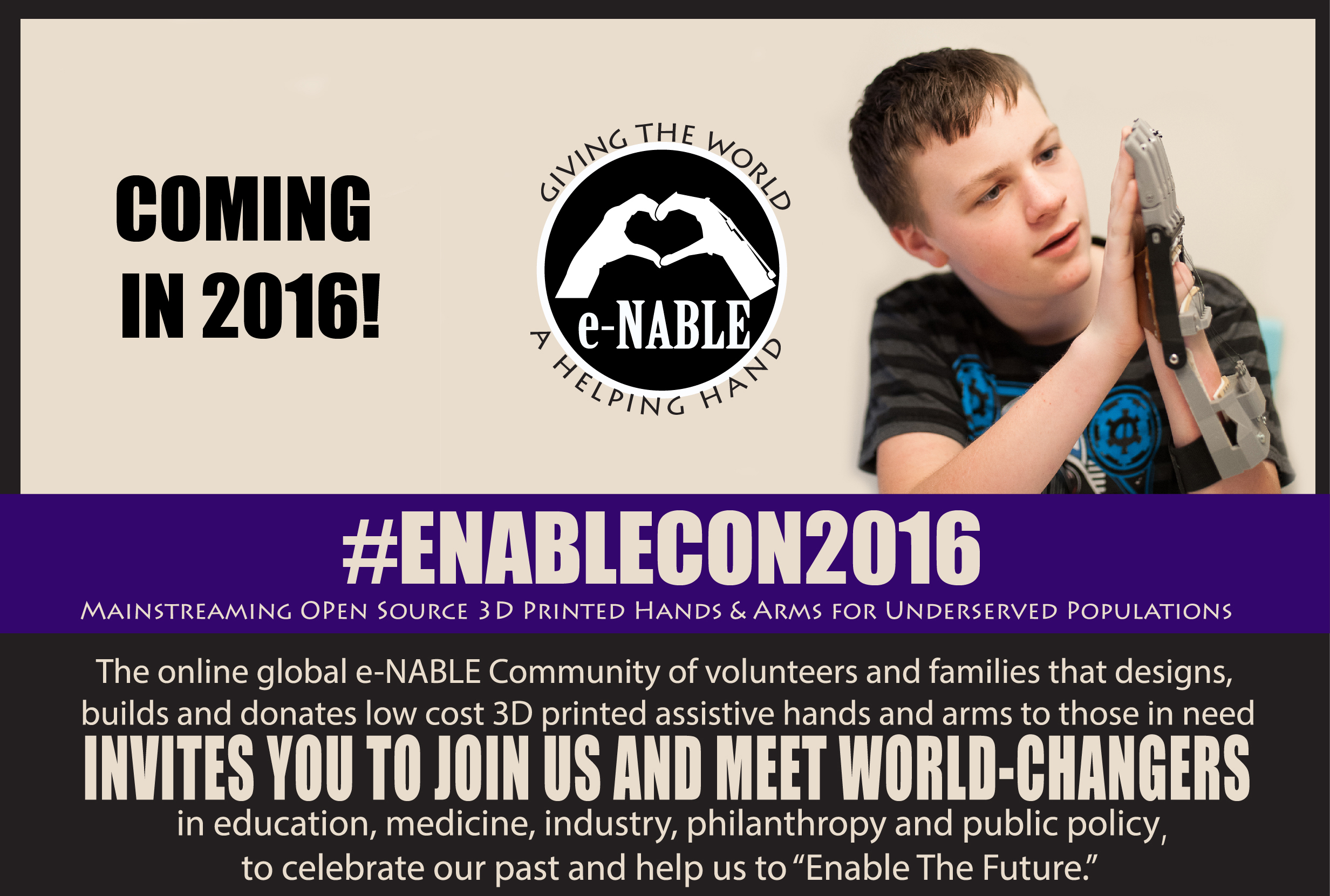 Message from Jon Schull, President of the Enable Community Foundation:
I'm writing to make you aware that we've made ​​the difficult decision to cancel EnableCon2015 scheduled for October 24 at the University of Washington Bothell.
During the past week we recognized that our limited resources would be better spent supporting the work of the community rather than mounting an ambitious conference in a narrow time frame. By remaining true to the necessary priorities and building infrastructure, our small staff and exponentially growing volunteer community can best respond to current pressing needs and requests from around the world.
This decision allows our staff and volunteers to address a growing array of exciting initiatives and commitments including …
upgrading the matching process and the device testing process
research and development projects (Stay tuned for news of an exciting new e-Nable arm system.)
responding to invitations from potential partners in places like Mexico, Haiti, Syria, the Ukraine and Nepal
a program to use in-kind donations to defray expenses of our most productive volunteers
a new Enable Community Foundation website
Design Challenge competitions and prizes
When it happens, EnableCon2016 will be a great community-building celebration of our community, our movement, and our achievements.
We apologize for any inconvenience esta rescheduling May Have Caused For Those Who May Have arranged travel and will announce a new location and date.
We are currently issuing full refunds, for Which You should Receive an email confirmation Within 1-2 days. It's Been Once issued, the refund Should be Credited back to your credit or debit card in 5-7 business days.
Thank you for your continued dedication and support.
** Although the conference is delayed until next year, attendees who requested a device should know that their request is still being processed as quickly as possible. Please make sure you send the enable matchers your photos, tracings and other information ( enablematcher@gmail.com ) So that the device being customized for you will be 3D printed and assembled as quickly as possible.
For media inquiries:  Please contact Maria Esquela, 443-979-0024, or maria.esquela@enablecommunityfoundation.org.