When e-NABLE started really picking up steam in January of 2014 – we had about 300 volunteers who had joined our Google+ community and about 75 volunteers on our map who had signed up to help 3D print a hand for a child in need.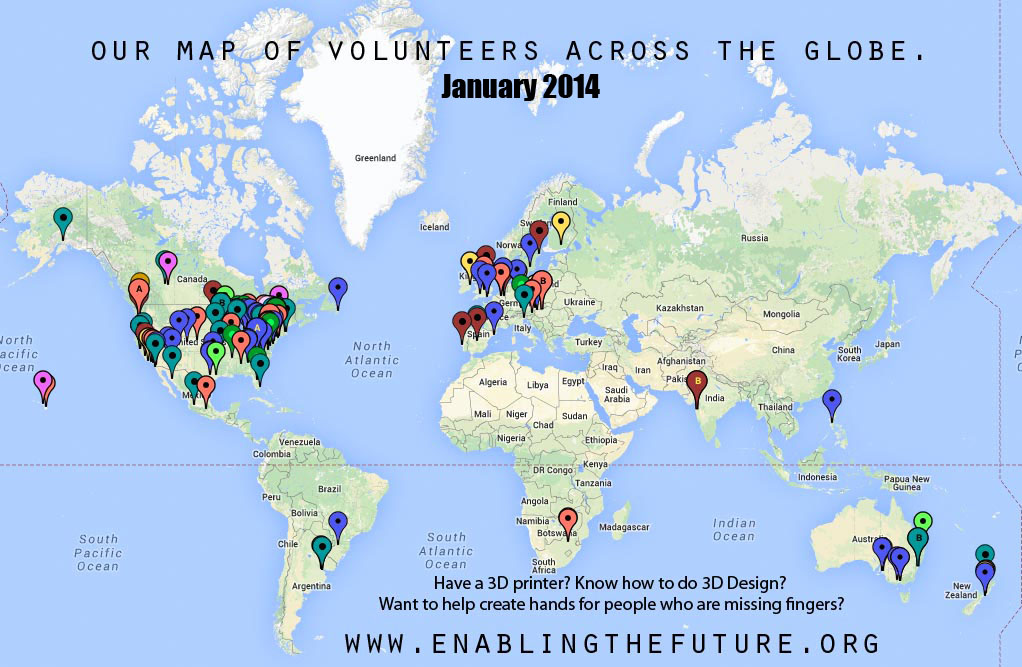 e-NABLE has now grown into a world wide movement of nearly 5000 tinkerers, engineers, 3D print enthusiasts, occupational therapists, artists, university professors, designers, parents, families, artists, students, teachers and every day people who just want to make a difference in the lives of others who were born missing a hand or who have lost them due to natural disaster, disease or war…by creating free 3D Printed hand and arm prosthetics for those in need.
We have been growing exponentially for the past year and every day, the requests for help from all over the world are growing just as quickly!
In June of 2014, we had 190 recipients and 192 volunteers who were able to print hands for them…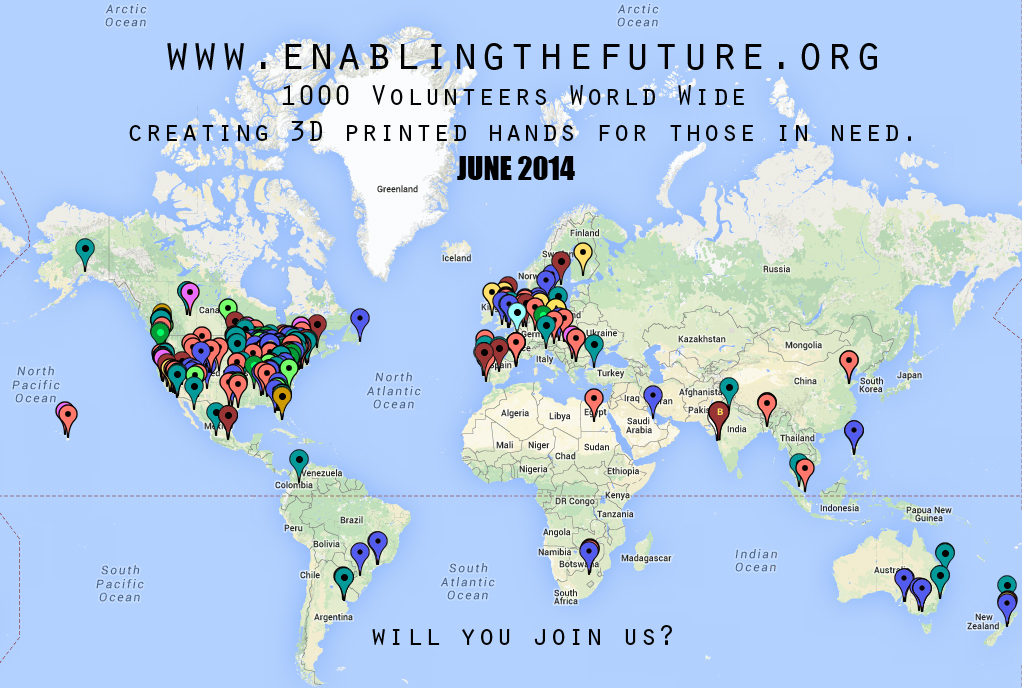 Less than a year later, as of today, April 15, 2015 – we have 1399 recipients and out of our nearly 5000 Google+ community volunteers, we have 3504 who have signed up to print parts and 55 schools who are volunteering to print!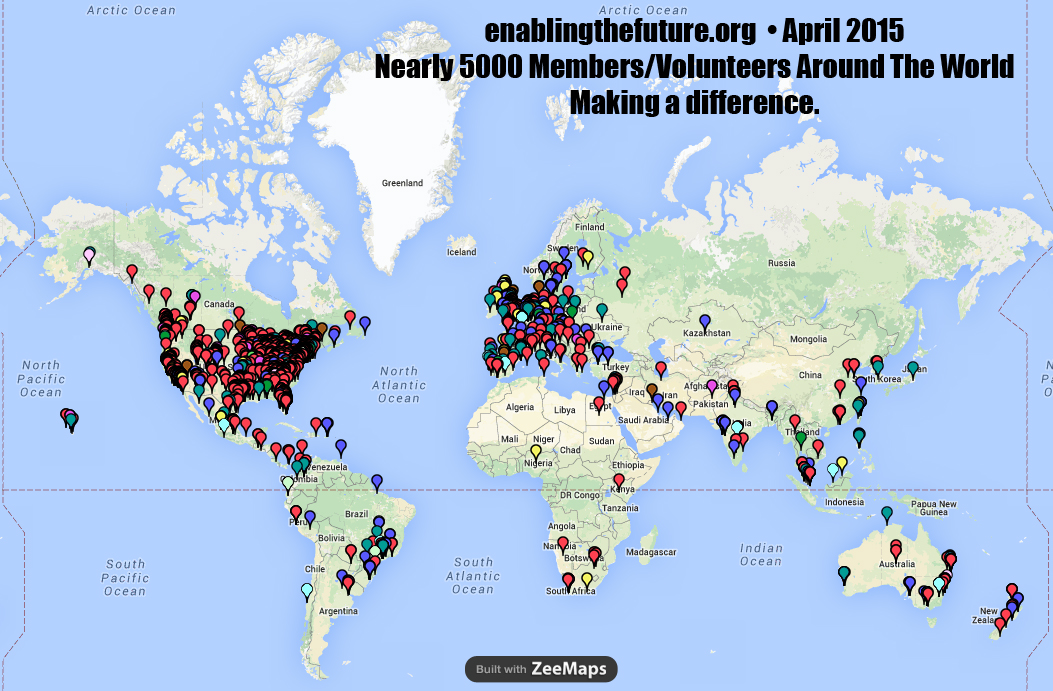 It is incredible to see how much we have grown!
Some of our volunteers are now working full time hours to answer emails, matching makers to recipients, helping to coordinate with schools, church groups, scouts troops and other organizations, finding ways to collaborate with clinics in underserved areas around the world, assisting with planning events and traveling around the globe to share e-NABLE's story.
On average, our Matcher volunteers will spend between 6-8 hours working with each individual family and the volunteers that they have been assigned to. From answering the initial request messages to emailing information on measuring guides, welcome packets, safety guidelines and general information about e-NABLE. They are also personally guiding parents through the photo taking process, answering questions from parents who need guidance, searching for a volunteer and connecting them with the family, checking in to make sure progress has been made and entering all of the recipient and maker information into our system as well as making sure that devices are sent and received in a timely manner.
Our matcher team receives about 50 new requests for hands and approximately 100-150 new volunteers every week. Some weeks bring in higher numbers when larger media stories come out. We have nearly 1400 recipients in the system currently who are at various stages in the process and it grows daily.
e-NABLE is getting new requests for large numbers of hands to be delivered to areas around the world – like Haiti, Mexico, Vietnam, Gaza, Israel, and Syria. While we have the volunteers who are willing to print for them, the rules and laws in these various countries differ and are often more strict than the USA where a majority of our makers reside. In order to provide hands for these locations who have the greatest need, we need to assemble teams of volunteers that can work with each individual clinic and organization who contacts us for help.
While e-NABLE has managed to provide nearly 1000 hands to over 700 recipients in the past year and a half solely on the gifts of the heart and the generosity and love of our volunteers – we are now at a critical point where we are in need of funding to help keep  e-NABLE running smoothly and provide even more help where we can.
To help us continue to provide free devices to those in need of assistance, we have started a fundraising campaign on tee-spring where you can purchase a t-shirt and help support our efforts!

All proceeds from the sale of these shirts will go toward the Enable Community Foundation to help us continue to help children and adults from around the world who need "A Helping Hand."If you are not interested in purchasing anything and simply want to make a one time or recurring donation or pledge a simple $10 per month – please visit our donations page and remember that anything helps! All donations, big or small, makes a difference!If you are interested in doing a fundraiser on behalf of e-NABLE – we welcome any gifts you can share!If you would like to plan an event and fundraiser and have an e-NABLE volunteer join you to share about our community and mission – please email us at enablehands@gmail.com!Thank you for your continued support and for sharing our stories so that parents and recipients can continue to find us!
Thank you for helping us to "E-NABLE THE FUTURE!"