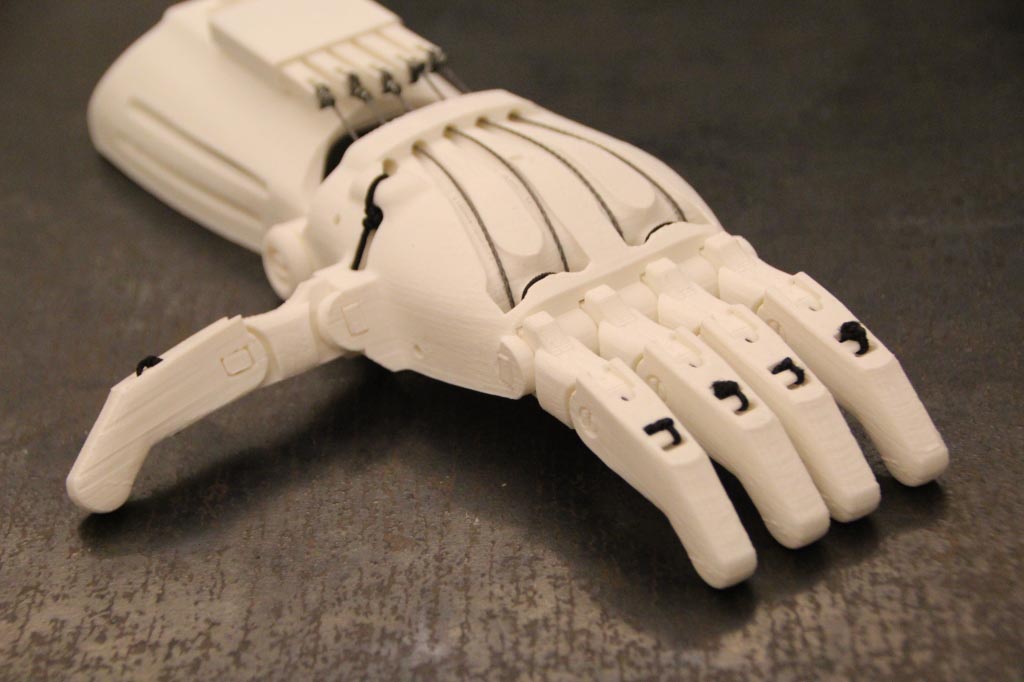 The team behind the original Raptor has released the Raptor Reloaded, an updated and re-factored version of the Raptor Hand.  The entire device was modeled in Fusion 360, a free CAD tool that can import and export most standard solid body modeling formats such as STEP and IGES.  By designing the hand in a tool compatible with numerous CAD packages, we hope to lower the barrier to contribution to the e-NABLE project for engineers and designers.  Previously, if a designer wanted to make a small adjustment to a part of a hand, they'd have to rebuild the entire part in their CAD software before they could make the change.  Now they can download the source files and just spend their time making the specific change they had in mind.  With this new set of source files, we hope to improve the pace of research and development within the design community.
Changes in this design include:
Improved print-ability due to custom modeled supports
Cyborg Beast compatible sizing
Improved dovetail geometry
New tensioner retention clip
Easier to use tensioner pins
Low profile elastics with two tie-off options
More access to elastic and flexsor routing channels
Debossed versioning information on palm and gauntlet
Slimmer, more anthropomorhpic fingers
Narrower knuckle block
More intuitive assembly (new one-way proximals)
Thorough documentation and modular design
Source files in native Fusion 360 format, also STEP and IGES
Additional velcro-mounting options as well as traditional velcro loop and leather options
Re-oriented snap-pin head recesses to improve printability
Knuckle pins are now removable, making the hand easy to repair and upgrade
Strengthened tie-bars on finger tips
Iteration and Testing are Key
Now that the design is ready, I'd like to share a bit about the process behind the design.  It was a long process involving hundreds of hours of design and print time as the team iterated up on the palm, the phalanges, the gauntlet, the tensioner, and all the snap pins.  Every piece was printed on multiple machines by multiple team members to ensure stability and functionality across different 3D printers.  Numerous small changes were implemented to facilitate easy and reliable printing.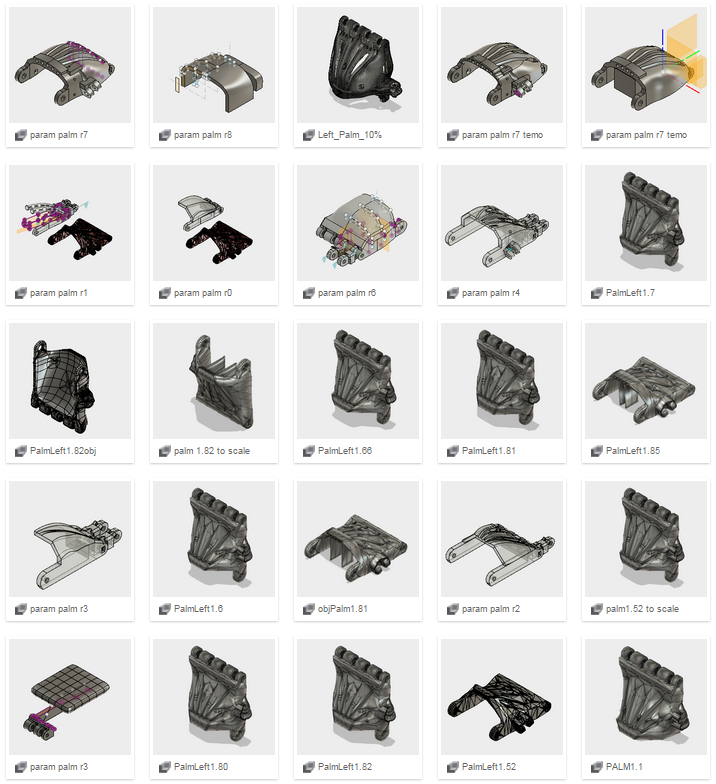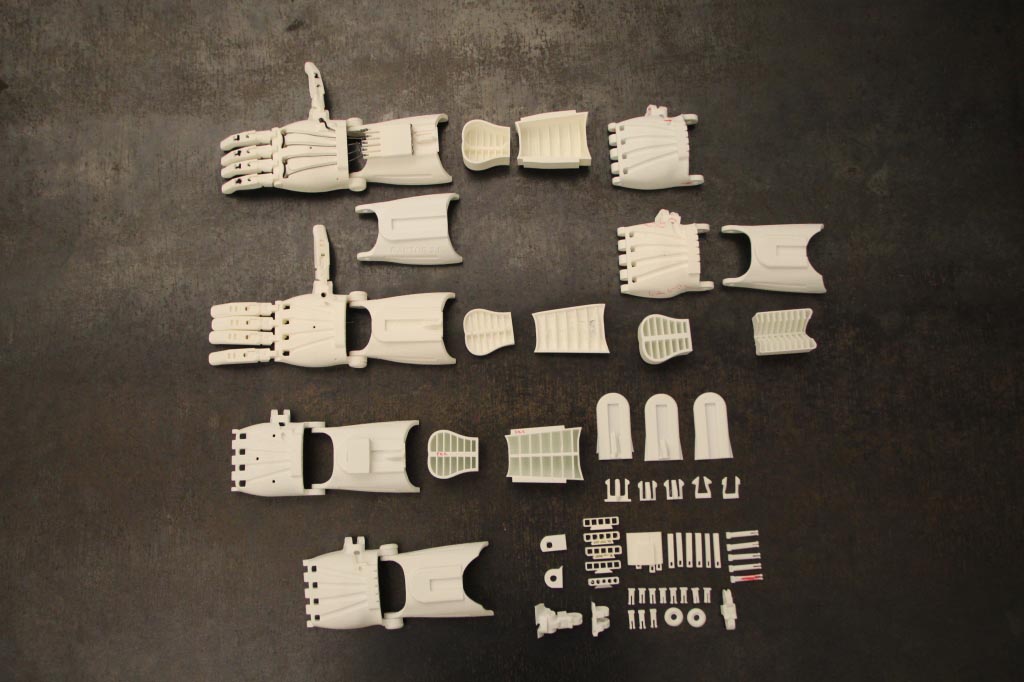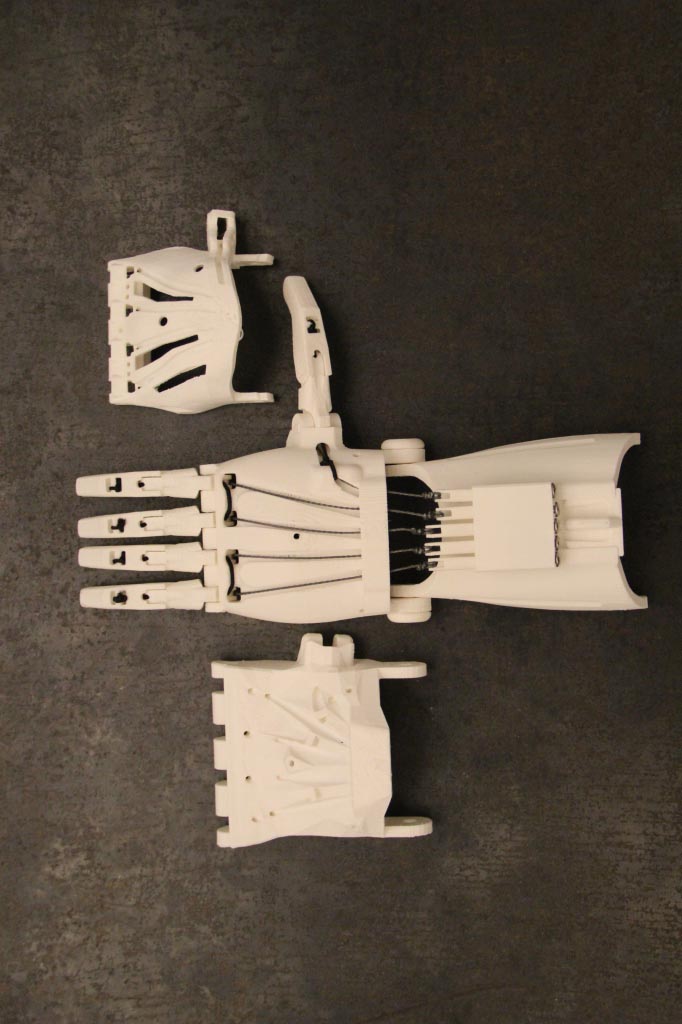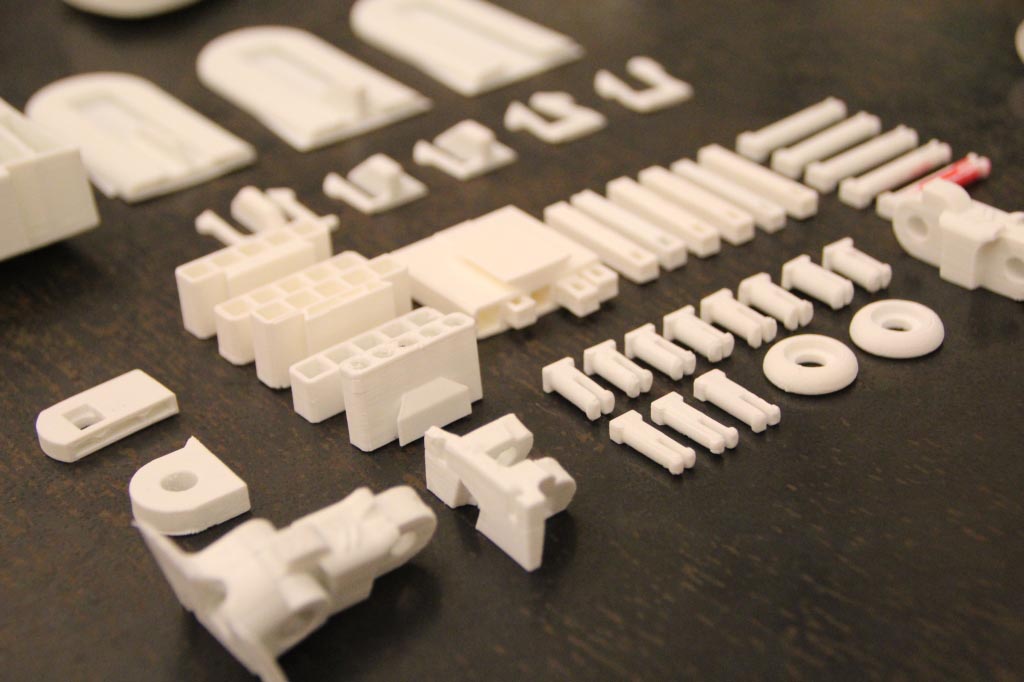 A Design Is Only as Open as It's Documentation
As an open source community developing open source hardware designs, it's important to design for accessibility and transparency.  This means structuring the very design files themselves for easy manipulation and readability.  While an on-going process, the Fusion source files for the Raptor Reloaded are annotated to provide designers with information about the relationships between 2D and 3D data, much like comments in code help developers interpret and understand code.  Next, we documented all the important mechanical interfaces of all the parts of the design, allowing any designer to design something that will be compatible with the Raptor Reloaded just by looking at the schematics.  This is a lot of information to manage and we will be posting all source files and schematics to our github soon.