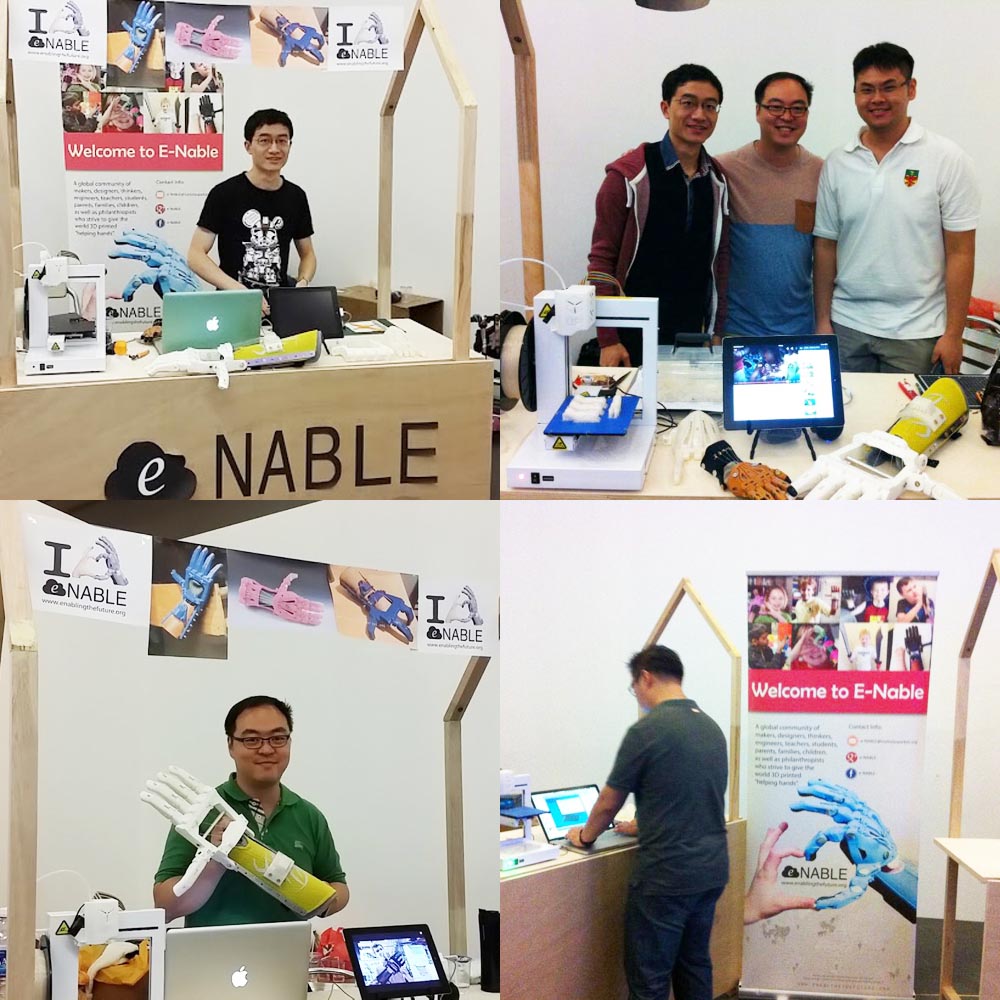 Our online global community of e-NABLE volunteers is growing and spreading to countries where the need for low cost devices are the greatest.
Some of our members are currently running a booth at the Maker's Block Event at Suntec City Mall in Singapore where they are sharing the designs and the heart of the stories behind our community of makers and our hope that people in need of a device will be able to obtain one.
Volunteer, Benjamin Cheong, writes:
"My team, which was formed up about a month ago, are presently having a booth, organized by Maker's Block – at the Suntec City Mall, Level 2 from June 27th to the 7th of July. My team and I will be there daily to help share many more fantastic and heart warming stories to the public.
We did not manage to find a recipient to work with, as the time given to use for preparation for this event was relatively short. Hence, we had only managed to print a Cyborg Beast of kid size (Age: 3-4 years old) and a giant Talon Demo hand. Once this event is over, we will be moving around Singapore to continue introducing this community to the social welfares and hospitals. During this time, we hope to meet a recipient to work with.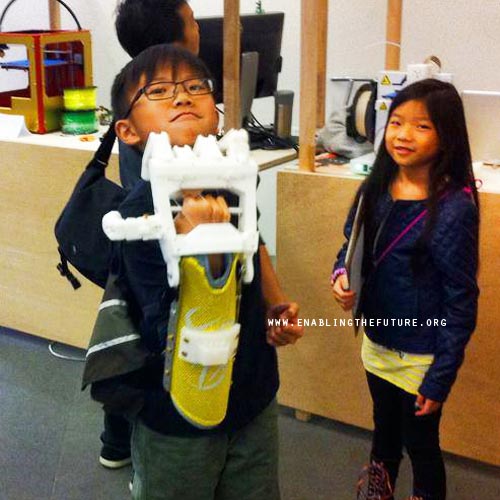 For the past 4 days, this event has been wonderful. It has drawn in huge crowds to our booth. Many visitors were impressed and humbled by what this community (e-NABLE) has done for people all around the world. They too are surprised by what 3D printing technology can be used on, besides printing display models, toys and daily use tools. Many had expressed interest in joining the community to help contribute in any way possible.
Some teachers who had attended this event, expressed their interest to introduce this community and actions to their schools. One of our Government Officials and some Medical field professionals expressed their interest as well and wish for us to continue this affordable device in the hospitals in Singapore. 
We have captured some media attention during this event and we hope more people around the region will be able to take note of this amazing community and join us in reaching out to more people in need of devices.
We can be further reached through our email: wedothreed@gmail.com should anyone wish to know more.
Thank you to all of the e-NABLErs within this community for doing such AWESOME and WONDERFUL jobs. Keep it up guys!
Also – I would like to thank my team members, Zhang Yuanjun, Jeremy Lee and Anthony Lim for  the hard works and late hours spent in making this happen. Last but not least, a big thanks to Bob and Simlified3d Asia for their huge contribution to this project."
If you are in the area – please stop and say hello and if you are interested in finding out more about what this Global online community of e-NABLE is all about – please join us in our Google+ group and say hello!