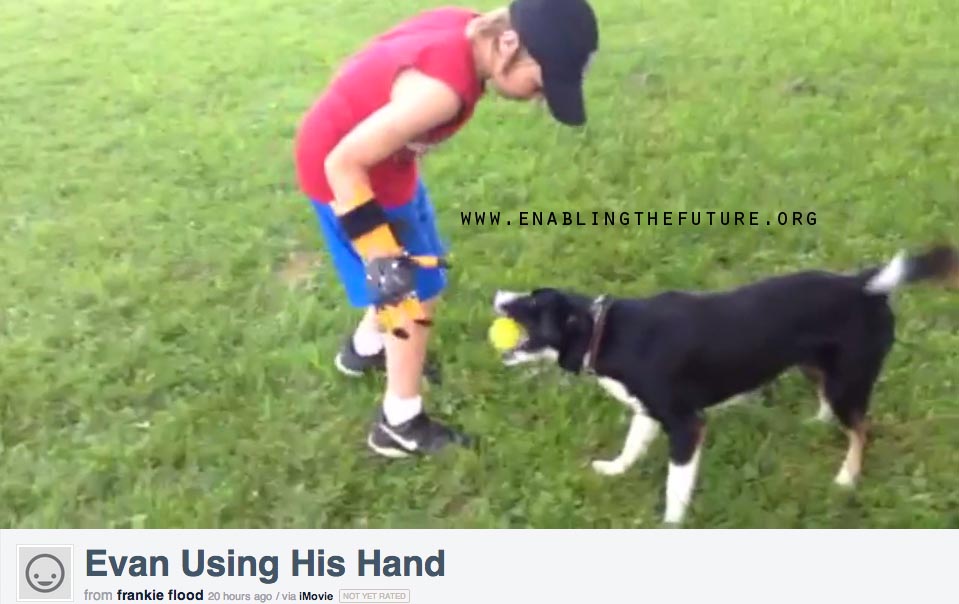 (Please click on the image above to watch the video of Evan playing fetch with his dog and his new e-NABLE 3D printed hand!)
This is Evan.
He is 9 years old.
In the beginning of the year, he suffered a tragic accident that took his fingers.
His mother Hailey contacted one of our designers and e-NABLE members, Frankie Flood,  and said:
"My son is REALLY into sports. He loved hockey, baseball and wrestling which I think may be a struggle for him now…but with your help, maybe he will be able to grip something with the use of your hand."
Frankie writes on his blog:  "This particular story really touched my heart as I have a 9 year old son who is really interested in various sports as well. I know how devastated my son Noah would be if he were not able to play sports, so I hope this hand allows Evan even just a bit of functionality in some of his favorite activities…

I received these videos from Evan's mother this morning. These videos show Evan using his hand to play fetch with his dog. I have to admit it's pretty amazing to see Evan…using his right hand and putting the 3D printed hand through it's paces. I was filled with joy watching these videos.
Maybe Evan will come up with some other ideas on how we can improve the hands we're making. I am certain that he will make a great "Tester" in terms of durability and active use. This is exactly what is needed to move forward."
Thank you Evan and Hailey for sharing your story, your photos and your determination with us!
For more information on how to get involved with our global online volunteer e-NABLE community to create free prosthetic hands for those in need – please visit our Google+ group!
No act of kindness is too small!