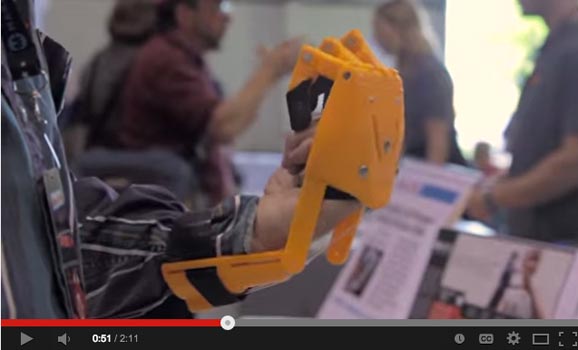 "Many small people, in many small places, do many small things…that can alter the face of the World." – Anonymous
Make Magazine visited our e-NABLE booth at Maker Faire in May and asked Andreas Bastian to tell them a little bit about e-NABLE and what we do. Please click on the image above to watch the video of Andreas explaining what our Global Community is up to and how we are working to help children and adults who are missing fingers – to get a chance and opportunity to see if one of these 3D printed devices could work for them!
If you are in need of a device for yourself, your child or someone you know or if you are interested in printing parts for people in need – please visit our new Intake Form!
If you would like to join the Google+ community and see what kind of work we are doing in there toward new designs, problem solving for makers and recipients and how we are trying to reach out to those in need – please submit a request to join and introduce yourselves and jump into conversations where ever you feel the desire to share or participate!
No amount of help is too small. We have something for everyone to do at e-NABLE!