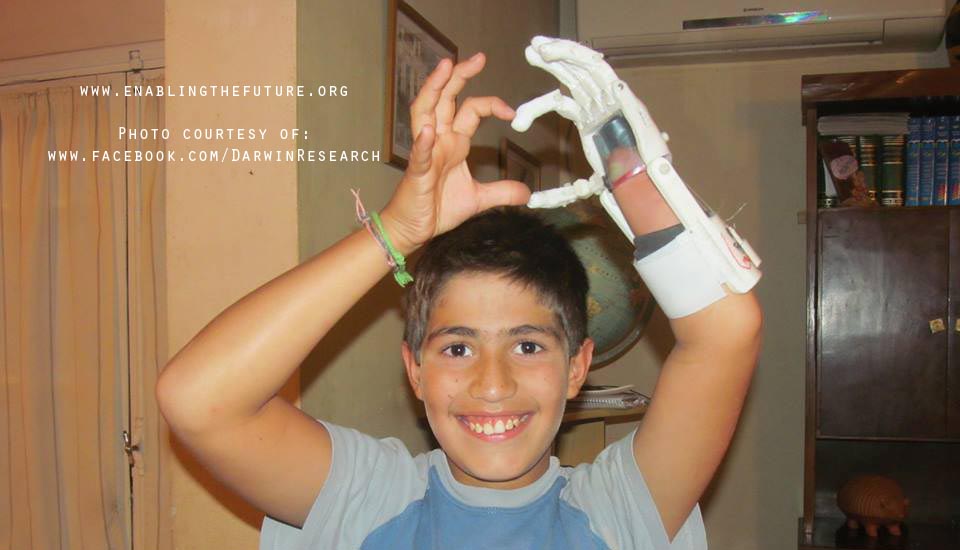 "The mind has exactly the same power as the hands: not merely to grasp the world, but to change it." – Colin Wilson
The e-NABLE group recently learned of a wonderful group of folks in Argentina who have set up a 3D print lab and are now making hands for people in their area!
Feli, age 11, just recieved his first 3D printed hand from the Darwin Research Group – check out that smile!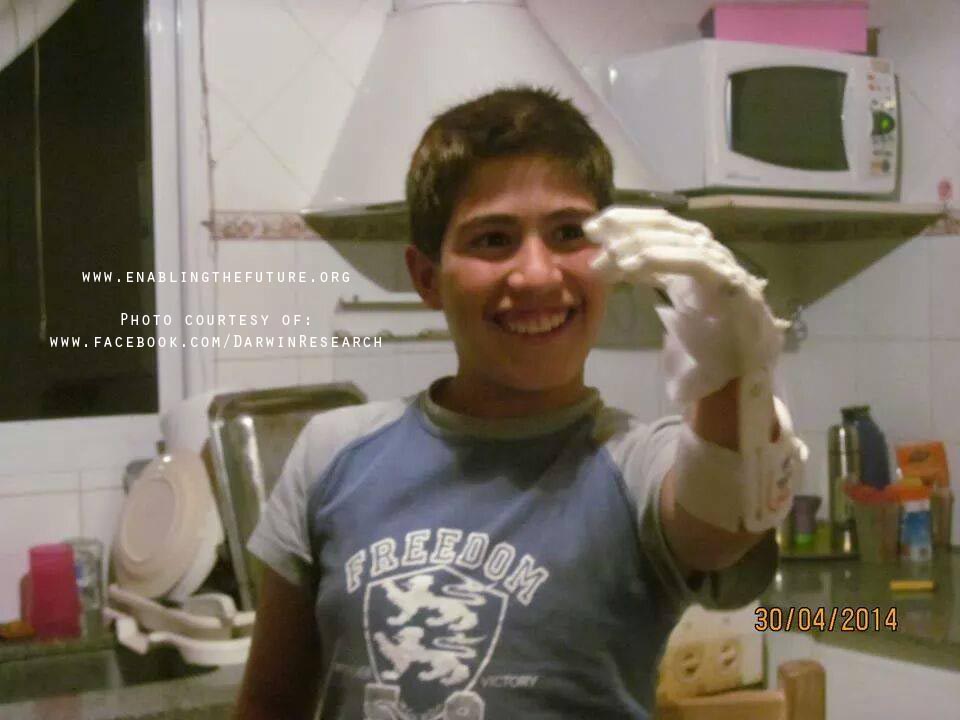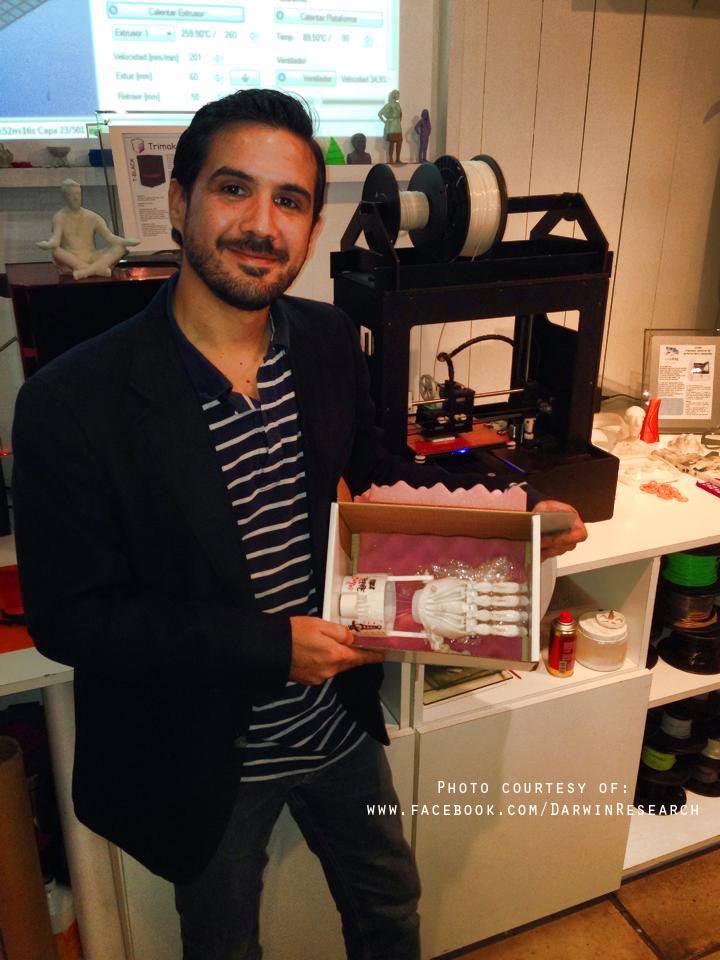 We asked Gino Tubaro from the Darwin Research Group to answer a few questions for us!
1. How did you hear about e-NABLE and what made you decide to start creating hands in your area?
Well, in Darwin Research, our first thought was to do a company that evolves technology the same that humans evolve, both in parallel. So first we built a classic Robohand, but we had a few problems. In Argentina these inventions are not common, so for example, if we needed to make a prosthetic arm with a orthoplastic – we are in trouble because there are a few laws that do not allow the common people to import things.
We needed to figure out how to proceed so we called a prosthetist and there would have been many things to take care of so we discarded the Robohand design, because for us, it represents a lot of requirements that the common person in Argentina isn't allowed to do if you are not  a big enterprise.
We printed thousands of pieces, most of them were downloaded from Thingiverse and with the first Robohand design we had to stop the build for days until we could come up with another solution. The design team  decided to build a remix from the Robohand and the Cyborg Beast along with our own designs.
For us to do this in Argentina means a new opportunity for those who do not have enough money to pay for a prosthetic hand (by the way, in Argentina it is more expensive than other parts of the world.)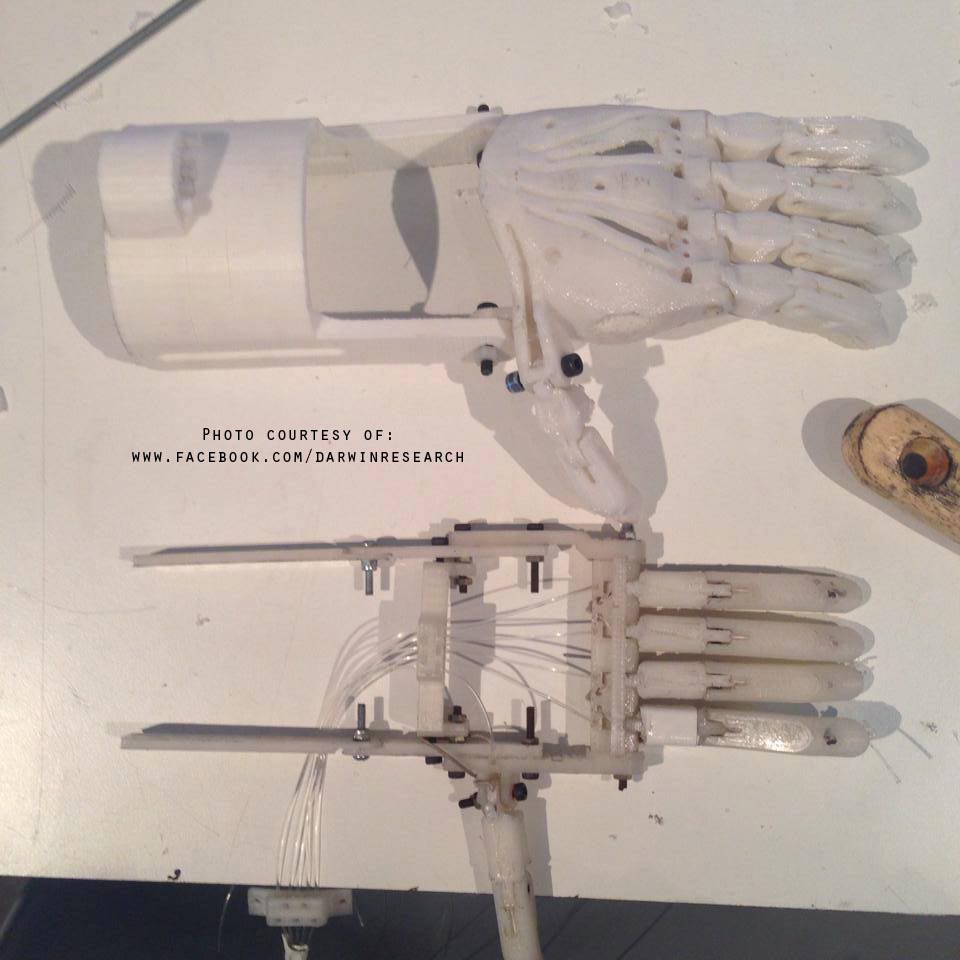 2. Is there a large need for these devices in your area?
Yes, there is! Now a days, we are helping 5-7 people. All of them are a unique prosthetic hand and a very fun project!
3. How many hands have you created so far? Do you have a wait list?
We have built 2 Robohands and pieces. Then we built the common e-NABLE hand (Cyborg Beast) and after seeing that the e-NABLE hand should work for us, we started remixing it with the files that the community uploaded to the internet through the Google+ Group and Thingiverse.
Our design team "Estudio Dtres" took the files and fixed them into our printers and got local materials like screws, nuts, washers etc. Now – every 48-72 hours we make a prosthetic hand because we work in the 3D Lab Fab & Cafe, a place where it has 4 printers working at the same time that allows us to print.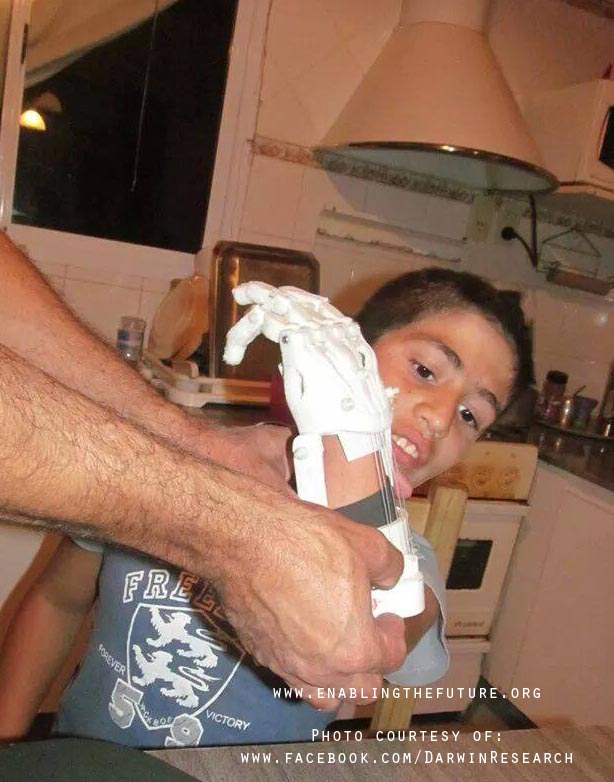 4. Who is Feli and how did he find you? 
Feli is an 11 year old boy from "Tres Algarrobos" – a place around 500KM from Buenos Aires (where we are working.) His family is not able to pay for a prosthetic hand so we thought this could be a very important opportunity to "Bring him a hand." He was born with no fingers – just a little stump.
5. Please tell us  a little bit about the Darwin Research Group and your goals for creating hands for people in need.
In the Darwin Research Group – we have a very small but powerful group of people. Gino Tubaro is a young inventor, is primary accomplishments are two awards given by the WIPO (World Intellectual Property Organization) and was also a TEDXRiodelaplata 2012 speaker.
Rodrigo Perez Weiss is an entrepreneur, and built a company called 3D Lab Fab & Cafe – which is like a coffee shop where you take a break while you print something and have a cup of coffee while you wait.
We also have an industrial design team that we call "Estudio Dtres."
6. How much does it cost to create one of these hands in your area?
In our area it costs 2000$ pesos. ($200 USD)
We are working to put out hands for those who do not have enough money to pay for one. We are working on a mobile app which will have options like  "Give a Hand" and "I can't pay." The first one is for people with funding who can pay for someone else to get a hand created and the second puts you in a list so we can call sponsors and even the State to help us pay for the materials we need.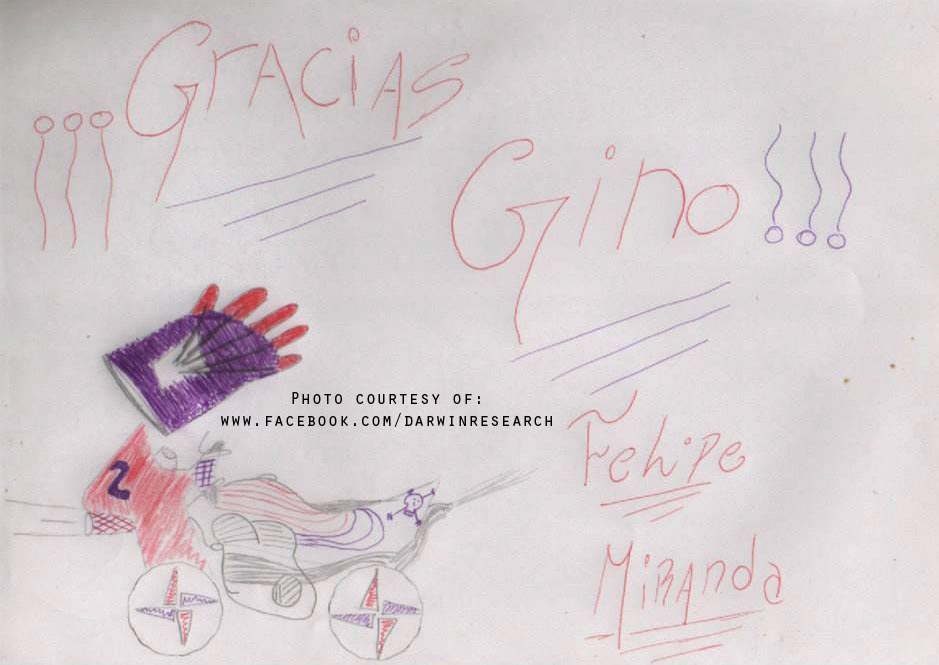 7. What are your goals for local communities in need?
Our goals are simple.
We believe we can do a lot of things (we are working on 3D printers, inventions and a lot of new research.) Our local community needs more technology to progress, more hands, more printers, more entrepenuers and in that – Darwin Research will work hard to bring the best quality and perform for the lowest prices in the market.
8. Is there anything you would like to add?
Just sharing our contact information so that people in Argentina who need help or just want to talk to us  – can find us.
Contact:
Gino Tubaro
Darwin Research CEO
https://www.facebook.com/DarwinResearch
Inventor
ginotubaro.com
3DLab Fab & Cafe
https://www.facebook.com/3DLab.Fab.Cafe