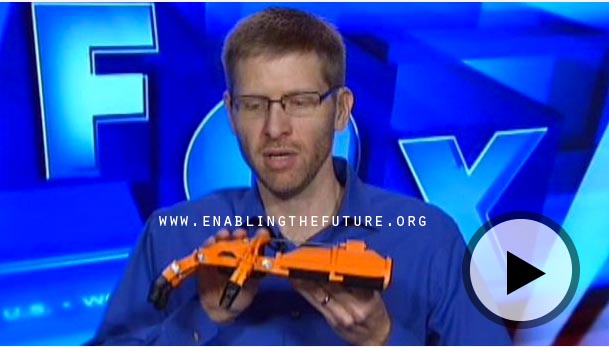 (Click Image to view video of interview)
Jeremy Simon of 3D Universe and an active and contributing member of e-NABLE, is interviewed by Fox News.
"Certainly we're not making an apples to apples comparison — these are entirely different kinds of devices — but the comparison I was trying to draw with Jose was strictly in terms of day-to-day functionality what's more useful," Simon told FoxNews.com. "It turned out [the 3D-printed] one was."
"We're talking about 3D designers, university professors, occupational therapists, medical professionals, all sorts of people are in this community and they all give completely freely of their time and efforts," Simon said.
Simon hopes the 3D printing movement will continue to grow, and hopes philanthropic efforts like those of e-NABLE will thrive.
"As long as there's still people willing to do this kind of work, the technology is going to continue to get more accessible and more affordable," Simon said.