Unlimbited ARM – Parametric Version
ELBOW DRIVEN: Users must have a functional elbow that bends to force the fingers closed on the hand.
This device was created for those that have a functional elbow and a considerable amount of forearm but no wrist or not enough wrist/palm to power a wrist driven device. This design is for those who have too much forearm for the RIT arm but not enough wrist/palm for a wrist powered device.
For information on this design and instructions for printing, thermoforming and assembling – please visit the Team Unlimbited Website!
For more information on Team Unlimbited e-NABLE volunteers, Stephen Davies and Drew Murray – please visit their website and facebook pages
Phoenix Assembly Materials Kit Now Available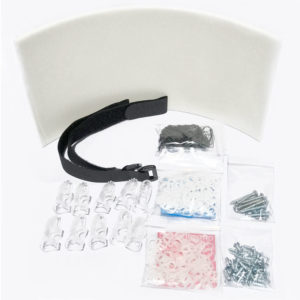 You can purchase an assembly materials kit for the Phoenix design from 3D Universe by clicking here. When making an arm device, you'll need to also purchase some additional velcro straps, available here.
A discount is available on these kits for e-NABLE members who are actively involved in the charitable fabrication of these devices. Email info@3duniverse.org for more details.
A portion of every kit sold will go towards supporting enablingthefuture.org and the e-NABLE community!
---
ACCEPTANCE
By accepting any design, plan, component or assembly related to the so called "e-NABLE Hand", I understand and agree that any such information or material furnished by any individual associated with the design team is furnished as is without representation or warranties of any kind, express or implied, and is intended to be a gift  for the sole purpose of evaluating various design iterations, ideas and modifications. I understand that such improvements are intended to benefit individuals having specific disabilities and are not intended, and shall not be used, for commercial use. I further understand and agree that any individual associated with e-NABLE organization shall not be liable for any injuries or damages resulting from the use of any of the materials related to the e-NABLE hand.