E-Nable and Alderhand are pleased to announce the arrival of the Osprey!
Files for this design can be found HERE.
Instructions can be found HERE.
---
An Important Note About Assembly
The most common mistake when assembling e-NABLE Hand devices is improper tensioning of the non-flexible cords. When the non-flexible cords are tied correctly, the base of the palm should be inclined about 30-45 degrees compared to the base of the bracer (the part that goes over the arm). This will allow the recipient to activate the device without having to bend their wrist so far downwards as to cause discomfort.
As an example, the below image shows a properly tensioned Phoenix v2 hand. While this is a different design, the Osprey hand should be assembled at a similar angle as what is shown here.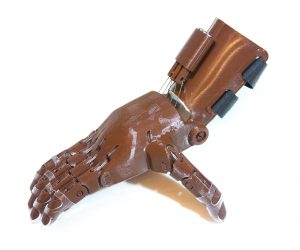 ---
Video Tutorials are below:
The Osprey was built in Blender based on the low-poly interior and robust components of the original Raptor Hand, but now sports an attractive fairing and a very durable and comfortable low-profile universal-fit bracer.
The osprey (Pandion haliaetus), sometimes known as the fish eagle, sea hawk, river hawk, or fish hawk, is a diurnal, fish-eating bird of prey. (Wikipedia)
This device was named the Osprey because it is a Raptor, but optimized for the use of heavy gauge nylon monofilament, most widely available as fishing line. The large mono has excellent Bowden properties, so the cables are pulled to provide flexion and pushed to provide extension. This device requires neither elastics nor springs nor any mechanical extension system.
Heavy gauge nylon monofilament is an excellent cabling material. It is generally inexpensive, and available as landscapers' trimmer line, nylon or Bridge nylon 3d printer filament, and as deep sea fishing leader line. Running through joints, it doesn't abrade at all, so there's no "sawing" of printed plastic. Nylon is very strong, so it is rarely a point of failure for mechanical devices. But probably its greatest quality is its linear resistance to compression, so it pushes as well as pulls, like the bicycle cabling used to change gears.
Elastic resistance is a major drawback to many assistive devices, because resistance reduces a device's grip strength. Furthermore, as an elastic-extended device approaches full actuation, resistance from elastics increases, so that it may be quite difficult for a user to grasp small objects. Designs which reduce or eliminate elastic resistance are a welcome development.
Pay particular attention to the new bill of materials. The Cyborg Beast, the original Raptor and the Raptor Reloaded hardware kits are not compatible with the Osprey. However, the Osprey does use the same hardware as the Gamma Raptor. Materials kits and tool kits should be available in the near future, so stay tuned.
In this version:
Elastic-free Bowden cable design; enclosed channels provide enhanced cable control
Vestigial dorsal extension channels can now be used for knuckle vise, other secondary tools, or electronics.
Fairing has a new aesthetic.
Pin-and-Proximal sets to manage tolerances ("A" is loosest; "D" is tightest)
Very durable low-profile universal fit bracer(gauntlet)
---
ACCEPTANCE
By accepting any design, plan, component or assembly related to the so called "e-NABLE Hand", I understand and agree that any such information or material furnished by any individual associated with the design team is furnished as is without representation or warranties of any kind, express or implied, and is intended to be a gift for the sole purpose of evaluating various design iterations, ideas and modifications. I understand that such improvements are intended to benefit individuals having specific disabilities and are not intended, and shall not be used, for commercial use. I further understand and agree that any individual associated with e-NABLE organization shall not be liable for any injuries or damages resulting from the use of any of the materials related to the e-NABLE hand.