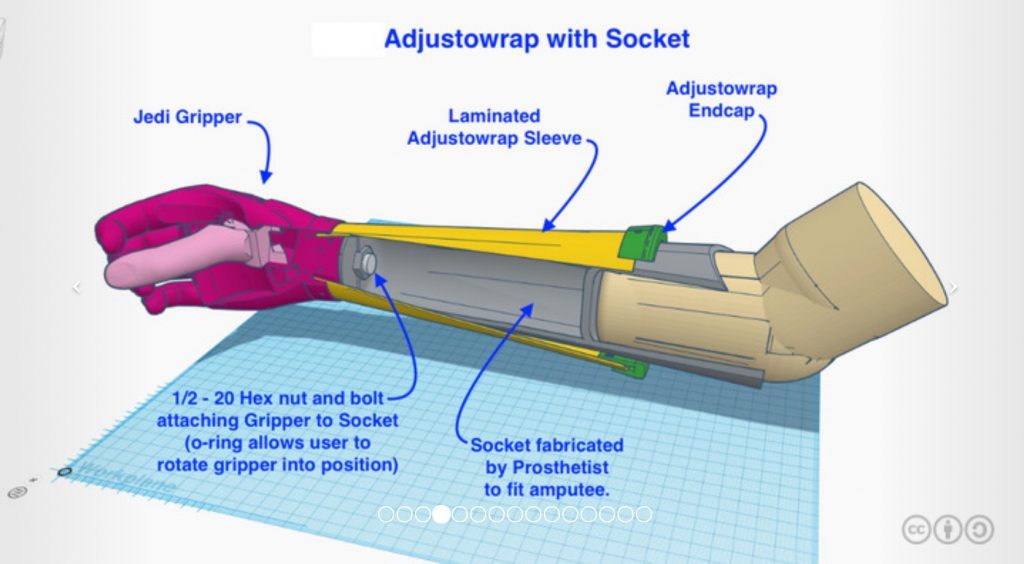 Adjustowrap Gripper Arm System
The Adjustowrap Gripper Arm System is an experimental modular system of upper limb prosthesis components. These components are intended to be compatible with a range of traditional medical devices provided by prosthetists as well as the experimental volunteer-designed devices being developed by the e-NABLE Community. Many components in the system include fabrication using the 3D printers available to our volunteers.
This is an update of the Skip Meetze Gripper Thumb Terminal Device and the Adjustowrap Arm recently developed by Skip Meetze and Jon Schull. Some background for these developments can be seen in The Gripper Matures, a blog post sketching the early evolution the system.
For detailed instructions and download links, please visit this page.
---
ACCEPTANCE
By accepting any design, plan, component or assembly related to the so called "e-NABLE Hand", I understand and agree that any such information or material furnished by any individual associated with the design team is furnished as is without representation or warranties of any kind, express or implied, and is intended to be a gift  for the sole purpose of evaluating various design iterations, ideas and modifications. I understand that such improvements are intended to benefit individuals having specific disabilities and are not intended, and shall not be used, for commercial use. I further understand and agree that any individual associated with e-NABLE organization shall not be liable for any injuries or damages resulting from the use of any of the materials related to the e-NABLE hand.