Thank you to the "Real Life Superheroes" who are sponsoring the enablingthefuture.org website by purchasing ad space and supporting the global e-NABLE Community open-source informational website!
If you are interested in helping to support this website for the growing e-NABLE Community – please email jen.owen@enablingthefuture.org for more information! Thank you!
---
Meet our "Real Life Superhero" Sponsors!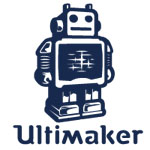 Ultimaker has been one of our top supporters over the past year and a half. They have donated 3D printers to some of our e-NABLE Community designers, provided on site machine use for e-NABLE volunteer's presentations, printed hand kits for events, created videos about the community's work, donated materials, provided printer support, helped to design the "Hand-o-matic" software and have become an ad sponsor for the enablingthefuture.org community website to expand their support of this growing community!
Their printers are some of the top recommended printers in the world! If you are in need of a 3D printer, please visit their website for more information!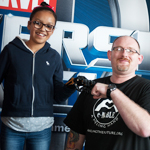 Aaron Brown of AxisLAB 3D has been one of our most active e-NABLE Volunteers over the past year and a half. He began our "Superhero" themed hand designs when he created a Wolverine Hand for an event he attended to share about the work of the e-NABLE Community!
In March of 2015 he helped other e-NABLE Volunteers who teamed up with Marvel Universe LIVE! to teach families and children how to assemble their own "Superhero hands" at an event in Dallas, uses his creativity and big heart to go the extra mile to make his recipients feel extra special and continues to provide new designs to the e-NABLE Community!
For printing needs in the Grand Rapids, Michigan area and beyond – please consider supporting AxisLAB 3D!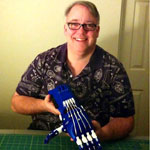 An educational technologist with the National Ecological Observatory Network in Boulder CO, working with science teachers around the world to incorporate Citizen Science into their classrooms, Dennis Ward is also one of our most productive e-NABLE volunteers. In the image to the left, he is holding the first hand he ever created for the e-NABLE Community and to date, has printed over 70 hands that have been donated to recipients near and far!