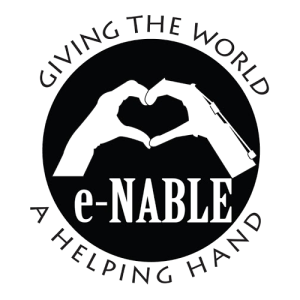 If you are a parent of a child or know someone that is in need of a device and would like to have an e-NABLE volunteer 3D print a device for you:
Please fill out an intake form and our match-making team will follow up with you to get the process started!
Please keep in mind that we get a lot of emails every day with requests for help and we answer in the order we receive them.
Please make sure you:
1. Hit the SUBMIT button after filling in the form. (Your form will not go through unless this step is completed!)
2. Check to make sure that our responses from our Matcher team have not ended up in you SPAM folder.
3. Open the welcome email and fill out the information and submit the images and information needed.
4. Keep in mind that our current devices require at least 30 degrees of wrist motion or elbow motion to work. If you or your child does not have a functional wrist or elbow – current ENABLE designs will not work for you.
5. Read the safety guidelines (
http://enablingthefuture.org/build-a-hand/safety-guidelines/
) and understand that these devices are still in the Beta testing stage, are experimental and are not recommended for children under the age of 3 due to safety and choking hazards (there are very small pieces that could come loose and pose a choking hazard to young children.)
6. Are working with your physician, pediatrician, Occupational Therapist or Prosthetist to help ensure a proper fit once the device is created.
7. Read the information packet that will be sent to you upon completing your form!
We appreciate your patience with us as we try to help as many people as we can and as quickly as we can – and please know that it may take weeks or months to get a device for you and sometimes our designs simply will not work for every person in need.
The Matching Team would like to update everyone on the status of their request for a device.  In the past year we have gone from 92 recipients in our sytem to almost 2000. Unfortunately, the number of people behind the scenes has not increased at the same rate.  The matching process is one that is very manual and very time consuming so few volunteers are able to commit. Our average volunteer donates 20 hours a week to work on matching, with some volunteers reaching over 60 hours a week.  We are currently working to improve our process so it is more self serve and we belive that it will be more effiiceint which will mean shorter wait times.
Below you will find various categories of devices and information about what to expect. We know some of our devices have had a very long wait time but that is due to the complexity of the design.  Our goal is to help each family as quickly as possible but sometimes that is still much slower than we hoped.
Standard Hands 
8/30/15 We are currently matching provided hand tracings to the current inventory of hands that we have at our disposal.  As school is back session, we will also we able to begin assigning recipients to school programs.  This should reduce wait times immensely.
These are for recipients who have at least 30-40% of their palm and normal wrist function and a normal functioning wrist.
Currently being matched but the summer months are generally much slower because many volunteers have additional family obligations which leads to fewer hours to spend volunteering. If you have submitted photos, you are on the list to be matched.
You will soon receive notice of steps to participate in a new process.  We will also be rolling out a phone app to track progress.

Elbow Actuated Devices
8/31/15 No new information at this time
7/23/15 Once the arms are back in production we will be asking our recipient families to provide a casting of the affected arm.  Kits are available on Amazon and many other locations and are very inexpensive.  Feel free to go ahead and make arrangements to purchase your kits. It is also suggested that you speak with your medical provider and work with them to to review the fit of the device once received.  We hope to begin production again in the early fall.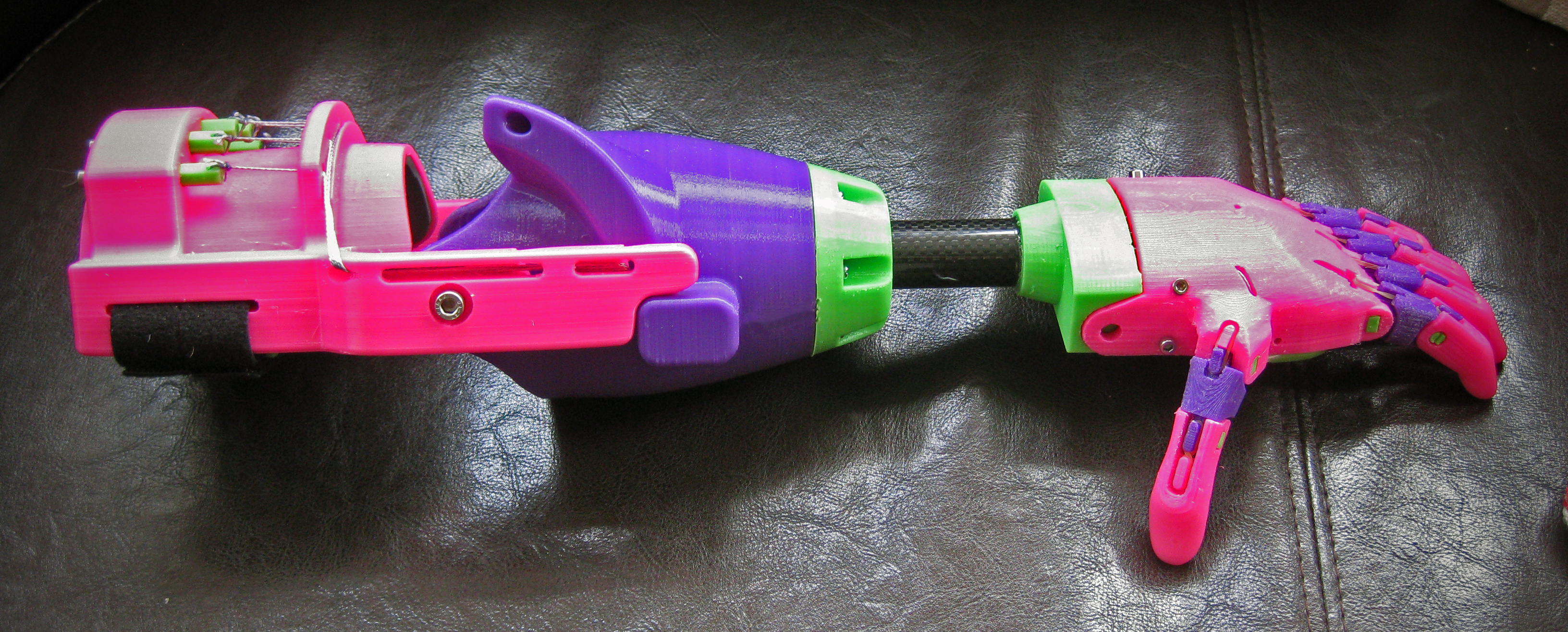 These are for recipients who have very little to no palm, recipients who have a long forearm but no wrist or only a wrist and recipients who have at least 40-50% of forearm below their elbow.  The is the new standard for the RIT arm.  
Production temporarily suspended. This is due to the redesigning of the devices to make the more easily produced and better functioning.  We have not taken this decision lightly but feel it is the best option for the moment.  Our projected date to roll out the new design is the fall of this year.  Once this happens, we will be asking families for castings of arms and we will provide an address for shipping.  We are improving the socket and plan on producing many of them very quickly.
If you have submitted photos, you are on the list to be matched once the changes have been completed.
8/31/15 no new information at this time

For those who have fingers but lack function.
This device is still in the testing phase.
If you have submitted photos, you are on the list to be matched once it is available.
Please note that this is a student project and is in the very beginning stages. The wait for this device is potentially a year or so away.
Keep checking back for updates and once we have tested it and gotten feedback through case studies and beta testers, we will share this design open source on our website as well – but until then, we thank you for your patience and support and we look forward to the day when we can start production for those in need of this specific device to help aide them in their daily lives!
*If you are interested in helping to develop this design – please join our Google+ community and share in our forums!
Above Elbow Designs
8/31/15 – We do not currently have any designs for those who have above elbow needs.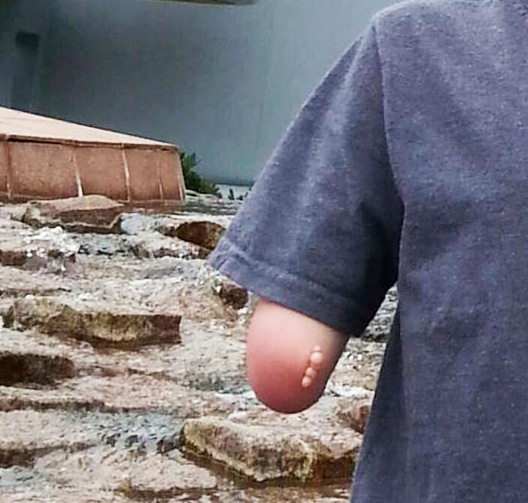 For information about some of our volunteers who are working on above elbow designs and myo-electric devices – please contact them directly!
Open Hand Project
Limbitless Solutions
Custom Designs
8/31/15 no new information at this time
These require very talented and highly skilled volunteers.  They are assigned as volunteers become available and are able to commit the necessary time.
A message from Melina Brown – Our wonderful Enable Matcher Lead: "My sincerest apologies for all of the families who have already had a long wait.  My family had a wait for my son's device due to his unusual anatomy, so I know just how frustrating it can be. I would like to personally thank each of you for your patience.  We are going to try our best to send out updates every couple of weeks so all of you know where things stand.  I realize replies to emails are coming very slowly but the decision had to be made of where our manpower is best used.  Our thoughts are that the most important things we can for now are to work on improvements that will allow us to once again give each family the attention they deserve. 
While you wait, we would love for all of you to become active in the community. You can't imagine how wonderful it is to participate in events.  My son has blossomed since we become so active a little over a year ago.  We began volunteering before he received his device and it was the best  choice we have ever made.  e-NABLE is so much more than devices and plastic, once you join in, you realize there is a real sense of family.  
If you have not yet submitted your photos, please follow the directions below.  At this time we lack the manpower to acknowledge receipt individually but you can rest assured that upon receipt, you will be moved to the appropriate wait list."