This past April, e-NABLE Volunteers and designers, Ivan Owen and 10 year old daughter Torrae, were invited to speak at TEDxFoggybottom in Washington DC and share the e-NABLE story as well as some of their other often crazy and very messy collaborative projects – with the hopes of inspiring people to "Think Next" and find ways to make a difference in the world!
Ivan shares, "A few years ago, Torrae and I helped to develop the first 3D printed prosthetic hand, which has helped many around the world. For us, it's been a lesson on how creativity, imagination and knowledge can pass between generations – and the positive effects that process can have on the world."
Torrae stood beside her father, who was holding a large, worn hammer and began the talk by simply stating – "Some of you are probably wondering why my dad is holding a big hammer…well, there is a story behind it…"
"There once was a little boy who was bored on a hot summer day. His dad came up with a brilliant plan to keep him busy. He handed him a 3 pound hammer, a pair of safety goggles and asked him a question, "What…" said the dad, "do you think might be inside of rocks?" After showing the boy how to break open rocks with the hammer, he encouraged him to venture off and find more rocks and discover what was inside. It soon became one of the boy's favorite activities. It was a powerful experience because he had been given a tool, some knowledge and was encouraged to explore the world around him." shared Ivan.
"Just like the little boy with the hammer, my dad and I like to explore the world around us together. Sometimes it can get a little silly…we've made things together like a slingshot crossbow, piggy launcher, personal hovercraft, musical stairs and a very messy cereal eating machine! My dad loves to make weird stuff and now I do too. Weird can be WONDERFUL!" explained Torrae.


"One of the best things about "weird," says Ivan "…is that it leads to weird places. Back when Torrae was too young to use power tools, I got into making puppet hands. A video of one of these hands was seen by a finger amputee named Rich from South Africa and he asked me if I could help him create a DIY design for a mechanical finger. Due to having a budget of zero dollars, we did almost all of our collaboration remotely by communicating over email and Skype. As our design progressed, we were contacted by a mother of a little guy named Liam" 
Torrae shares, "Liam was born without any fingers on his right hand and his mom asked if my dad and Rich could build a set of mechanical fingers for him. I was about the same size as Liam so my dad experimented with the design by taking measurements of my arm and having me try things on. I was his guinea pig."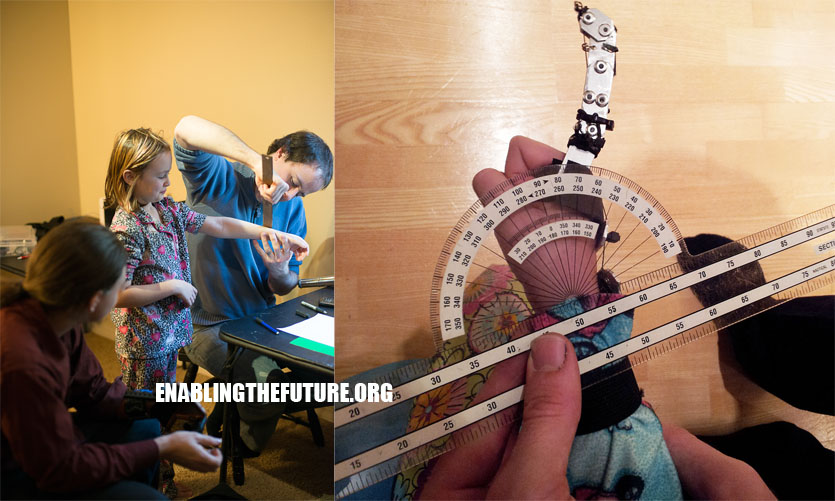 Ivan goes on to say, "Due in part to having a willing test subject at home, we eventually developed a design for Liam. First a metal prototype and eventually one that could be made with a 3D printer. In January 2013 we put the design files online where anyone could download them for free and gave away all intellectual property rights by attaching a public domain license. My hope was that by making the files available to everyone, people could make devices for themselves or others. I also thought that it might lead to people collaborating to improve the designs. To date, the e-NABLE Community has made more than 2000 devices in over 45 countries around the world. I have participated as a volunteer designer and fabricator. Along the way, Torrae learned how to make hands and has helped me teach other people how to make them too."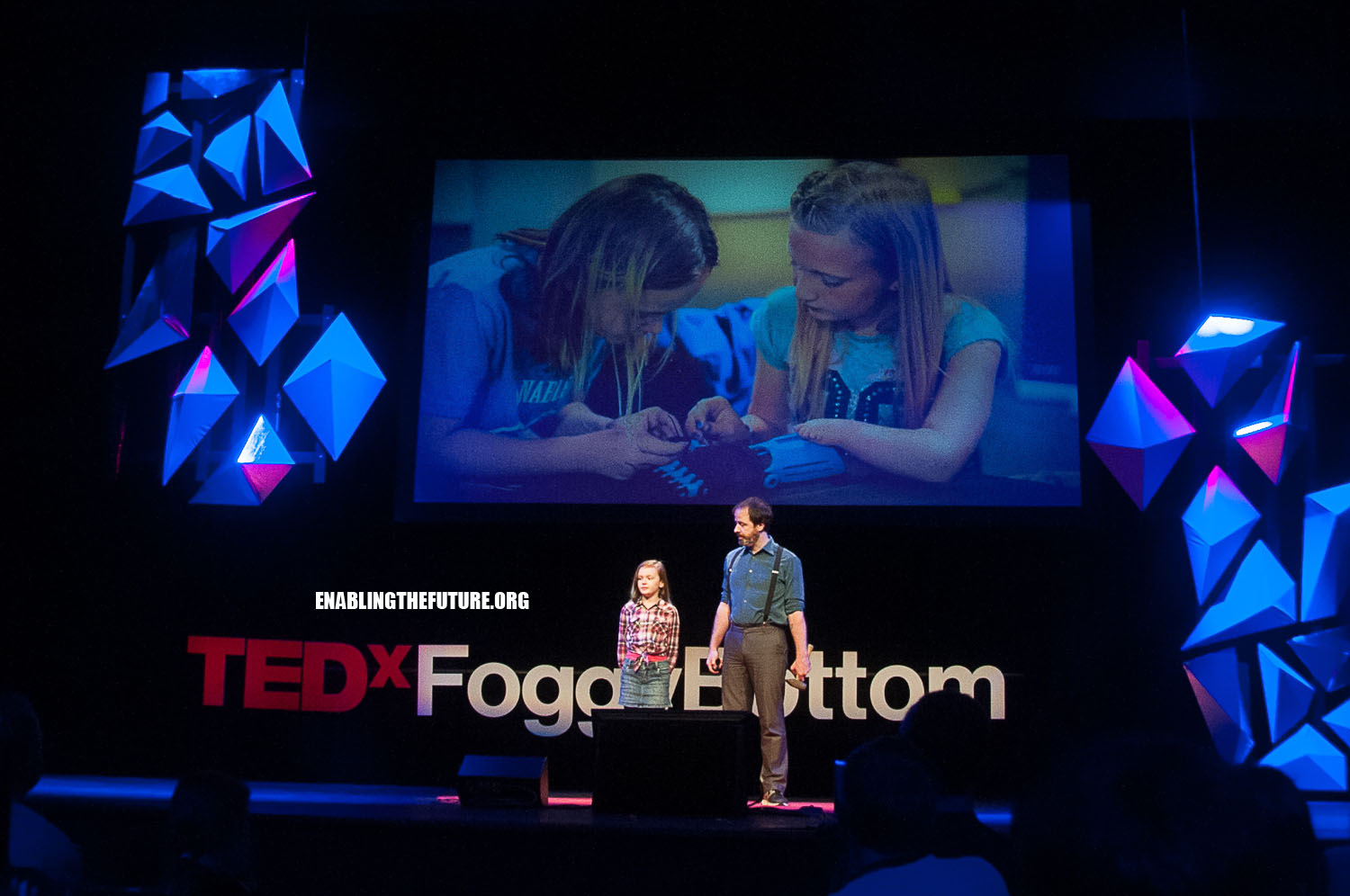 "As I grew, I got to watch all of this and see that sometimes silly and creative ideas can lead to useful and helpful solutions. I learned that practicing art and making is a way to get skills that you can use to change lives and make people happy. My dad taught me how to make hands, but I wanted to learn other things too so I started asking him to teach me how to use tools and make more things." explains Torrae.
"So we started making things like insane contraptions. Behind the scenes, this involved Torrae getting to use a lot of different tools and learn a bit about science and design. She's used things like a drill press, hammers, screw drivers, saws, 3D design software, 3D printers and more." says Ivan.
Torrae explains, "Combining humor, fun and play is a great way to learn things. Silly projects are a lot of fun but so are the more serious kind. My dad has taught me how to interact with more dangerous materials like glowing hot steel when blacksmithing and molten metal to design and cast my own ring. I've learned a lot about safety, attention, focus and even as a kid…there is a lot I can do."
In a way, when we learn and build projects together, we're also helping to build each other. We hope to continue this learning and keep finding ways that skills that we learn can be helpful to the world, the like e-NABLE Community and 3D printable hands. When I grow up, I have no idea what I will do with all of this crazy knowledge…but I know it will be something good."
"And THAT's what will happen next and that is what has happened before. Passing knowledge between generations like this creates links in a chain. Sometimes we even are lucky enough to have a physical representation of that link." shares Ivan. "Over the course of a couple of decades, the little boy used his father's hammer. It was well loved and used for many things until the handle finally broke. Now a grown man, he attached a new handle to the hammer so he could teach his daughter basic blacksmithing."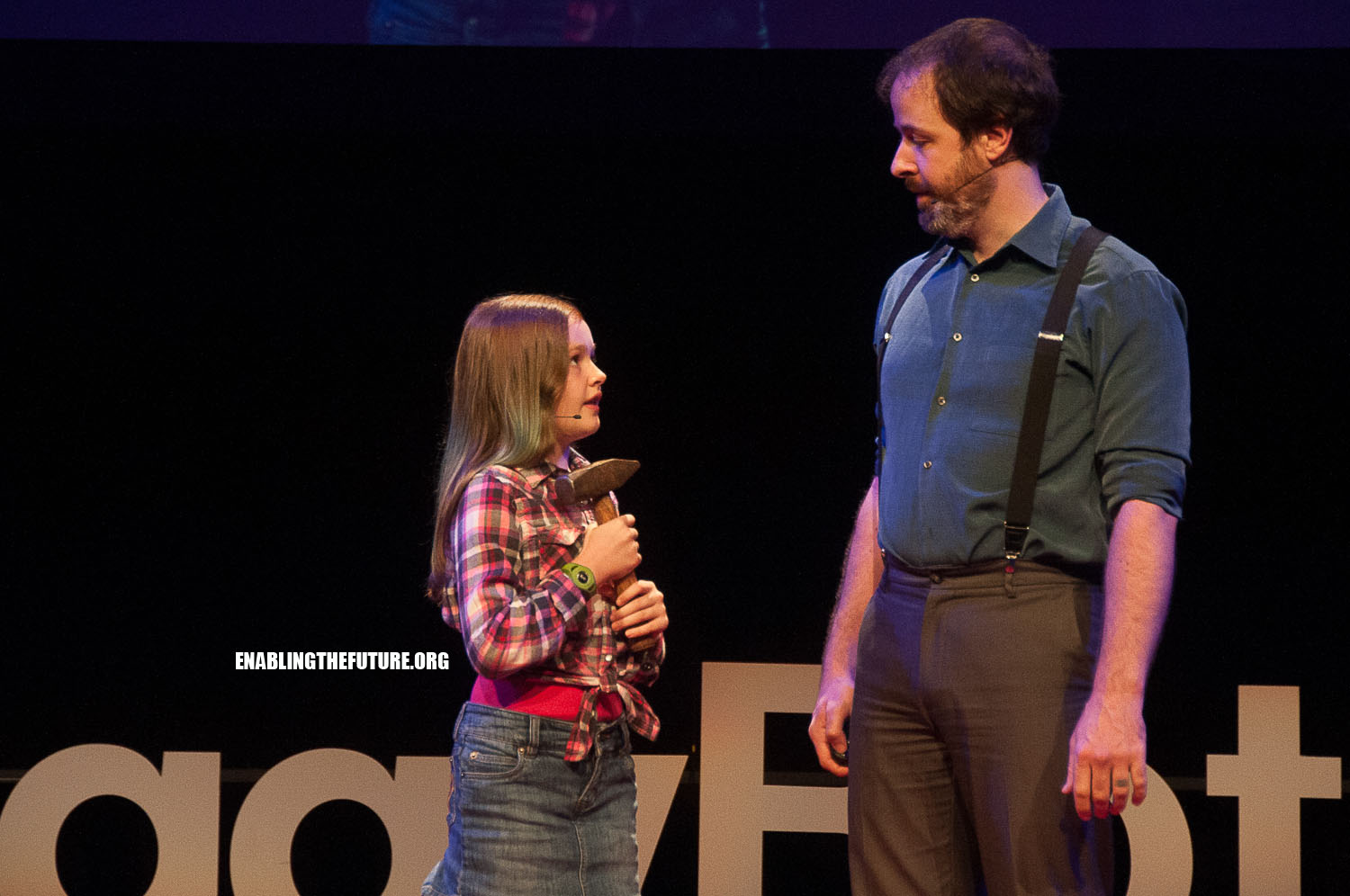 Torrae then took the hammer from Ivan's hands and looking up at her father said, "And now, I've been given tools, knowledge and encouraged to explore the world around me…and someday, when I am older…Granddad's hammer will need another new handle."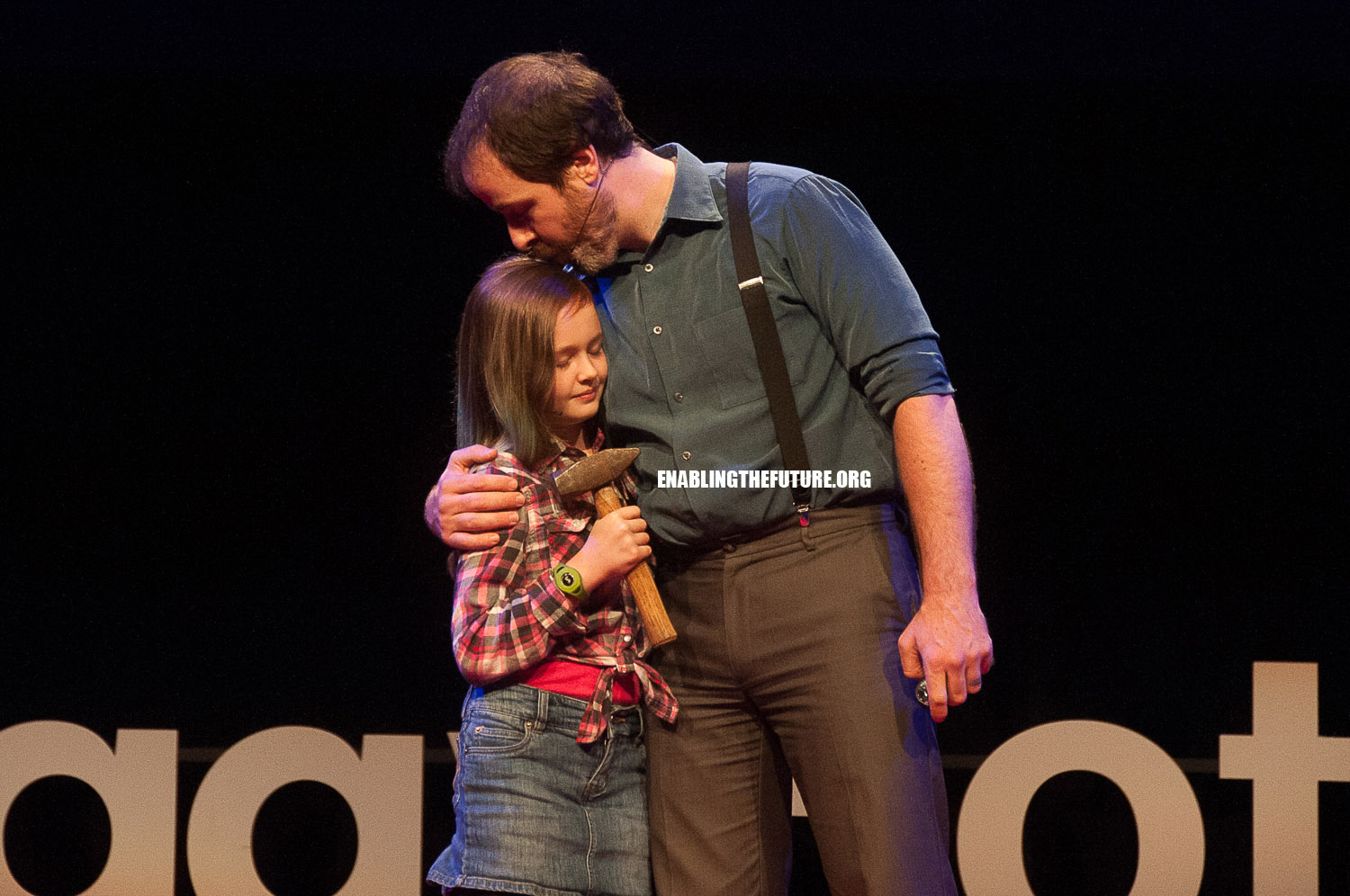 This is how we "Enable The Future."