Every once in a while, we are blessed to have a guest blogger share about their story and e-NABLE journey. This post was written by Amanda Cross, wife of Joe Cross, who recently took 40+ hands to Ghana and helped educate their local people on how to assemble these devices in their own communities. Their story is below.
Launching an e-NABLE Chapter: Ghana
By Amanda Cross
The partnership that kicked off the formation of the e-NABLE Ghana chapter grew organically, but is rooted in strong volunteer-to-volunteer connections.  This February, in partnership with e-NABLE Hungary, the new chapter successfully fitted and delivered their first two prosthetic arms.  Let's follow their journey.
The e-NABLE Hungary chapter was formed in November of 2014 by Joe Cross, an American transplant to Hungary. It quickly grew to over 20 volunteer members, including a strategic partnership with the world's largest 3D printing company, Stratasys.  By creating and using a chapter model, e-NABLE Hungary could pool resources for printing and assembling hands, overcome language barriers, promote the availability of prosthetic hands in a country where the concept was new, and get people without printers involved in the process.  As this was happening in Hungary, other volunteers began forming chapters in other regions.  Joe reached out to Joseph Fairley and together formed the e-NABLE Chapters team with the goal of launching new chapters, sharing lessons and partnering on special projects.
The Hungarian-Ghanaian musician, Sena Dagadu, noticed the work of e-NABLE Hungary and was eager to explore if Ghanaians had access to 3D-printed hands.  Sena at first described it as a "vision."  One of her Ghanaian family members has a limb injury and she began to think, "Wouldn't it be cool if people in Ghana could see this kind of technology" and envisioned "the prospect of opening people's eyes, not just to what was possible with 3D printing, but how it could positively impact people with limb differences".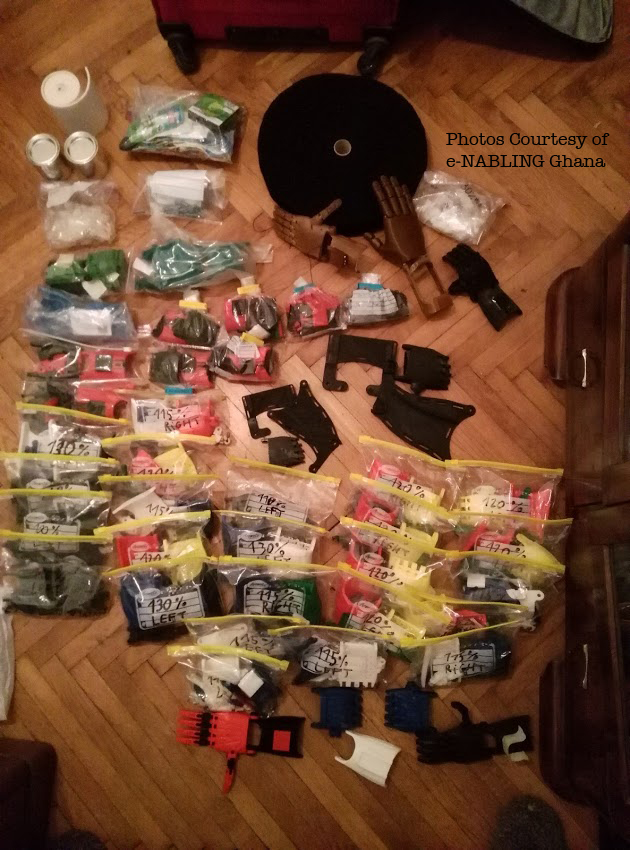 With this spark of an idea, Joe found Ishmael Afful, the sole Ghanaian e-NABLE member and began talking about starting a chapter in Ghana.  Ishmael already had experience with non-profit agencies in Ghana and described how he got connected to e-NABLE. "One evening I had seen a news report on 3D printing, I spent the night researching and reading about it online, and when I came across e-NABLE, I thought, this is something useful to do with the technology." With Ishmael, Joe and Sena on board, an inter-continental partnership was formed.
The chapter model that had formed in Hungary seemed to fit well with the need that was being defined in Ghana.  With no 3D printers in Ghana, Ishmael and Joe initiated a plan for e-NABLE Hungary to print the devices and bring them to Ghana.  As word spread about the project, other passionate e-NABLE volunteers began sending hands from all over the world.  Joe travelled to Ghana with more than 40 pre-printed hands, ready to work with Ishmael to find recipients and assemble the hands and leverage Sena's media connections to spread the word and build a sustainable network of partners and volunteers.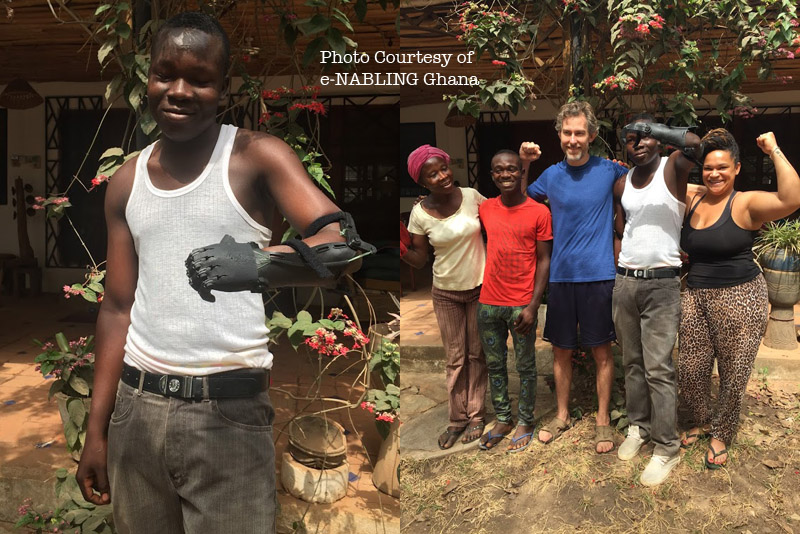 The trio came up with the concept of hosting a workshop in Ghana to expose potential recipients and their families to the 3D-printed devices, fit hands on the spot where possible, and take measurements for future recipients.  With a meeting space donated, over 50 attendees were present on the day of the workshop.  The differing needs in Ghana versus Hungary and other Western areas was immediately clear.  While there were children in attendance, 90% of attendees were adults, 90% were in need of arm devices, and all attendees wanted devices that looked as natural as possible, both in design and color.  

Lordina was one of the children that was in attendance with her father and uncle, and was selected for an on-the-spot fitting.  Lordina is 5 years old and was born with a limb difference affecting her left arm just below the elbow.  Ishmael needed to spend time talking with the family and familiarizing them with the technology and the mission of e-NABLE before they were comfortable agreeing to make the 4 hour journey to the workshop in order to explore what might be available to Lordina.  The family was skeptical at first, as there is social stigma attached to limb differences in Ghana and disbelief that the arm would be provided free of cost.
Lordina was patient and quiet as she evaluated what was being fitted to her.  After 10 minutes of practice, she had onlookers cheering her progress and left with a fitted arm and a wave.  In talking to the family later, they said that Lordina is using and practicing with the arm in the home, but that they have not let her wear it to school.  Lordina is talking to her classmates about her arm, but there is work to be done in helping the family to feel confident about her using it in public.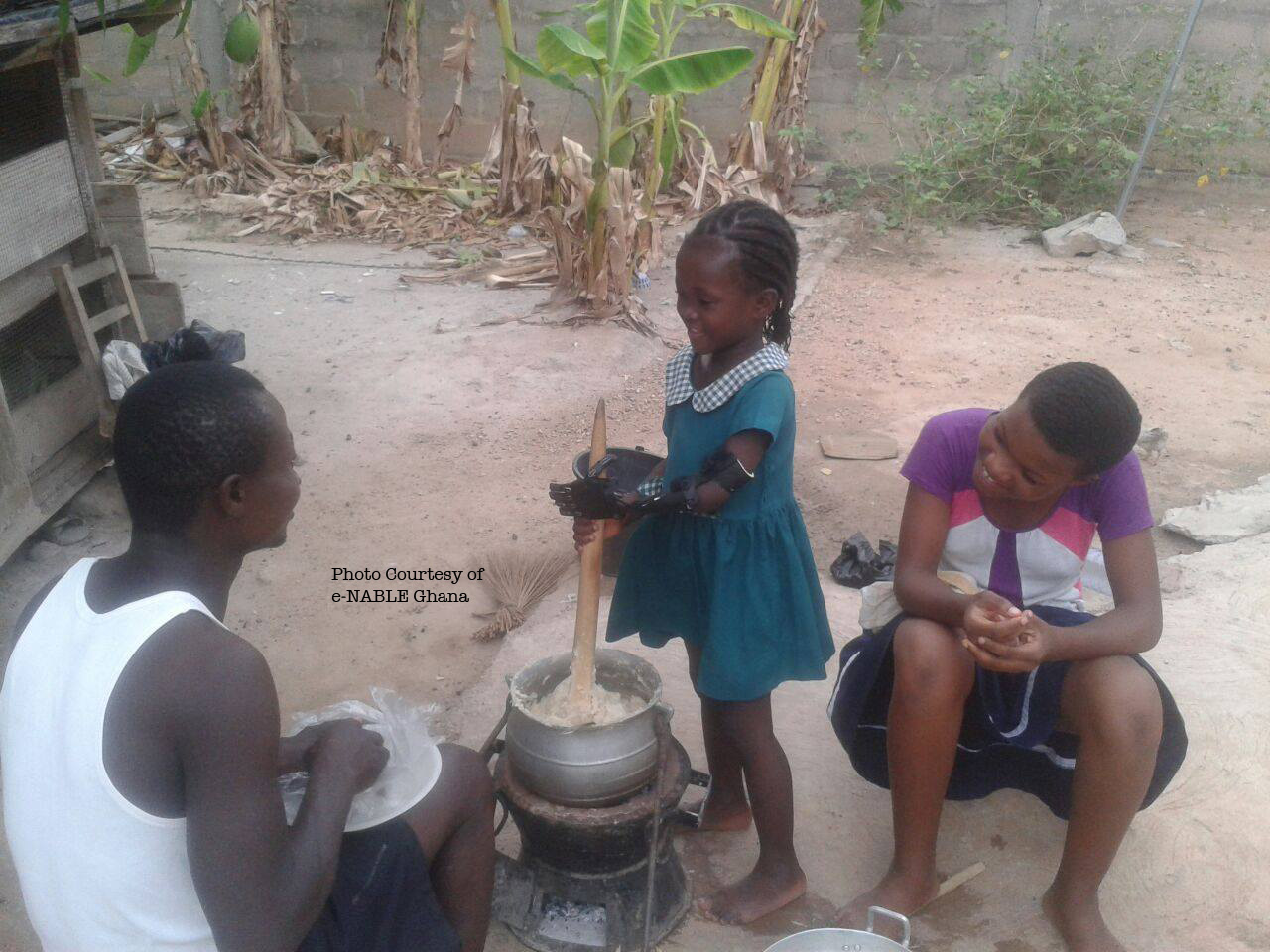 Addressing the cultural barriers to making use of the 3D-printed hands and arms in Ghana is just one of the many challenges that the e-NABLE Ghana chapter will have to address in moving forward.  As Sena states, "part of the benefit in bringing hands to Ghana is exposing Ghanians to what technology can do, but another big benefit is in growing the confidence of people with limb differences and getting them connected to each other."  With their first workshop completed, 2 arms delivered to participants, a stock of 40 hands of varying sizes ready to be assembled and distributed, and a waitlist of 20 recipients requesting arms, the Ghana chapter will now move forward along two paths.  The Hungary-Ghana chapter connection will continue to work together to print and meet the needs of participants on the wait list, and will work with companies and charitable organizations in Ghana to get in-kind donations of printers, materials and space to begin printing in Ghana.
While the distance between Hungary and Ghana may seem far at first glance, the shared vision and work of the volunteers involved has built up critical connections.  The partnership that formed is a lesson in leveraging volunteer-to-volunteer connections to bring 3D printing into a new region.  Overall, in reaching participants outside of the United States, the collaboration via a chapter-based model is proving valuable in building momentum, dispersing workload and sharing needed expertise.  Please contact e-NABLE Ghana (enableinghana@gmail..com) if you'd like to donate or get involved in their work.  You can also contact the e-NABLE Chapters (enablechapters@gmail.com) group if you'd like to discuss starting a new chapter.
e-NABLE Ghana is not yet an official non-profit organization but they have started a crowd funding campaign and also have created a "wish list" for those who may be interested in providing "in-kind" donations of filament, materials and 3D printers to their efforts in Ghana.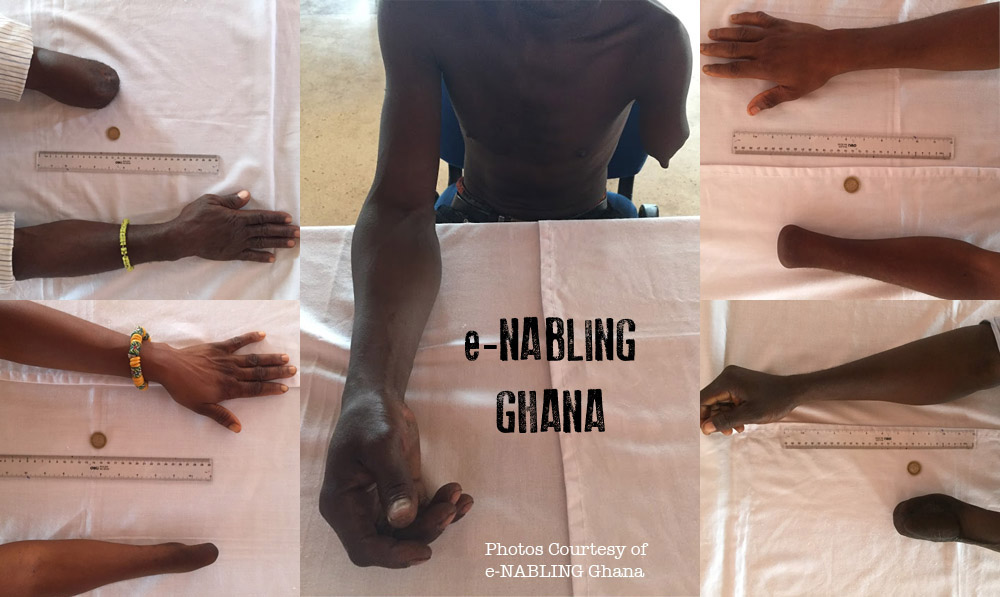 Please visit their donation requests below:
Wish List
Crowd Funding Campaign
Visit our Facebook pages:
e-NABLE Community
e-NABLE Ghana
e-NABLE Hungary
Thank you to every single volunteer who helped to create the 40 hands and arms that were donated to the e-NABLE Ghana team.
Your simple act of kindness, has changed lives.