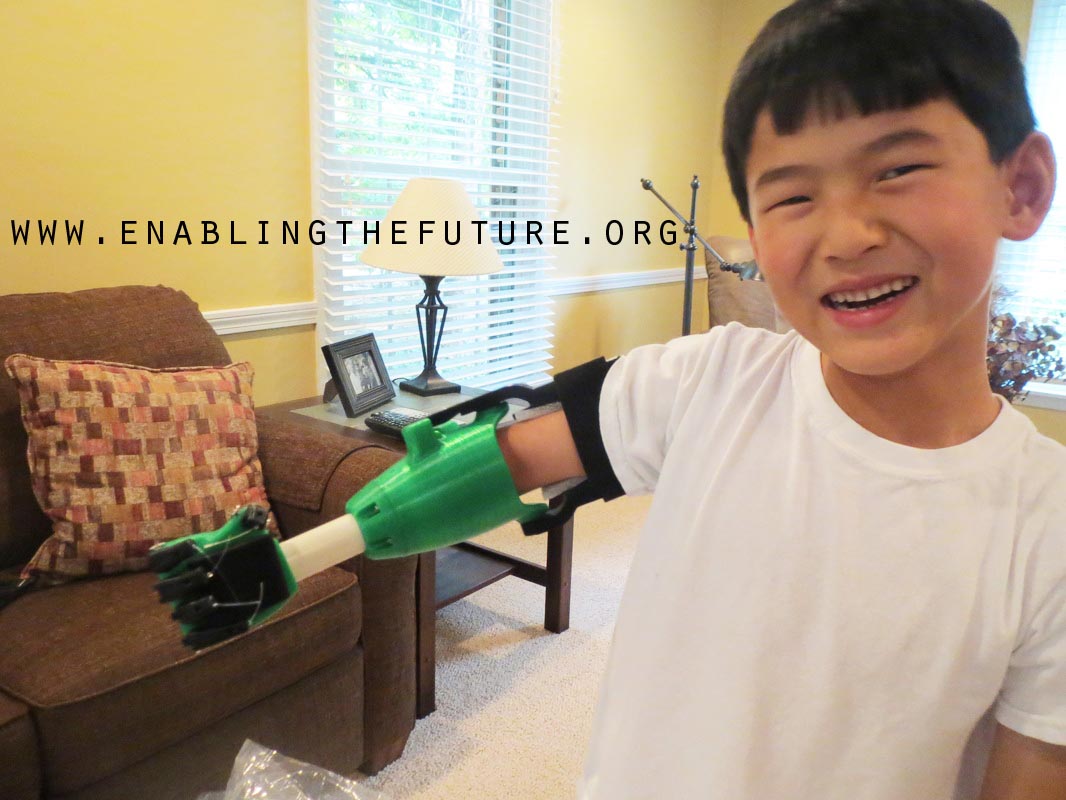 Over the past few months, e-NABLE has been working on various designs for elbow actuated arms, exoskeletons, myo-electric arms and more to go along with our growing collection of wrist activated designs, so that we can help even more people who have upper limb differences.
A few days ago, Alex was gifted a "Helper arm" completely free of charge to his family by  an e-NABLE volunteer and has been testing it out on all sorts of activities from just simply picking up objects to playing tennis, pool and ping pong with it! Check out this video of his various activities in just a matter of days!
Alex's parents first saw the e-NABLE RIT "Derek Arm" video posted on the "Born Just Right" facebook page in August of this year  and got in touch with our enable Matcher, Melina, who connected them to Volunteer Nick Norris. Not only did Nick print the arm pieces for them, but he also spent many hours redesigning the socket to better fit Alex's arm, sent some fun 3D printed Minecraft Creepers to Alex and his brother while they waited for the arm to be finished and even put the arm together only to take it apart again so they could put it back together again as a family!


Nick discovered e-NABLE while doing a Google Search for his first 3D printer purchase and saw the video of Frankie Flood and the UWM team making the first hand for Shea. He says "I knew right then, that I wanted to have the same experience of changing a kid's life. Being involved with e-NABLE allowed me to meet a great family that wanted the same thing – to make a better life for their son. This experience really has been one of the most rewarding things I've ever done." 
Initial sizing for Alex's new arm was done by scanning a plaster cast that was provided by the family and by using photos and measurements that Nick was provided through the Matcher system. Alex has a congenital RBE (Right arm, below elbow) limb difference. His "little arm" ends two inches or so below the elbow.


Nick writes: "At my day job, I design racing engine components and in that world, you constantly walk the fine line between light weight and durability. The considerations for Alex's arm are really no different. Due to his limb difference, he has minimal leverage in his forearm so it makes sense to take a weight conscious design approach. 
For the most part, the RIT design was good. I spent most of my efforts redesigning the forearm cup. I wanted to reshape the inside so that it would allow the use of a soft insert and after removing some unnecessary materials I ended up with a 25% reduction in weight. I also chose to use Frankie Floods Cyborg Beast remix fingers. These have a more slender shape and by using printed pins – additional weight was removed by not having to use five Chicago screws in the finger joint. These seem like small things, but I think that anything you can do to make use of the device easier for the child is worth the effort!" 
Alex's mom writes "Alex has only had his arm for a few days but our plan is to work with an OT. Your blog post on "Super Hero Training" was really compelling. Alex has never tried another prosthetic device. We did some reading on limb differences when Alex was younger and the consensus seemed to be that many kids with upper limb differences reject prosthetic devices. We planned to revisit the issue if Alex expressed interest, but because he was doing so well with so many tasks – including bike riding, baseball and origami(!) – it wasn't something we spent a lot of time thinking about.
Until we found e-NABLE, we were not planning on going down the path of finding a prosthetic device for Alex. Many kids with upper limb differences find currently-available prosthetic devices "clunky and uncomfortable" and most don't run across a whole lot they CAN'T do. They find a way! But we were intrigued enough by the possibilities of the RIT arm and especially the e-NABLE community, that we decided to join up and see what a growing group of volunteers might accomplish. 
We are so very glad we did!"
Our e-NABLE RIT Arm design is still in the beginning stages of development but we have over 2000 members in our volunteer group who are all continuing to donate their time and talents to improve upon every design we come out with so that more and more children and adults will be able to receive a comfortable, safe and useful "Helper hand or arm."
We have volunteers with all sorts of backgrounds – from puppet makers, race car engine component makers, French teachers, Jewelers, 3D print enthusiasts, engineers, visual artists, occupational therapists, wood workers, teachers, students and more. We even have a "Retired Mountain Unicyclist" turned Magician!
You may not think that your ideas can be helpful in the creation of body powered helping hands – but you might just surprise yourself and have an idea that no one else has thought of that could really make a difference.
If you would like to join us in our "Think tank" on Google+ – please do!
No idea is too small!