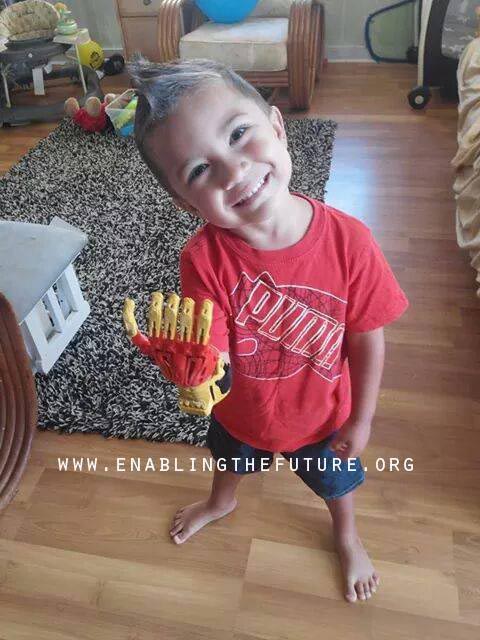 You may remember the story of the adorable little guy named Rayden or "Bubba" with the "Iron Man Hand" that made it's way around the world and still pops up on your facebook and twitter feeds now and again!
We thought we would give you a bit of an update on how he is doing!
While we love getting to see the stories of the children getting their hands and their excitement after trying them on and using them to do things they haven't been able to do before, quite often we do not get to hear how things go once they start using them on a day to day basis. We are hoping to start sharing more updates on some of our e-NABLEd kids so that other parents will be encouraged to get their medical providers involved.
Many parents get very excited about e-NABLE and the stories they read on the internet and sometimes come to us with unrealistic expectations as to what these "helper hands" can actually do for their children. These e-NABLE hands are no where near the same as a real prosthetic hand device. They are only as strong as your child makes them and that all depends on their wrist function and how much force they can generate to close the device. Your child may actually prefer to go without their new hand more often than not because they have learned how to get along without fingers for many daily activities and will generally be faster and more efficient at the task without those "pesky fingers" getting in the way!
These hands should be seen simply as "Helper tools" and not actual prosthetic devices. While they will be useful in some activities – they are less effective in others. Much like you would use a hammer to drive a nail so you can hang a picture on the wall…you would not use that same tool to eat your cereal in the morning! (Well…you could…wouldn't that be an adventure?!)
We encourage ALL who use one of these hands – to work with an occupational therapist, physical therapist or some kind of medical professional that can make sure the fit is correct, that no harm is being done to the skin or muscles and that the user is not using the device too much, too quickly.
Little Rayden's mom, Rayven, shared some updates with us on his progress with the hand now that he has had it for about a month.
She writes: "When he first started using it he was having a very hard time and got discouraged very quickly. It was hard for him because he wasn't used to to using the muscles in his right arm. He also got frustrated because certain things he attempted to pick up would slip out of his hand.
Thankfully two weeks after we got his hand we started going to Therapeutics Associates of Maui for some help. His occupational therapist "Aunty" Donna was AMAZED when she first saw his hand. She needed to first learn how it worked and before you knew it she had a bunch of exercises for Rayden to try  – or in his eyes, "games" to try with him. 
She has this awesome toy that strictly uses wrist movement to operate it. You need to make a "rowing" movement of your hand in order to help the ball roll around and around in a circle. That so far is Rayden's favorite! A more simple exercise we started off with was simply holding a soft light object in his hand for 5-10 seconds squeezing tight and releasing. Playing catch with a small size bouncy ball helped him learn that there is now an extension to what used to be a very short hand. He is also using the ball or small object and holding it tightly as to not drop it and then aiming it into a box. Because he loves it so much and he's progressing so well we are now going to therapy every week and it is usually about an hour session. To him its "playtime" so he doesn't mind!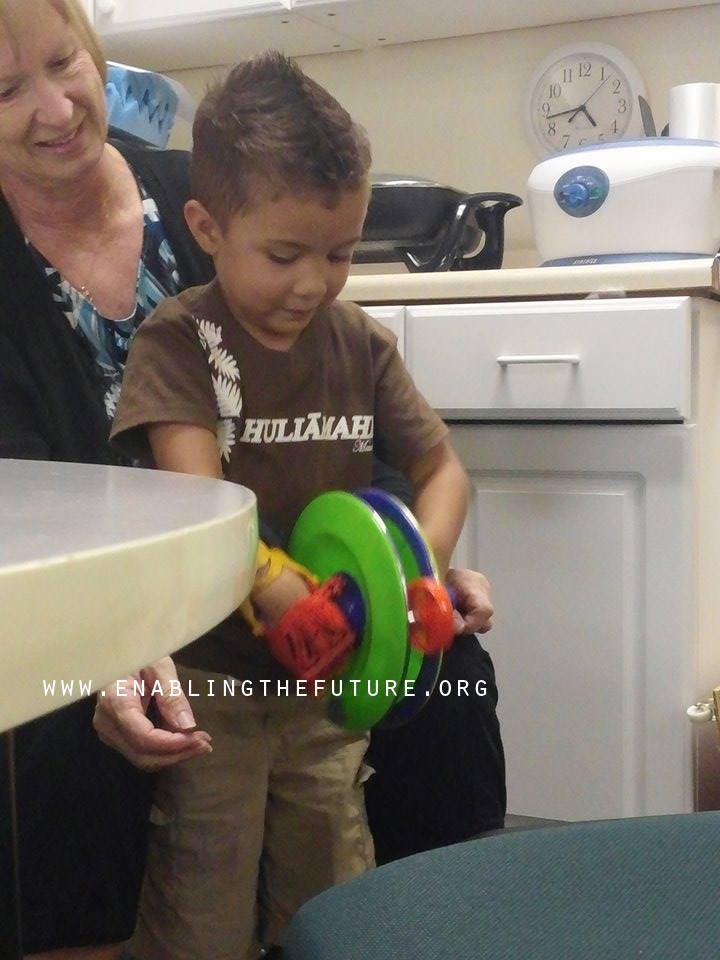 Rayden would normally use his new "helper hand" mostly during school and even then he would take it off. Now that we have sticky fingertips and he's been learning to use it better and his muscles have strengthened he uses it a lot more. He'll use it to ride his bike, play ball, hold his cup and help pour drinks for us. I'm sure in no time he'll be doing a lot more. He'll just wear it when we go to the store and hold some fingers down mimicking spiderman and as we walk around I catch him holding his fingers closed in a fist and slowly letting go which was another exercise he learned through therapy. 
Thankfully Rayden's therapy is free of charge for us. Donna from Therapeutic Associates of Maui was so interested in seeing the e-NABLE hand and meeting Rayden she said she wouldn't charge us. Although for some it may have a cost them to see a therapist, it is so worth it! I have seen Rayden do 10 times more things and actually want to wear his hand more and try new things thanks to his occupational therapy sessions."
We look forward to seeing what Rayden will be able to accomplish with his e-NABLE hand in the near future!
If you have created a hand for your child, have had one created for them or plan to get them an e-NABLE helper hand device, please make sure you get in to contact with a physical or occupational therapist to help your child learn how to use muscles they have never had to use on a regular basis and to teach their bodies how to become used to having an extension to their bodies that they have never experienced before!
Way to go little Iron Man! Keep up the good work!