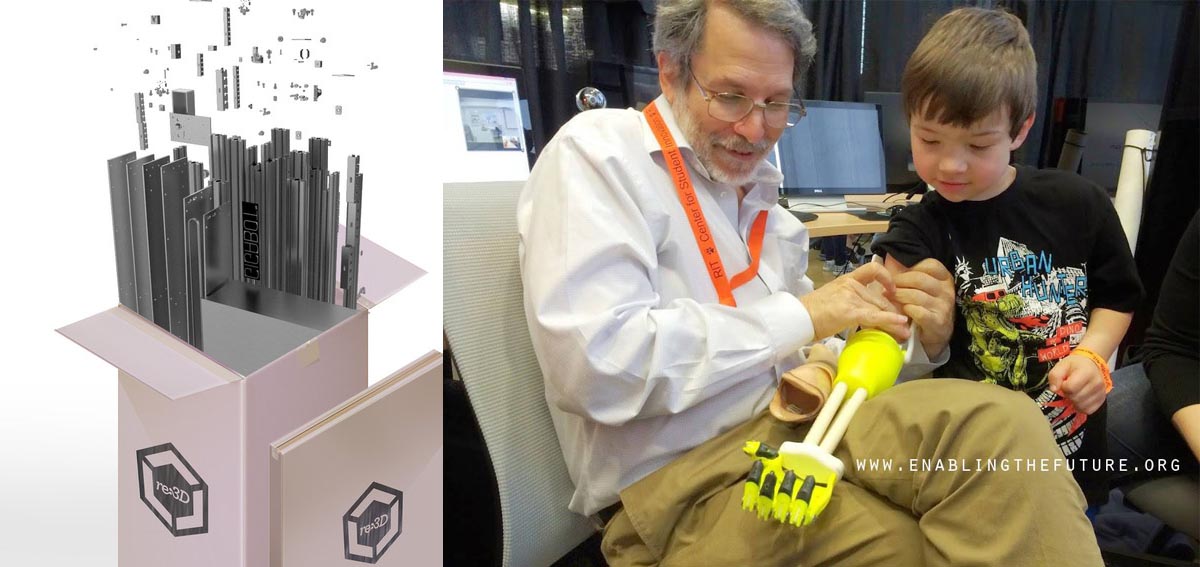 "re:3D and Gigabot are very excited to be part of e-NABLE with our mission of printing with a purpose. It is our goal to provide an affordable industrial large format 3D printer to enable the community. We began with the idea of creating a robust 3D printer large enough to make composting toilets, rainwater barrels and useful items for humans – at the human scale. Our Gigabot printer is now supporting higher education, artists, entrepreneurs and business across the USA and more than 26 countries around the World." – Matthew Fiedler (Founder and Chief Hacker – re:3d)
As e-NABLE has grown over the past year, we have gone from working on improving the original 3D printed mechanical hand design – to having developed 5 functional designs, partial finger replacements, a myo-electric arm design and our team at RIT is working on a mechanically driven arm design as well. 
While the desk top printers work wonderfully for printing the hands, the arm designs require a much larger printer bed to produce the parts needed to create them.
The wonderful folks at re-3D have generously donated a Gigabot kit to e-NABLE so that we can have access to a large printer for prototyping and creating arm devices. There will be a team of 4-5 students working on this design at the MAGIC ACT lab at RIT this fall and having access to this printer will make their research and development, prototyping and print times much faster and more efficient. 
These simple 3D printed mechanical arms have the potential to help so many people around the world who have lost limbs due to war and violence, natural disasters and disease – where a myo-electric or robotic arm would not only be impractical due to the need for upkeep and technological know how – but in some cases, could put the recipients of the more technologically advanced arms, in danger. In areas where crime, violence and poverty destroy lives and limbs – creating low cost mechanically driven devices that do not have expensive components to steal – gives them a higher probability of being able to be used by the person they were created for.
The e-NABLE community hopes to create a fully functional arm design to go along with the wrist driven devices they currently have, to share with regions around the globe – who have no access to proper medical care or high tech prosthetics. They have future plans to start working with non-profits, refugee camps and orphanages, to help set up 3D printers in those areas and teach the locals how to create these devices for those in need.
This donation opens a lot of doors – not only for the designers of e-NABLE – but for the benefit of the World. Thank you re:3D for believing in e-NABLE and helping to make a difference in the lives of many!
For more information on their products and printers:
http://shop.re3d.org/
re:3D is also offering a 10% discount on all of their products for active e-NABLE volunteers and is also a proud sponsor of the "Prosthetists Meet Printers" e-NABLE conference at Johns Hopkins Hospital in September. 
We hope to see you there!
Info on the upcoming conference:
REGISTRATION & TICKETS: Visit our Ticketing page.
SCHEDULE: Visit the Scheduling Page.
SPEAKERS:  Learn more about our speakers!
SPONSORS: If you our your company would like to become a sponsor – please visit our Sponsor's Information Page.
Thanks to generous sponsors, families with children who have a need for a device as well as Veterans and Wounded Warriors – will be able to attend the conference for free.
INFO: If you would like more information on this event – please visit our press release page HERE.
PRESS: If you are a member of the Media/Press and would like to be invited to cover this event live or help us spread the word about the as-yet-to-be-announced highlights – please email us at enablepressrelease@gmail.com.
QUESTIONS: For more information – please email info@enablingthefuture.org.