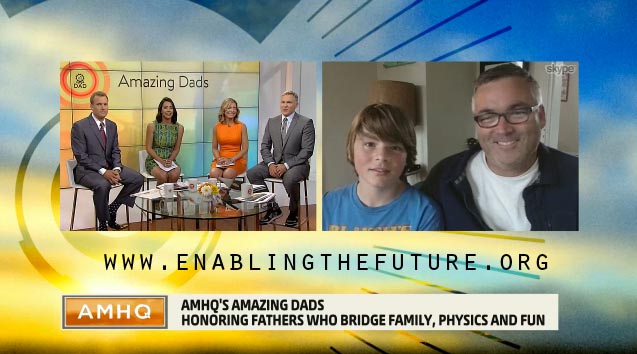 (Please click on the image above to view the video of Paul and Leon's interview.)
A Father's Day Letter – From Jen Owen
My husband is one of those "mad scientist" types…you know… the Dad who spends an entire day with the kids making indoor hoovercrafts and ping pong ball machine guns while Mom is away getting groceries…who builds chihuahua powered tanks and remote control bowler hats and steam punk man powered pipe organ backpacks…
He is also the kind of role model that every child should have. One that takes a request for help from a stranger and turns it into something that will not only help that one person…but potentially thousands of others. Who teaches them how to use their gifts and talents – to make a positive change in the world.
About 2 years ago, my husband Ivan owen, opened an email from a carpenter in South Africa who had cut off 4 of his fingers in a wood working accident. The carpenter  had seen a silly youtube video of one of Ivan's "crazy mechanical hand inventions" (A large mechanical hand he had created for our first Steam Punk convention) – and asked him if he would be interested in helping to make replacement fingers for real people.
That email could have been laughed away  or sent to the trash can with a "there is no way that's possible" mindset. But instead, he turned around in his chair and exclaimed "Jen, I need to help this guy. I AM  going to find a way to build him new fingers!"
And so began our incredible journey of reaching across 10,000 miles to help a stranger in need.
Hours and hours spent skyping and emailing…designing, testing and reworking. Exhausting nights of frustrations and amazing "ah-ha!" moments. And all the while – teaching our children about the beauty of helping others without asking for anything in return…and more importantly – sharing their gifts with the World so that others can take those gifts and re-gift to the people they love and care for.
Because Ivan and the carpenter decided to share this design with the world, instead of patenting it – other parents are able to create them for their own children and now there are even children who are making them for other children they will never meet!
Paul and Leon McCarthy saw the video of the original story online and decided they would make one of these hands together as a father and son project to create a hand for Leon who was born with no fingers on his left hand. Over the past year, they have not only helped make improvements to the original design, but they have started reaching out into their local schools to teach other families and children about 3D printing and what it is capable of.
Through sharing their story – even more people have found the e-NABLE group and they also continue to inspire many to find out how  they can help put 3d printed hands on those in need.
Another father and son team saw the story and together, they also created a new design that they too gave away to the world for free. Peter Binkley created the first Talon hand for his son Peregrine Hawthorne and found their way to the e-NABLE group after Ivan saw their video on youtube. Now not only are they both very active members of our growing global community, but Peter didn't stop at designing the Talon hand for his son…he has also created another version of the hand for other children and continues to donate his free time and also gives his designs away as open source and free to those that want to use them.
Greg Dennison is another father who found the e-NABLE group and started making hands for his son Luke. He too, continues to work on new designs and shares them freely with the world.
There are many parents who are now making and creating hands with their children and for their children – because two men from 10,000 miles apart came together to create something and give it away to the world for free.
Today I celebrate not only my husband and the beautiful life lessons he is teaching our children, but I celebrate all Fathers and parents who encourage their children to reach for their dreams, find their hidden talents and show them how to use those gifts to make the world a little brighter. Those parents who live what they teach and show our next generation that sometimes what may seem like a "Crazy idea" – can actually turn out to make a difference in ways they never imagined possible.